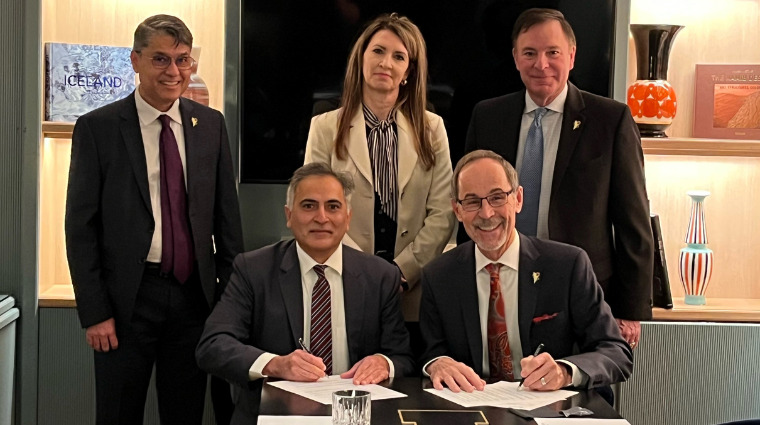 Memorandums of Understanding with two German post-secondary institutions offer excellent opportunities for academic exchange, research and transformative knowledge transfer
December 6, 2022 – This week, Saskatchewan Polytechnic signed memorandums of understanding (MOUs) with the IU International University of Applied Sciences, Germany and HTW Berlin – University of Applied Science to explore potential collaborations in such areas as curriculum, applied research and student and faculty mobility.
Peer-to-peer partnerships through MOUs are integral to fostering a culture of creativity and thought leadership aimed at addressing the problems of the future and preparing Sask Polytech graduates for success in the communities and economies of the future.
Sask Polytech actively collaborates and seeks out partnerships with industry and other post-secondary applied learning institutions to remain at the forefront of creating job-ready graduates for today and tomorrow's economy. Ninety-six per cent of Sask Polytech graduates find employment, increasing to almost 100 per cent for graduates in health-related fields.
"Technology and digitization offer expanded opportunities to increase accessibility and flexibility, and to maximize student success," says Dr. Larry Rosia, Sask Polytech president and CEO. "Formalizing collaboration through MOUs such as these creates exciting opportunities to explore new, effective ways to enhance online applied learning capacity at Saskatchewan Polytechnic."
The IU International University of Applied Sciences, Germany is the largest distance university in Germany while HTW Berlin – University of Applied Science has a network of partnerships with over 140 universities worldwide to ensure excellence in its core missions of teaching and research.
Sask Polytech is strongly committed to global engagement. In June 2022, the institution launched its Global Engagement Plan with a focus on these four pillars: building a diverse student body, global learning experiences and supports for students and employees, international capacity building and business development and supporting applied research.
Thank you to Dr. Muhammad Ashfaq program director, Digital Business, and academic director, International, for helping set up the partnership with the IU International University of Applied Sciences.
---
Saskatchewan Polytechnic is signatory to the SDG Accord. Sustainable Development Goal alignment is one of the ways Sask Polytech is leading the rise of polytechnic education.