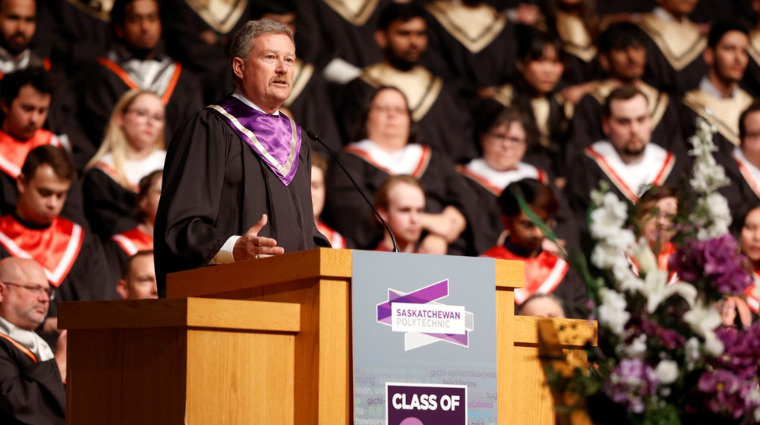 This year marks nearly 20 years since Saskatchewan Polytechnic awarded its first honorary credential. This annual tradition recognizes extraordinary individuals for their distinguished achievements and for modelling the institution's vision and values. The contributions made by the members of this elite group help cultivate an educational environment focused on applied learning and innovative research to empower a better Saskatchewan and inspire success in every learning journey.
The recipient of the Sask Polytech, Moose Jaw Campus honorary degree in Applied Studies is John Schmeiser, CEO of the Western Equipment Dealers Association (WEDA).
Schmeiser has the distinction of being the longest serving board member for Innovation Place, one of Canada's best research and technology parks, where he chairs the Human Resources & Governance committee. In addition, Schmeiser serves on a number of other boards nationally, including as the secretary and treasurer of the Canada Equipment Dealers Foundation and the Western Equipment Dealers Foundation.
A graduate of the University of Saskatchewan, University of Arizona and Western Academy Broadcasting College, Schmeiser also successfully completed the Directors College accredited Corporate Director Development Program through McMaster University and holds a Chartered Director designation.
"John is an incredible ambassador for the ag industry," says Dr. Larry Rosia, Sask Polytech president and CEO. "He also has an extraordinary ability for bringing people together towards shared goals that benefit everyone in the sector. John has worked extensively with Sask Polytech faculty, particularly those in the Agriculture Equipment Technician (AET) program. This in turn, has resulted in our AET program being one of the best in North America, supporting a strong agriculture industry to feed a growing world."
Congratulations to John Schmeiser on your honorary degree!
Since the first honorary diploma was awarded in 2003, Sask Polytech has been recognizing extraordinary individuals who model the institution's vision and values.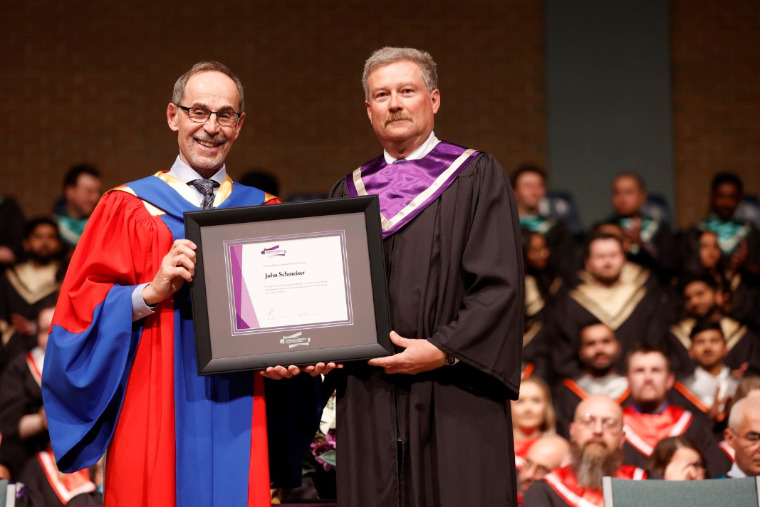 View past recipients online.
Published June 2022.