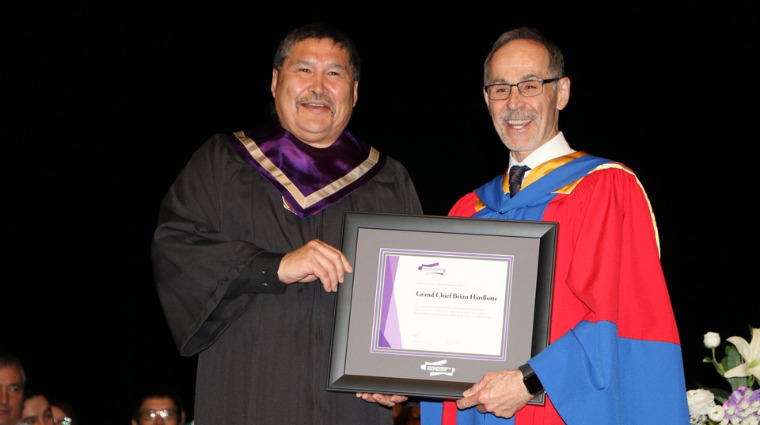 This year marks nearly 20 years since Saskatchewan Polytechnic awarded its first honorary credential. This annual tradition recognizes extraordinary individuals for their distinguished achievements and for modelling the institution's vision and values. The contributions made by the members of this elite group help cultivate an educational environment focused on applied learning and innovative research to empower a better Saskatchewan and inspire success in every learning journey.
The recipient of the Sask Polytech, Prince Albert Campus honorary degree in Applied Studies is Grand Chief Brian Hardlotte of the Prince Albert Grand Council.
A member of Lac La Ronge Indian Band, Grand Chief Hardlotte was first elected to his position in October 2017 after serving two three-year terms as vice-chief. Last year he was acclaimed to the Prince Albert Grand Council's top position for another term.
Grand Chief Hardlotte is originally from Stanley Mission and he began his political career as band councillor in Stanley Mission from 2005-2010. As a person of Woodlands Cree heritage, he is a fluent speaker of his language with a strong background in traditional ecological knowledge. He is an avid hunter and loves being out on the land. Grand Chief Hardlotte has advocated for the hunting, trapping, fishing and gathering rights of his people all his life. Influenced by the leadership qualities of his mother, he is a protector of treaty rights and the inherent rights of First Nations people.
Grand Chief Hardlotte states, "I have always believed in the power of our ancestral knowledge, the vision of our Elders and working with our 12 First Nations in order to take action and make change."
"My colleagues and I know the Grand Chief to be engaging, committed, entrepreneurial and extraordinarily positive," says Dr. Larry Rosia, Sask Polytech president and CEO. "His approach to leadership has opened a huge portal for active reconciliation. Grand Chief Hardlotte has a vision for the PAGC that is transformative, inclusionary and timely. We are delighted to confer this honour to Grand Chief Hardlotte."
Congratulations on your honorary degree Grand Chief Hardlotte!
Since the first honorary diploma was awarded in 2003, Sask Polytech has been recognizing extraordinary individuals who model the institution's vision and values.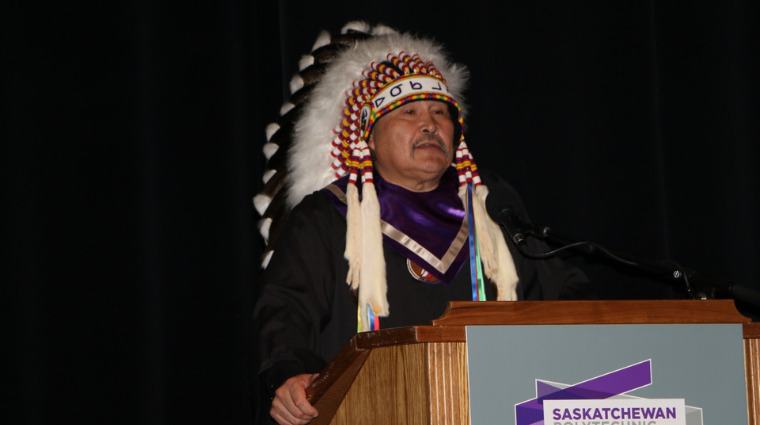 View past recipients online.
Published June 2022.