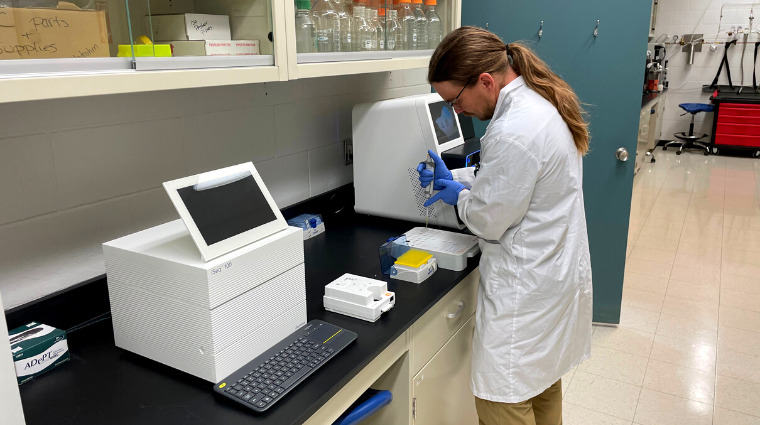 September 26, 2022 - In partnership with PrairesCan (formally Western Economic Diversification Canada), Genome Prairie announced today the official transfer of next-generation genome sequencing equipment to Saskatchewan Polytechnic's BioScience Applied Research Centre (BARC), located at its Saskatoon campus.
The equipment, which includes two genomic DNA sequencing systems, allows researchers to better understand earth's living systems. Understanding these systems can help develop solutions that significantly impact our quality of life, including human health, food production and environmental protection.
"This genome sequencing equipment will enable a wide variety of applied research applications, allowing investigation of the DNA and RNA of any organism," says Dr. Robin Smith, academic chair of Applied Research Operations at Sask Polytech's Sustainability-Led Integrated Centres of Excellence (SLICE). "It is anticipated that the new sequencers will be used to advance teaching and applied research in multiple programs, including BioScience Technology, Agriculture and Food Production and Integrated Resource Management. These sequencers are already opening new avenues of applied research for Sask Polytech."
Sask Polytech has also received accessory equipment supporting the sequencing devices, including hardware that will quantify and analyze the quality of a DNA sample before it is sequenced. The equipment will further enhance Sask Polytech's applied research capacity and program deliveries to meet the increasing demand for qualified workers in the rapidly expanding biotechnology sector.
"Genome Prairie is delighted today to officially transfer ownership of this next-generation genome sequencing equipment to Saskatchewan Polytechnic," said Mike Cey, CEO of Genome Prairie. "We believe this equipment will significantly enhance future applied genome research at the BioScience Applied Research Centre. Genome Prairie believes Sask Polytech will now play an even greater role in key areas of scientific research, including biosciences, medicine, agriculture and climate mitigation."
Dr. Lester Young, director of Scientific Affairs from Genome Prairie, said the genome sequencing equipment enables researchers to conduct genome-related projects. "The sequencing devices are very advanced and capable of generating significant data from a broad range of samples from sources like plants, microbes, animals and humans. It's becoming clear genomics will impact our knowledge about life on our planet, from health to food production to climate mitigation and beyond. The applications are truly endless."
The sequencing equipment originated from the Genome360 project, launched in 2019. The aim of the Genome360 project, financially supported through PrairiesCan, is to support Canadian industries using genome sequencing to develop genomic technologies.
"The involvement of PrairiesCan was critical for the success of this initiative," said Cey. "We would like to acknowledge PrairiesCan and their Regional Economic Growth through Innovation program. Without their financial support, none of this would have been possible."
Sask Polytech engages in applied research, drawing on faculty expertise to support innovation by employers and providing students the opportunity to develop critical thinking skills. The BioScience Applied Research Centre is a part of the institution's new Sustainability-Led Integrated Centres of Excellence (SLICE). SLICE is a solution-oriented applied research centre—advancing sustainable resource management with a full life-cycle lens on economic activities in Saskatchewan's energy and resources, manufacturing, agriculture and forestry sectors.
Learn more at saskpolytech.ca/slice.
QUICK FACTS:
The genome sequencing equipment received by Sask Polytech includes an Illumina Canada ULS iSeq system, an Illumina MiSeq system, an Agilent Technologies Canada 4150 Tape Station instrument, and an Invitrogen Canada Qubit 4 Fluorometer. The total cost of the equipment is approximately $166,000.
Genome sequencing is a process for determining the DNA sequence of an organism's genome. Understanding an organism's genome can help scientists develop precise medicines, develop varieties of food crops more resistant to drought, flooding, and disease, and develop strategies that reduce energy consumption and carbon emissions.
Genomic sequencing has endless applications that have impacted societies around the world. For example, it was used to help detect levels of community COVID infections in wastewater analysis and played a significant role in developing vaccines against the SARS-COVID-2 virus.
---
Saskatchewan Polytechnic is signatory to the SDG Accord. Sustainable Development Goal alignment is one of the ways Sask Polytech is leading the rise of polytechnic education.