Sustainability and life-long learning at the core of Sask Polytech's first Polar Bear Eco Trip
Saskatchewan Polytechnic embarked on its first Polar Bear Eco Trip at the beginning of November. Setting off from Saskatoon to Churchill, Manitoba, 22 intrepid adventurers made the journey along with two seasoned guides. Melanie Elliott, who co-led the Sask Polytech eco-trip with Greg Fenty, has been to Churchill 26 times. Fenty, who has spent time all over the far north, has a handful of Churchill visits in his past. Trip excitement started back in spring when word spread and community members from across Saskatchewan and beyond began vying for a spot on what would quickly become a waitlisted tour. "From the day we secured our spots we began planning," says Sherry Morris, who signed up with her 12-year-old grandson Haiden and two cousins from Alberta and Ontario. "It's been so exciting to have this trip to look forward to."
Polar bears and ecotourism haven't been part of the Sask Polytech prospectus until this past year, when inspiration came collaboratively to two members of the senior leadership team. Dr. Susan Blum, who heads up Applied Research and Innovation, and Jamie Hilts, former dean of the School of Natural Resources and Built Environment, came up with the idea while discussing Blum's early career as a polar bear researcher and the excitement she later had leading trips to Churchill to share her knowledge. "Jamie was a visionary academic leader," says Blum of the much-loved Hilts, who passed away this year. "He saw the value of adding this special opportunity to the community and had a clear vision for how an ecology-focused trip fit in with Sask Polytech's mandate to lead the rise of polytechnic education."
At around the time Blum and Hilts were contemplating this outside-the-box offering, Sask Polytech made commitments to the United Nations (UN) Sustainable Development Goals (SDGs) through the international SDG Accord, and soon after, launched the new Sustainability-Led Integrated Centres of Excellence (SLICE)—a collaborative, solution-oriented applied research centre with a sustainability focus. Another internal development was Sask Polytech's launch of Surge Micro-credentials—a new model of continuing education offering short, focused learnings that accelerate knowledge and skills in a specific area. "The stars were aligning for something exciting," says Blum. "We decided the time was right to offer an eco-trip with an educational component."
The sustainable nature of the trip, which foregoes the usual quick flight to Churchill from the south in favour of a slower-paced van/train journey, speaks to two SDGs—Goal 12, (which emphasizes sustainable consumption, and Goal 13, which focuses on climate action). Participants stayed at the Churchill Northern Studies Centre (CNSC)—a non-profit research facility that hosts guests from outside the scientific community, allowing an insider view of their work and in turn generating financial support for continued research activity in the diverse region.
Sask Polytech's primary vision for the trip, though, ties directly to SDG Goal 4—promoting lifelong learning opportunities for all. "Sustainability is becoming much more important in everything we do," explains Dr. Robin Smith, the academic chair for SLICE. "Jamie Hilts saw an opportunity to promote a topical subject to the wider community in a way that will engage and inspire, and he was thinking first and foremost about students—whether our own students in natural resource programs or life-long learners looking for a way to enhance their understanding of the natural world and our rapidly changing northern environment."
Key to the trip is the Surge Micro-credential offered to participants, who began their learning in the weeks leading up to their departure for the north with a series of weekly lectures. The School of Natural Resources and Built Environment's new acting dean, Brenda Suru, says Hilts envisioned trip pre-learning that would enhance the overall experience. "He described how a series of expert lectures covering geography, history and zoology would benefit those going up to Churchill in the same way that learning about peat bogs and whiskey distillation enhances a trip to Ireland. A polar bear tour should be much more than just going up to see wildlife and taking pictures."
Learners on this year's first trip ranged in age from 12 to 80 and embodied a diversity of backgrounds. One quarter of those who took part are students, ranging from elementary and high school through to post-secondary students from the University of Saskatchewan and Sask Polytech's own Integrated Resource Management (IRM) and Resource and Environmental Law (REL) programs. Erika Swedburg, a grade 11 student from Elbow, Saskatchewan jumped at the chance to travel solo with the tour. "I work at our local museum with lots of natural history," she says. "I like learning and an eco-trip sounded like a neat way to go see polar bears in the wild." Three Sask Polytech students took a week out of their programs to join the tour and were equally excited at what the adventure had to offer. The School of Natural Resources and Built Environment funded two students; Cole Walker and Andrew Kuras wrote essays as part of the application process and were selected to attend. Zachary Reimer didn't apply for a bursary but opted to go as a paying participant. "I figure it's worth it to get to see something this rare and it's a great learning opportunity, especially at this point in my program," he explains.
Slightly more than a quarter of this year's participants are retired. The rest, including a couple of Sask Polytech employees, took time off work for a bucket-list experience and a chance to get back to being a student. With a diversity of backgrounds in law, entrepreneurship, farming, teaching, social work, postal services and other careers, participants shared a natural curiosity about the world and a desire to learn while they travel.
In the weeks leading up to the tour, the group met in person and over Zoom to hear Elliot, Fenty and Blum lecture about the Churchill region and the polar bears who call it home. "It's a fascinating place," says Walker, who is in his second year of the IRM program. "Three biomes converge in Churchill. There's boreal forest like we see in the Prince Albert region where I worked this past summer in fisheries, but it comes together with arctic tundra and marine coastal. There's nowhere else quite so accessible to see this variation in landscape and wildlife." Elliott and Fenty prepared the group with background information on the history, geography, geology, environment, and ecosystem diversity of the Churchill region, and helped participants understand what to expect and what to bring on such an adventure. But the highlight lecture in preparation for departure day was Blum's talk on polar bears.
"I knew next to nothing about polar bears when I signed up," says Greg Swanson. "After Susan's lecture my wife Dianne and I felt much more knowledgeable." Dianne was fascinated to hear about their feeding and fasting patterns. "I knew bears hibernated," she says, "but I had no idea that female polar bears would leave the hunting grounds in June or July at sea-ice break up and potentially not eat again for eight months if pregnant or feeding their young." Her husband adds, "We've all heard about climate change and risks to polar bears. I was saddened to learn that Susan's research found chemicals released as pollution in the south in maternal polar bear milk in the far north. That was eye opening."
Participant fees covered all lectures and a full week of travel, lodging, meals, guides and tours. They also funded memberships at the CNSC where the group stayed and a donation to the local Itsanitaq museum. "The trip promotes sustainability," says Suru, "and our goal is to help sustain the community of Churchill, the researchers who work there and our students. Any profit from the trip will go back into the fund we'll draw from to help future students participate in this kind of activity."
"I can't thank my program enough for helping me get there," says Kuras. As the trip got underway, he noted, "It's going to be an amazing experience. Of course, I'm excited to see polar bears. I'm also really looking forward to seeing how things are done up there. I hope to get a chance to meet with a conservation officer to hear about what challenges they face and compare it to what I've been learning in my program and what I experienced over the summer working in Good Spirit Provincial Park."
As the train wound its way through northern Manitoba passing rocky Canadian Shield country and kilometer after kilometer of snowy muskeg, the group got to know each other, traded life stories and travel anecdotes, and compared expectations about what they were soon to experience. The morning of arrival in Churchill dawned and excitement grew in the Sask Polytech train car. Would they see many bears? Would they be close enough to get good photographs? What would a day on a Tundra Buggy® be like? What else might they see and learn in and around Churchill and the CNSC?
Read part two, where we share more about the group's time in Churchill, and part three, where we profile the three Sask Polytech students who joined the adventure!
For more information about Sask Polytech's Polar Bear Eco Trip, visit our website: Polar Bear Eco Trip.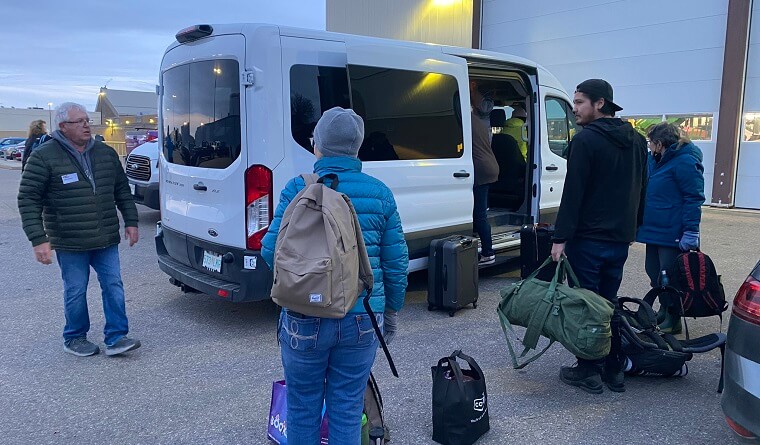 Participants of the first Polar Bear Eco Trip gathered to depart from Saskatoon main campus on November 1, 2022. The first leg of the journey, from Saskatoon to The Pas, MB, was by van.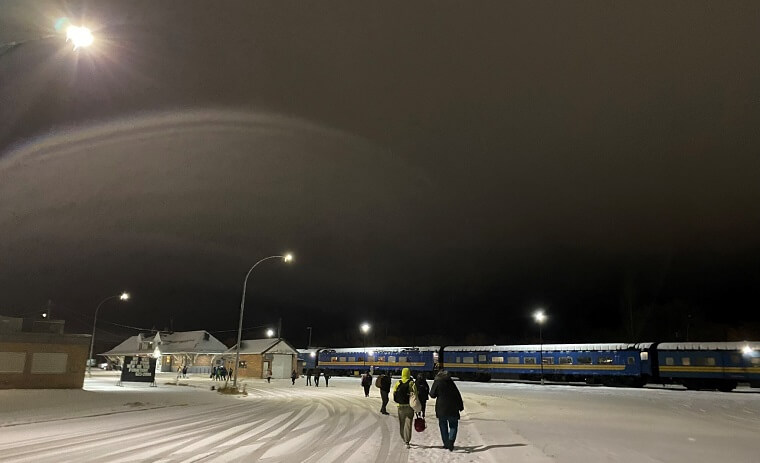 The group made its way to the station in The Pas, where they caught the train to Churchill.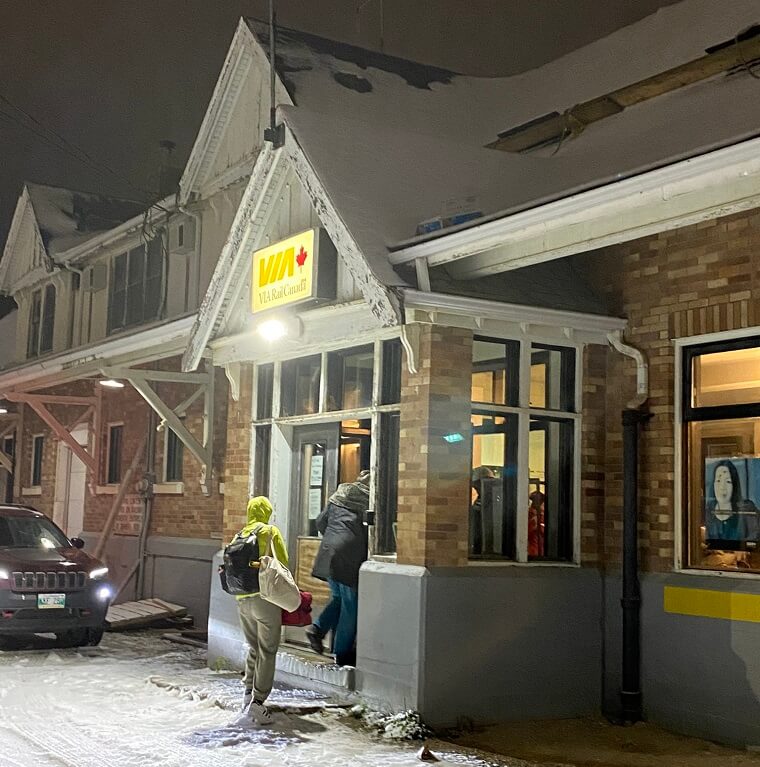 The railway helps make Churchill an accessible destination to view polar bears. With no road in, air or sea are the only other ways to reach this northern community.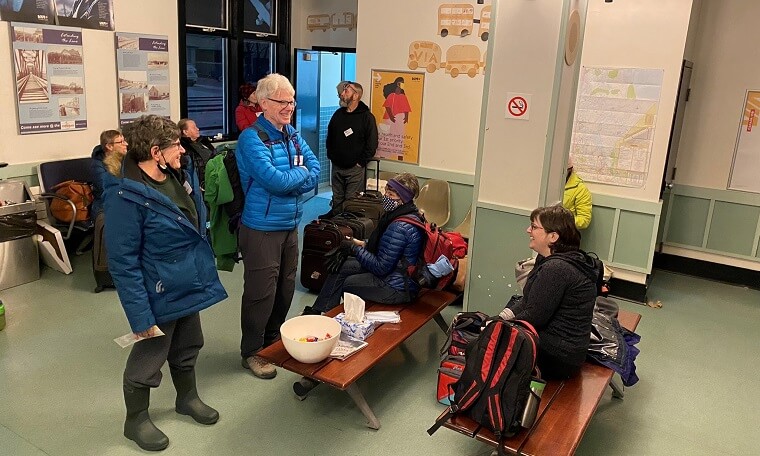 Excitement grew as participants waited to board the train and the longest stretch of travel got underway.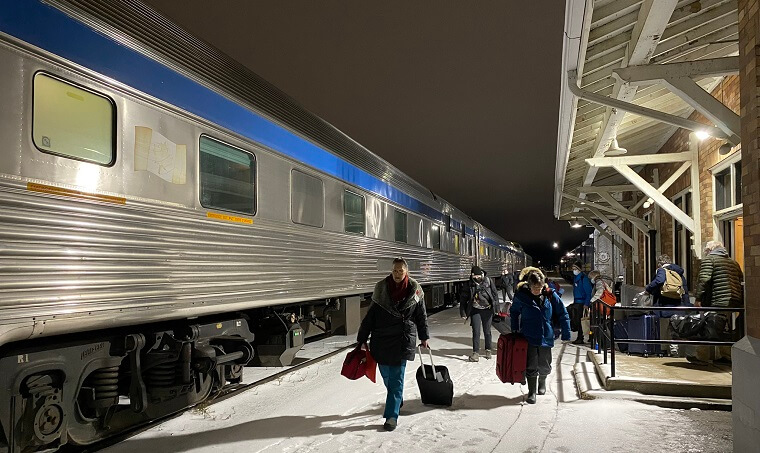 The group loaded their luggage and prepared to get comfortable for the journey north.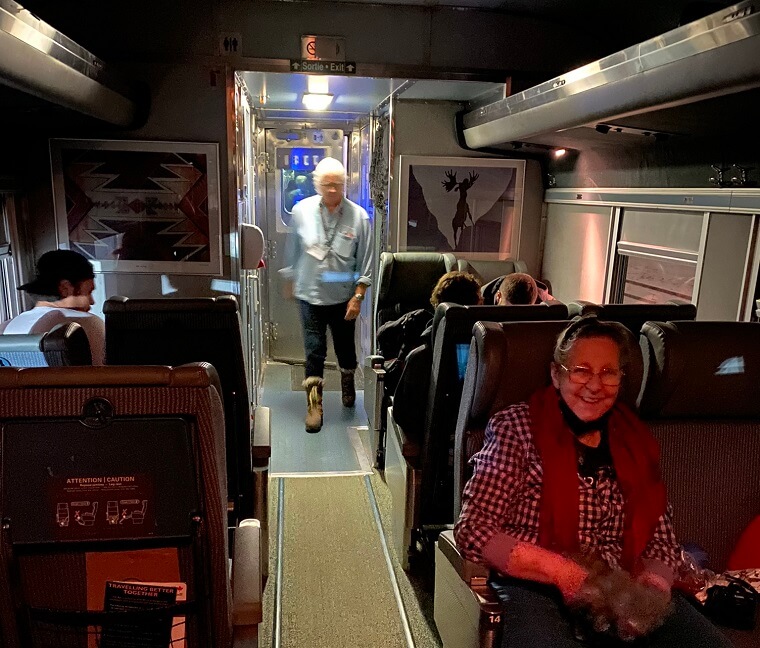 Guide Melanie Elliot moved from car to car to help participants get settled on the train. Everyone started to get to know each other, sharing life stories and expectations for the adventure to Churchill.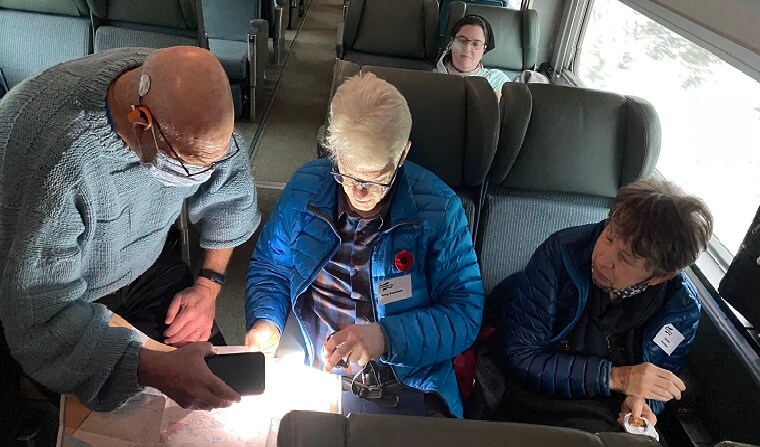 Co-guide Greg Fenty helped prepare the group for where they were going and what they would see.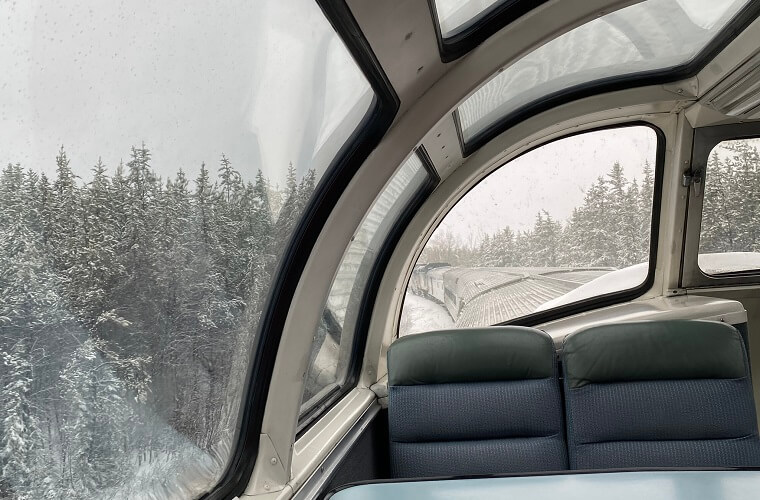 The train track is built on muskeg and travels slowly, giving lots of opportunity to view the changes in landscape from south to north.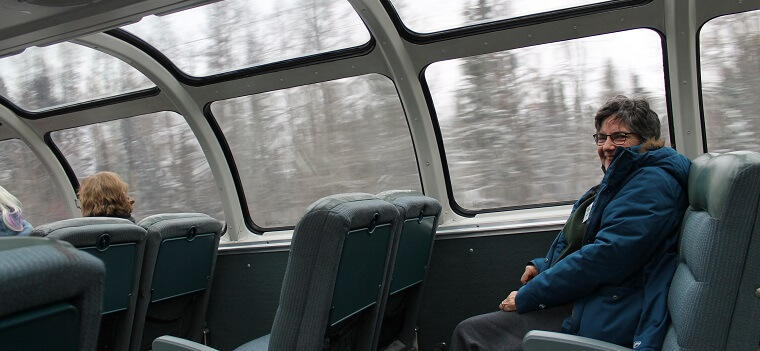 Train travel is a sustainable way to reach Churchill and an enjoyable part of the Polar Bear Eco Trip!
---
Saskatchewan Polytechnic is signatory to the SDG Accord. Sustainable Development Goal alignment is one of the ways Sask Polytech is leading the rise of polytechnic education.