Culinary Arts students learn the benefits of growing their own greens
Saskatchewan Polytechnic Culinary Arts students know using fresh herbs is one of the easiest ways to take a dish from basic to brilliant. For over five years, students have been planting herbs, greens, kale, radish and microgreens with the program's Urban Cultivator to provide fresh, organic herbs throughout the academic year.
The Urban Cultivator is an automated, hydroponic indoor growing appliance. The growing cycle doesn't use pesticides or chemicals of any kind and provides the proper aeration and circulation needed to grow plants. The seed trays sit over water reservoirs and are automatically watered from the back of the unit.
"The Urban Cultivator gives students the opportunity to enhance their dishes with different, fresh flavours," says Everett Nelson, Culinary Arts instructor. "It's like having a mini greenhouse in your kitchen! Students are able to grow herbs and vegetables and use them throughout the lifespan of the growing period from a little sprout to full grown leafy plants. We don't have to order and waste product that comes in on a truck with lots of packaging. And the produce is always fresh!"
Using the Urban Cultivator helps Sask Polytech reduce its carbon footprint in the kitchen, teaches students about growing food and creates a culture of sustainability with fresh food at the focal point. The indoor garden has a quick growing cycle and can sprout plants in two days to a week depending on the type of seed.
"With supply chain issues becoming more common, it's important that students have an understanding of where their food comes from, how to grow food and the benefits of using food that is grown locally," says Nelson.
The Urban Cultivator is a great tool for the School of Hospitality and Tourism, but it benefits everyone on Saskatoon Campus who enjoys food created by Culinary Arts students or Food Services in the cafeteria.
"It's nice to be able to use herbs and vegetables you grew yourself, it's nice to know where your produce comes from," says Dielle Gaucher, Culinary Arts student. "Everything we grow is organic. It doesn't include any pesticides or chemicals. I've planted chives, lettuce, mustard greens and arugula."
"I enjoy that the Urban Cultivator is in the kitchen and easily accessible," says Angela Fontaine, Culinary Arts student. "Dielle and I planted some greens a couple of weeks ago for our Taste of Spring event. We used the greens in a salad and as garnish, it was great."
"Once the herbs are at the end of their life, we can harvest and use them that day, dry them for future use or turn them into purees," says Everett. "The fresh produce really enhances our dishes. I'm sure everyone who orders a sandwich or salad from Culinary Arts can taste the difference. Students are always surprised how much flavour you can get out of a tiny radish sprout."
Nelson mentioned that the program is always looking to try new things. This spring they ordered 72 pea pucks to sprout tomato plants in the Urban Cultivator for students to later take home and grow. Students will learn how to grow and care for the plant before harvesting the tomatoes later this summer.
Learn more about Sask Polytech's Culinary Arts program.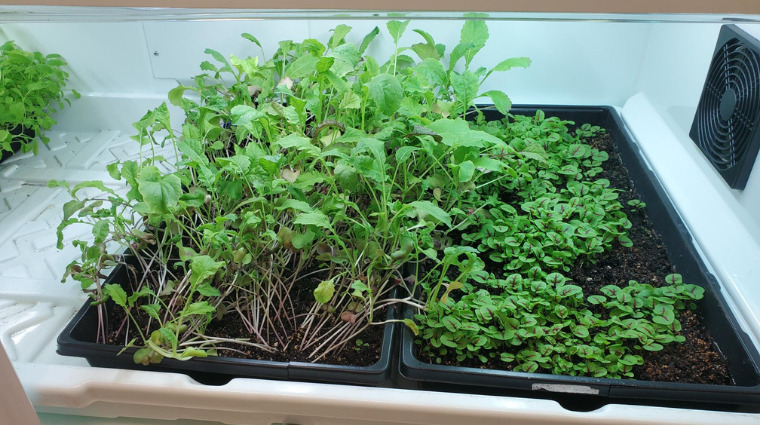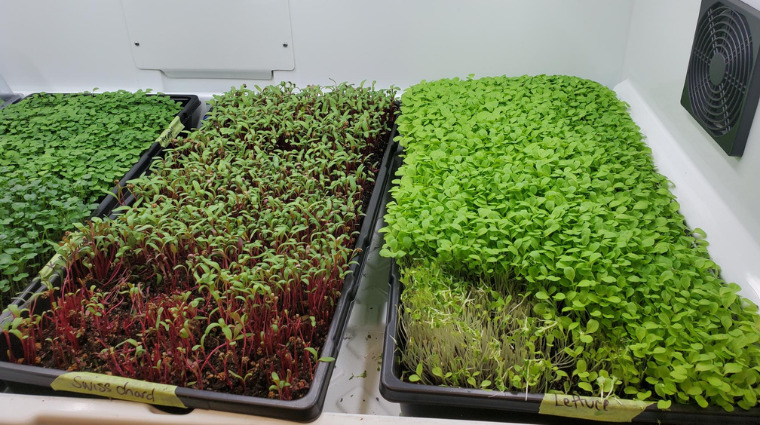 ---
Saskatchewan Polytechnic is signatory to the SDG Accord. Sustainable Development Goal alignment is one of the ways Sask Polytech is leading the rise of polytechnic education.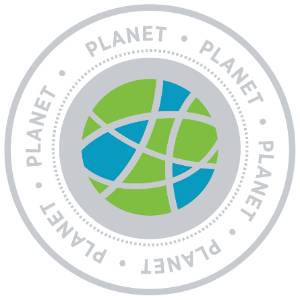 Published April 2022.