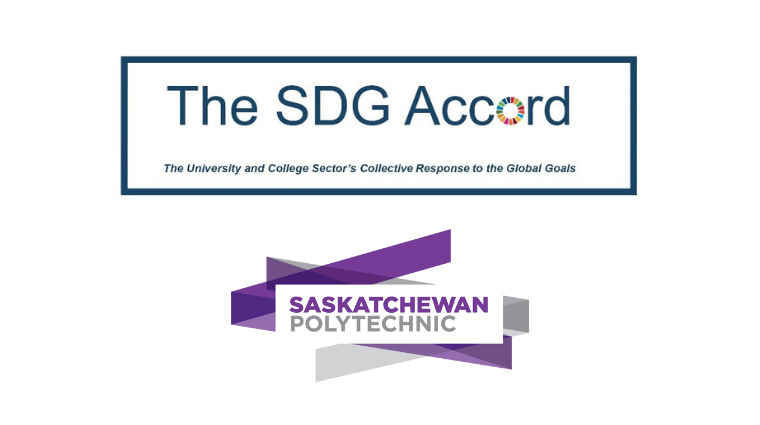 October 8, 2021 – Saskatchewan Polytechnic has joined an international network of post-secondary institution signatories to the SDG Accord, a global initiative to further the United Nation (UN)'s Sustainable Development Goals. Led by the Alliance for Sustainability Leadership in Education (EAUC) and supported by Colleges and Institutes Canada (CICan), the accord is the post-secondary sector's collective response to advance the critical role that education has in delivering 17 global targets for reducing inequality, ending poverty and hunger, improving health and education, protecting the planet, and enabling innovation and meaningful work for prosperity by 2030.
The SDG Accord calls upon the world's colleges, polytechnics and universities to embed the Sustainable Development Goals into education, research, leadership, operations, administration, and engagement activities, and to align all major efforts with the Sustainable Development Goals, targets and indicators.
The accord can be signed on four levels—from leaders of institutions making a corporate commitment through to individuals within colleges and universities. More than 200 institutions around the world have signed onto the accord.
Sask Polytech president and CEO, Dr. Larry Rosia, who signed the accord on behalf of the institution, says, "Saskatchewan Polytechnic is honoured to add our voice to this important agreement. Increasingly, the work we advance as part of our institutional strategy, Leading the Rise, supports the goals outlined by the United Nations. In signing the SDG Accord, we formally recognize the important role Saskatchewan Polytechnic can play in furthering these objectives as an educational leader."
Signatories of the accord report annually on their respective progress in the spirit of collaboration. Dr. Has Malik, provost and vice-president, Academic at Sask Polytech, explains, "The SDG Accord's purpose is in part a commitment to do more and to learn from each other. Connecting with others nationally and internationally as part of a formal accord will inspire further alignment of our programs, courses and initiatives with this set of important global goals."
Awareness is a key component of the SDG Accord, which aims to inspire and celebrate delivery of the goals and the value that the SDGs bring to government, business and wider society. "We are already nicely positioned to start sharing Sask Polytech's work in a variety of areas from Indigenization to international and applied research projects," adds Malik. "The SDG Accord will help give us a narrative framework to share these important stories."
The SDG Accord has a direct connection to Sask Polytech's vision of leading the rise of polytechnic education, which holds solutions to many of the Sustainable Development Goals. Says Dr. Rosia, "Adoption of the SDG Accord will help us to inspire each other, and our students, faculty, staff and researchers, to make these connections and ultimately make a difference to the social and environmental future of the planet."
---
Saskatchewan Polytechnic is signatory to the SDG Accord. Sustainable Development Goal alignment is one of the ways Sask Polytech is leading the rise of polytechnic education.