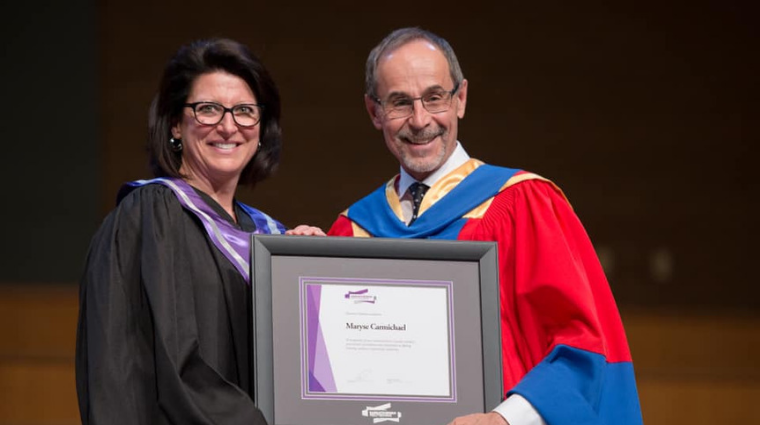 This year marks 15 years since Saskatchewan Polytechnic awarded its first honorary diploma. This annual tradition recognizes extraordinary individuals for their distinguished achievements and for modelling the institution's vision and values.
The recipient of the Moose Jaw campus honorary diploma is Lieutenant-Colonel (retired) Maryse Carmichael. Maryse has been fascinated by aviation for as long as she can remember. As soon as she was able, she followed in her three brothers' footsteps and joined the Royal Canadian Air Cadets with 630 Squadron. At age 16 she realized her dream of flying when awarded her gliding scholarship.
Maryse soon continued her aviation adventures as a military pilot, joining the Royal Canadian Air Force in 1990. During her 22-year career, she accumulated more than 3,500 hours on three main aircraft types: the Tutor, the Challenger and the Hercules.
In November 2000, Maryse made history when she was selected, after a grueling competition, to fly with 431 Air Demonstration Squadron, the Canadian Armed Forces' Snowbirds. She was the Snowbird's first female pilot; and the first female pilot in the world to fly with a Jet Demonstration Team.
Maryse also served as the Operations Officer on 436 Transport Squadron, and as the Deputy Wing Operations Officer at 3 Wing Bagotville. In May 2010 Maryse was appointed as the Commanding Officer of 431 Air Demonstration Squadron.
The recipient of many awards, Maryse was recognized in 2005 in the Top 100 as one of Canada's Most Powerful Women by the Women Executive Network, and in 2013 she was the recipient of the Elsie MacGil Northern Lights Award. She is the honorary president of the Air Cadet League of Canada and works at CAE, as Canada region training center operation manager.
Congratulations on your honorary diploma Maryse!
Since the first honorary diploma was awarded in 2003, Sask Polytech has been recognizing extraordinary individuals who model the institution's vision and values. The contributions made by the members of this elite group help cultivate an educational environment focused on applied learning and innovative research.


View past recipients online.
Published April 2019.