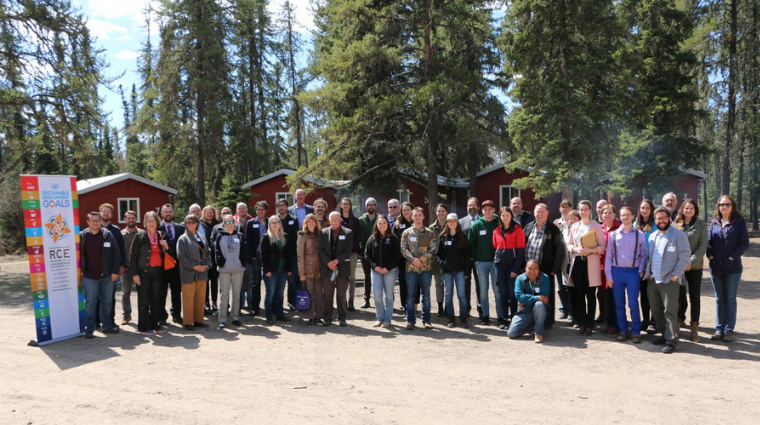 Applied research and education for sustainable development celebrated with Regional Centre of Expertise awards
May 9, 2019 – This week four Saskatchewan Polytechnic projects received awards from the Regional Centre of Expertise (RCE) Saskatchewan on Education for Sustainable Development hosted at the Hannin Creek Education and Applied Research Centre. Since 2007, RCE has organized the Saskatchewan Education for Sustainable Development Recognition event to honour local individuals, groups and organizations that have made innovative achievements in education that builds capacity for sustainable development in Saskatchewan.
"Receiving these awards is a great testament to the innovation that takes place at Sask Polytech," says Dr. Larry Rosia, president and CEO. "We are extremely proud of the students and faculty that are involved with the projects receiving awards. These projects include the Eco Car, GIS-Based Cemetery Records Management project, Hannin Creek Education & Applied Research Centre and North Saskatchewan River Lake Sturgeon Community Engagement program. These projects are the result of hard work, passion and innovation, and they set Sask Polytech apart from other post-secondary institutions in Saskatchewan. Congrats to our incredible students and faculty."
Eco Car
Sask Polytech students designed, built and tested two vehicles in the Prototype and Urban Concept categories for the Shell Eco-marathon energy-efficiency competition earlier this spring in Sonoma, California. With a result of 1008 mpg US fuel efficiency, Sask Polytech earned a sixth-place finish in the Prototype category. In 2018 the prototype car finished in tenth place and in 2017 the prototype car finished in 18th place. In 2018 the Urban Concept car placed second at the Shell Eco-marathon Drivers' World Championship in London, England.
"The Shell Eco-marathon pushes the boundaries of what is technically possible and inspires students to work together to develop innovative solutions that can result in game-changing energy efficiencies," says Tim Muench, program head for the Mechanical and CAD/CAM Engineering programs. "Many of the vehicle's components are made of recycled parts, including pop bottles, carbon fibre hockey sticks and an ice auger!"
GIS-Based Cemetery Records Management
The goal of this project was to better organize the City of Prince Albert's gravesite management system at the South Hill cemetery by embracing the latest technology in ArcGIS (geographic information system). There are over 23,000 filled plots located at the South Hill cemetery, some of which are over 100 years old. This project united all the data available, included handwritten ledgers and hard copy maps, into a unified digital system linked to each geographical plot location. This new system is available online and offers improved search capabilities for City of Prince Albert employees to assist the public.
By digitizing and sharing information online the project team hopes to create a friendlier and more welcoming green space that will be protected for years to come and where the public can easily find their loved ones. This digital information is valuable to family of those buried at South Hill cemetery and those seeking a broader understanding of this history and people of the City of Prince Albert.
Hannin Creek Education & Applied Research Centre
For over 50 years, the educational facility at Hannin Creek has benefitted students and researchers across Saskatchewan by providing unique hands-on learning experiences. Last spring Sask Polytech and the Saskatchewan Wildlife Federation celebrated the addition of a new boreal laboratory classroom and research complex at the Hannin Creek Education and Applied Research Centre. As the only boreal forest field station in Saskatchewan, the Hannin Creek Centre is a unique place to study and conduct research in such diverse programs as forestry, fisheries, wildlife, conservation law, and environmental, civil and water resources engineering technology.
"The new boreal laboratory has enhanced the educational experience for over 100 students since its launch in June 2018," Scott Lipsit, Sask Polytech Natural Resources program head. "The lab provides a venue to accommodate students and researchers from Saskatchewan, Canada and around the world to explore the boreal forest. Hannin Creek has grown from a basic forest camp to an outstanding facility that supports world-class research, applied research, education and collaboration opportunities in sustainability."
North Saskatchewan River Lake Sturgeon Community Engagement program
Sask Polytech students and instructors, in collaboration with Husky Energy, conducted research and raised awareness for Lake Sturgeon, an endangered species on the North Saskatchewan River. Through community engagement with anglers and outdoor enthusiasts students collected information on the abundance, size and distribution of Lake Sturgeon through social media, in-person creel surveys, and a citizen science day. The public creel surveys produced data on roughly 130 Lake Sturgeon. Eleven citizen scientists kayaked 20 kilometers to investigate Lake Sturgeon spawning areas. Drone footage helped collect aerial shots of the paddle and generate footage for future reference purposes.
"We hope that by engaging with communities and local groups we have inspired a sense of ownership for the conservation of Lake Sturgeon in the North Saskatchewan River," says Dave Halstead, senior researcher and project manager, School of Natural Resources and Build Environment. "By spreading awareness on the fragility of critical spawning habitat we hope to build a sustainable future for the wellbeing of the entire river system."
Saskatchewan Polytechnic serves students through applied learning opportunities at campuses in Moose Jaw, Prince Albert, Regina and Saskatoon, and through extensive distance education opportunities. Programs serve every economic and public service sector. As a polytechnic, the organization provides the depth of learning appropriate to employer and student need, including certificate, diploma and degree programs, and apprenticeship training. Saskatchewan Polytechnic engages in applied research, drawing on faculty expertise to support innovation by employers, and providing students the opportunity to develop critical thinking skills.