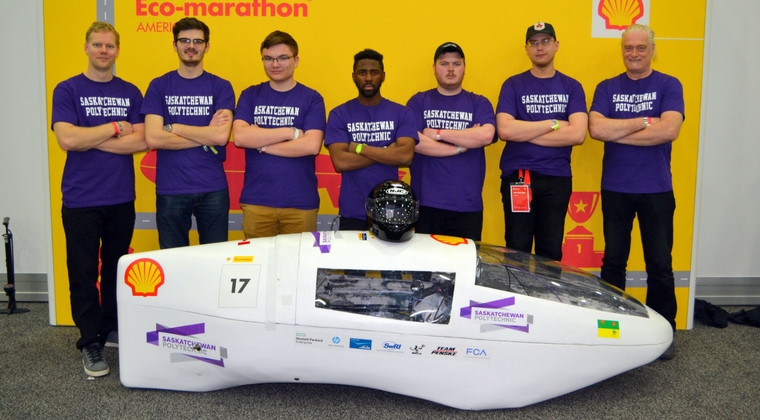 Ultra-fuel-efficient vehicle performed at the same level as many top American and Canadian universities at the Shell Eco-Marathon in Detroit.


May 3, 2017 – This past weekend a student designed and built ultra-fuel-efficient vehicle made a big impression in the international competition. The team of Mechanical and CAD/CAM Engineering Technology students presented a car that managed to perform along with significant Canadian universities including Queens, Toronto, and Dalhousie and American universities including Perdue, Berkeley, California.
"The team did exceptionally well and handled tense situations with serious professionalism and skill," says Tim Muench, program head for the Mechanical and CAD/CAM Engineering programs, who travelled with the team to support them on the track. "I'm very proud of the team and of their accomplishments."
Prior to hitting the track, the car had to pass a day and a half worth of arduous technical and safety inspections before being allowed on the preliminary indoor track to test. The team worked throughout the weekend to overcome a few technical problems and retune the fuel injection systems to improve fuel economy in the lower elevations and cooler temperatures of Detroit, Michigan.
With the car in race ready conditions, the team completed three valid attempts on the bumpy outdoor road course in downtown Detroit.
"It was a tricky course," says Muench. "The team had to manage some steep inclines and six street corner turns while weaving through the traffic of many competitors. And the weather wasn't very cooperative either. We were fighting against strong winds, cold temperatures and, at times, some precipitation."
Despite the grueling conditions, the team still managed to squeeze out 652 miles per gallon Imperial, which was enough to place them 18th out of the 54 universities and colleges that competed in their category.
"Ranking 18th is something we all should be proud of. Especially since this is the first time we've ever competed in the Shell Eco-Marathon," says Muench. "With this experience under our belt, we're ready to rank even higher next year."
The Shell Eco-marathon is an annual competition in which participants can win awards for on-track performance as well as in off-track categories such as safety and vehicle design. The event hosted competitors and spectators from across North and South America, providing an excellent opportunity to showcase Saskatchewan Polytechnic and its exceptional students to an international audience.
View the final on track results from the Shell Eco-marathon.
The CAD/CAM Engineering Technology program is a two-year diploma offered at Saskatoon campus. Students develop the knowledge and skills they need to put computer and engineering principles to work. They learn to create, modify and refine proposed parts interactively, then view emerging designs on a display terminal where they can magnify, rotate, copy, stretch and manipulate it.
Mechanical Engineering Technology is a two-year diploma program offered at Saskatoon campus. The program focuses on mechanical design and drafting, industrial and HVAC (heating, ventilation, air conditioning) systems and process instrumentation. Students learn how to apply scientific principles to solve basic engineering problems.
Saskatchewan Polytechnic serves 28,000 distinct students through applied learning opportunities at campuses in Moose Jaw, Prince Albert, Regina and Saskatoon, and through extensive distance education opportunities. Programs serve every economic and public service sector. As a polytechnic, the organization provides the depth of learning appropriate to employer and student need, including certificate, diploma and degree programs, and apprenticeship training. Saskatchewan Polytechnic engages in applied research, drawing on faculty expertise to support innovation by employers, and providing students the opportunity to develop critical thinking skills.