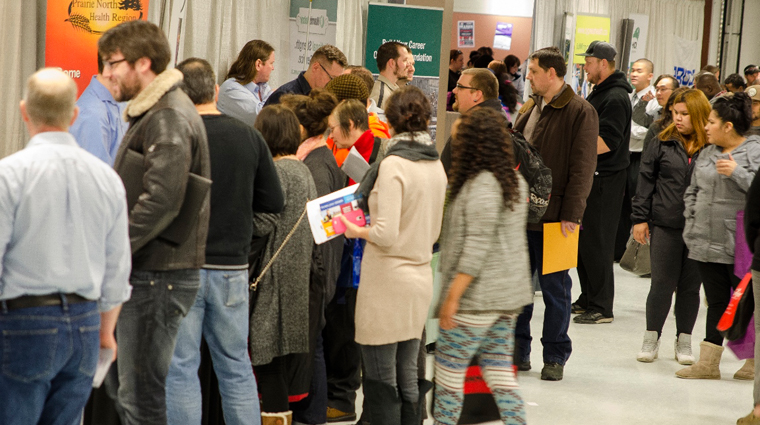 77 employers to attend Sask Polytech Saskatoon campus fair
January 24, 2017 – Saskatchewan Polytechnic is hosting its annual career fair in Saskatoon on January 25. More than 6,500 students from the schools of Business; Construction; Health Sciences; Hospitality and Tourism; Human Services and Community Safety; Information and Communications Technology; Mining, Energy and Manufacturing; Nursing; and Transportation will have the opportunity to explore employment options with recruiting companies.
"Sask Polytech graduates are the driving economic workforce in this province," says Dr. Larry Rosia, president and CEO of Saskatchewan Polytechnic. "95 per cent of our grads remain in the province where they earn and contribute to growing Saskatchewan stronger and faster than many of our peer institutions."
"The career fair provides a direct connection to business and industry for our students," says Rhonda Kitsch, Sask Polytech student employment services coordinator. "This invaluable networking opportunity is the first door many of them will walk through on their pathway to their future careers."
Benefits of Saskatchewan Polytechnic career fairs include:
Employers have the opportunity to meet students, hold on-the-spot interviews and showcase their company through information sessions.
Students and grads have the opportunity to network with potential employers in an informal setting.
Employers have the opportunity to make students more aware of their company and their hiring requirements.
Sask Polytech is dedicated to creating partnerships with employers that provide students with the best opportunities when they graduate. In turn, Sask Polytech works with employers to develop a curriculum that responds to industry needs.
"More than 700 individuals from both the public and private sectors lend their expertise by participating in our Program Advisory Committees," says Rosia. "These Committees enable Sask Polytech to be employer-driven. In turn, this programming input from the Committees provides our students with the best education and hands-on work experience possible, and provides employers with graduates who are fully prepared to work on day one."
This year's career fair, presented by PotashCorp, is organized by the Saskatoon campus Student Employment Services (SES) office. An SES office at each of Saskatchewan Polytechnic's four campuses provides career information and job search and recruitment services to students and employers.
Event:
Saskatoon Campus Career Fair
Date:
Wednesday, January 25, 2017
Time:
10:00 a.m.–2:00 p.m.
Location:
Saskatchewan Polytechnic,
Saskatoon Campus gymnasium and campus halls
1130 Idylwyld Dr N, Saskatoon
Saskatchewan Polytechnic serves 27,000 distinct students through applied learning opportunities at campuses in Moose Jaw, Prince Albert, Regina and Saskatoon, and through extensive distance education opportunities. Programs serve every economic and public service sector. As a polytechnic, the organization provides the depth of learning appropriate to employer and student needs, including certificate, diploma and degree programs, and apprenticeship training. Saskatchewan Polytechnic engages in applied research, drawing on faculty expertise to support innovation by employers, and providing students the opportunity to develop critical thinking skills.
-30-