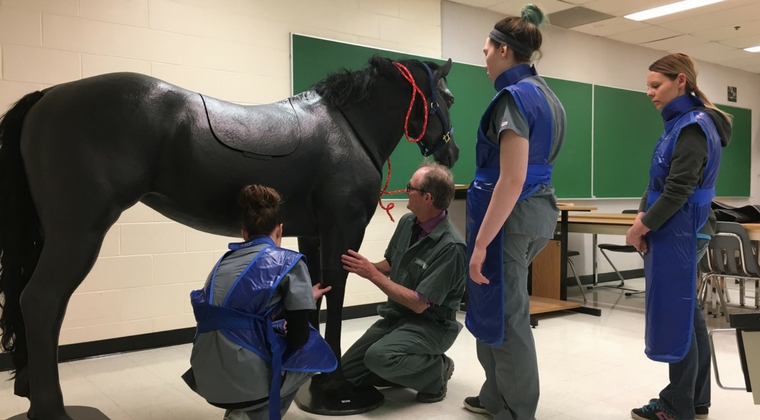 Saskatchewan Polytechnic's Veterinary Technology program is the first one in North America to be home to a full sized simulation horse model

A new teaching tool has arrived in the Veterinary Technology program at Saskatoon campus. It's a prototype simulated horse that was developed in collaboration with the Veterinary Simulation Industries of Calgary. Her name is Dobbin and she's life-like in nearly every way — she's the same size as a horse, has palpable body parts and accessible veins.
"She provides students with a number of exceptional learning opportunities," says Susan Thiessen, program head, Veterinary Technology program. "She's easy to use, provides students with the opportunity to learn new techniques in a non-stressful environment and to connect abstract concepts in a meaningful manner."
Some of Dobbin's features include:
Legs that are separated in a normal stance and a full-length tail that allows students to practice standard bandaging techniques.
A front limb with simulated bones that allows students to x-ray and examine images for positioning.
A jugular vein that allows students to practice taking blood and administering medications, including intramuscular injections through a specialized injection pad.
Movable eyelids and an eyeball that can get wet, which allows students to practice performing eye tests and administering medications.
Inflatable gastro-intestinal tract with a replica spleen and kidney, which allows students to understand anatomy relationships and feel the difference between normal and abnormal.
A number of other features that allow students take a pulse and temperature and to learn through hands-on experience.
"Dobbin allows us to teach our students in a way that is hands-on and risk free to everyone involved, including the animal," says Bernice Ruf, an instructor in the Veterinary Technology program. "She provides students with those ah-ha moments and allows them to gain confidence in their technical skills before facing a real and powerful horse."
Ruf adds that the simulation model also provides many benefits for instructors, facilitating consistency of training and avoids the unpredictable qualities of learning with real animals.
Click here for more information on Dobbin or the Veterinary Technology program.
Published April 2017.