Members of the Board of Directors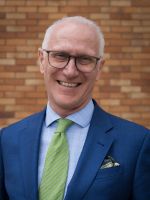 Mitchell Holash, KC
Board Chair
For more than 30 years, Mitchell has dedicated himself to the enhancement of our provincial community as a successful and active lawyer in many high profile litigations, arbitrations and public hearings; and as a community volunteer. In 2010, he was awarded the professional distinction of Queen's Counsel.
He has served as Chair of the Saskatchewan Police Commission, and as a professional representative on Saskatchewan Justice's Northern Justice Review Committee.
In 2009, Mitchell was appointed provincially to the Lieutenant Governor's Saskatchewan Honours Advisory Council (currently serving as its Chair) and nationally to the Oversight Committee for the Indian Residential School Adjudication Secretariat. He was named to the Board of Directors of the SaskPower Corporation in 2010 by Order in Council, and chaired its HR and Labour Relations Committee. In 2015, he was appointed Board Chair for the Saskatchewan Transportation Company.
Mitchell was appointed provincially to the Saskatchewan Arts Board (2003-09). He also served as the founding Chair of the Prince Albert Arts Board (1995-2012), the inaugural Chair of the E.A. Rawlinson Centre for the Arts Governance Committee (2003-2012), Chair of the Alfred Jenkins Soccer Field House Project (2007-2010), Chair of the project funding for the reconstruction of the Art Hauser Centre Arena (2005-2006), and as a founding director of the Wanisca First Nations Arts Festival (2007). Mitchell was an active executive member for the Board of the Saskatchewan Sports Hall of Fame, as well as Chair of its Induction Selection Committee (1997-2000). He is a trustee of the Saskatchewan Foundation for the Arts (2007-present) and a founding director of the Saskatchewan Health Excellence Awards (2003-present).
Named Prince Albert's Citizen of the Year (2003), Mitchell was also distinguished with the Saskatchewan Association of Community Planners Community Development Award (2004), the Saskatchewan Centennial Medal (2005), the Lieutenant Governor's Saskatchewan Volunteer Medal (2006), and the Prince Albert Sportsman of the Year Award (2014).
Mitchell and his wife, Sheila, reside in Prince Albert and enjoy together three sons.
Appointed January 24, 2018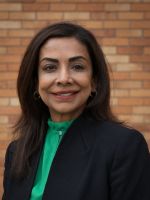 Prabha Ramaswamy
Board Vice Chair
Appointed: January 24, 2018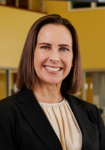 Cari Bode
Director
Cari Bode is the Sales Administration Manager and a partner at South Country Equipment Ltd., a John Deere equipment dealership with eight locations in southern Saskatchewan. She has over two decades of experience working in the agricultural industry. Her other work in the community includes serving on the Board of Directors of the Regina & District Chamber of Commerce.
An avid runner, Cari has volunteered extensively in the local running community and currently serves as Past President of Run Regina/Queen City Marathon Inc. She was the recipient of the YWCA Women of Distinction Award for Health and Wellness (2020) and the Queen's Platinum Jubilee Medal (2023).
Cari has received diplomas from the University of Regina Faculty of Arts and Faculty of Business Administration and holds a Pro.Dir.Gov designation.
She lives in Regina with her husband, Chris, and has two grown children.
Appointed: April 7, 2021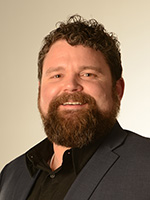 Mark Cooper
Director
Mark Cooper is the President and CEO of Prairie Clean Energy, a Saskatchewan-headquartered bioenergy company that specializes in converting agricultural waste into bioenergy fuel pellets for the world market. Previously, Mark served as the President and CEO of the Saskatchewan Construction Association, where he represented Saskatchewan's 9,000+ construction companies. He also served as Director of Policy and Communications for the Saskatchewan Urban Municipalities Association and worked for the governments of both Saskatchewan and Alberta.
Mark received his undergraduate degree in Political Science from the University of Regina and a Master's degree in Business Administration from Royal Roads University. He is a certified negotiator and mediator, a Project Management Professional, and recently concluded the Director's Education Program with the Institute of Corporate Directors. Mark has a LEAN Yellow Belt and is a trained adult educator.
Mark currently sits on the Saskatchewan Polytechnic Board of Directors where he chairs the Governance Committee. He previously served on the boards of the Regina Food Bank, the Canadian Construction Association, the Friends of the Royal Saskatchewan Museum, Government House Foundation and the Al Ritchie Community Association.
Mark and his wife Kimberley, a high school teacher, live in Regina raising their two-year-old daughter Isabella, and trying to keep up with their dogs - Seamus and Wallace.
Appointed: January 24, 2018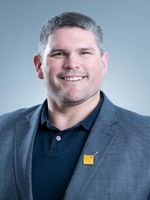 John Desjarlais
Director
Bryan Leier
Director
Appointed: March 25, 2020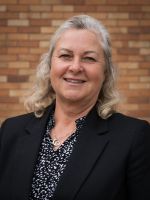 Karen Low
Director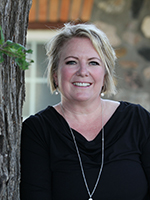 Cindy Lowe
Director
Cindy is a huge fan of education and has been in the financial and business education sectors for over 20 years. Currently, Cindy is the President of Saskatchewan Business Teachers Association and teaches Financial Literacy in Swift Current. In the past, Cindy worked with RBC and taught the Sask Polytechnic Business Certificate program at Great Plains College. Cindy is currently the Board Chair at Great Plains College, she serves on the Southwest Community Futures Board, and is a long‐time member of the Skills Saskatchewan and Skills Canada Technical Committees. She is passionate about teaching students to be entrepreneurial and to focus on employable skill development. Cindy
believes that financial literacy is closely connected to career planning, education planning, life/family planning and mental wellness and that these 5 key pillars are the keys to students' long‐term success and future.
Cindy is also a lifelong learner and has a Master of Education degree in Adult Learning & Global Change, the Public Sector Governance Certificate, a Bachelor of Commerce in Finance, and a Bachelor of Education in Mathematics. Over the course of her work, she has developed wide‐ranging provincial and federal connections, including working with the Ministry of Education to renew the Practical and Applied Arts curriculums (courses in Financial Literacy, Marketing, Entrepreneurship
and Agricultural Business). Cindy has had a lifelong commitment to financial literacy for all students and in May 2022 was awarded the YWCA Women of Distinction Award for Education. In addition to teaching full time, Cindy and her husband and her 4 children, co‐own LZ Farms since 1999 in the Kyle area, raising cattle and farming cropland.
Appointed: June 30, 2022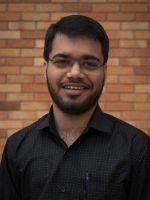 Deep Pandya
Director
Deep is the current President of the Saskatchewan Polytechnic Students' Association Inc., the official representative body of more than 14,000 students, enrolled across the four campuses of Saskatchewan Polytechnic. Deep was previously appointed as a Campus Representative for the Moose Jaw Campus and has also served as a member of the City of Moose Jaw's Youth Advisory Committee.
Deep has a Bachelor's Degree in Mechanical Engineering from Gujarat Technological University and a Post-Graduate Certificate in Business Management from Saskatchewan Polytechnic. Deep plans to pursue a Master's in Public Administration once he completes his Post-Graduate Certificate in Supply Chain Management from Saskatchewan Polytechnic.
Appointed: June 30, 2022
Rosalie Payne
Director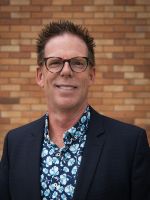 Drew Tiefenbach

Director
Drew is the Executive Director of the Electrical Contractors Association of Saskatchewan (ECAS). ECAS represents the interests of electrical contractors by collaborating with local and provincial construction associations, apprenticeship, TSASK inspections, engineers' and architects' associations, as well as organizations promoting trades as a career path.
He recently retired from Alliance Energy, ending his 30-year stint as Manager of the Special Projects Division and Corporate Shareholder, including Co-Chair responsibilities of the Alliance Energy Corporate Safety Committee.
In 2014, Drew joined the Saskatchewan Apprenticeship and Trade Certification Commission (SATCC) Board of Directors, as an employer representative in the construction sector. In October 2016, he was appointed and served as the Commission Board Chairperson, until his term ended in 2023. In 2018, Drew joined the Saskatchewan Polytechnic Board of Directors, initially as the SATCC representative and he continues to serve the organization as board member and Chair of the Human Resources Committee.
Drew became a Red Seal certified Journeyperson in the Electrical trade in 1985 (a Saskpoly Alumnus) and he achieved a Business Administration Certificate from the University of Regina in 2009. He has a Gold Seal designation from the Canadian Construction Association as a Project Manager and a Blue Seal certificate from the SATCC, acknowledging Achievement in Business Competencies, as recognized in Saskatchewan and Alberta. Drew also completed a Pro.Dir. designation from Governance Solutions.
Appointed: January 24, 2018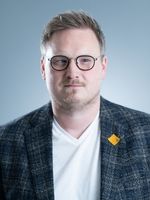 Tyler Willox

Director
Appointed: January 24, 2018