Sustainability in Applied Research
Sustainability is one of Sask Polytech's four key values and feeds into our vision and mission—to lead the rise of polytechnic education and empower a better Saskatchewan. 
  
Sask Polytech applied research can support business and industry to become more sustainable. We encourage faculty, staff, students and researchers to consider how they can contribute to a more sustainable future through applied research opportunities.
Upcoming events
CICan 2023 Student Art Contest
Colleges and Institutes Canada (CICan) is holding a student art contest, inviting participants to submit work that reflects on one (or more) of the United Nations' Sustainable Development Goals (SDGs). One winner will be selected in each of five categories: photography; painting; drawing; textile, mixed media, sculpture or printmaking; and digital illustration or animation. Winners will receive a cash prize of $500 courtesy of TD Insurance and have their artwork displayed at the CICan national headquarters in Ottawa. Deadline: March 31, 2023.
Sustainability Day

Sask Polytech is pleased to present our first annual Sustainability Day. In-person and virtual events are planned for each campus location to help students, faculty and staff connect with others across the whole organization. Learn more.
Resources
Contact us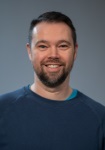 Dr. Alasdair Morrison
Sustainability Facilitator
306-659-5011
alasdair.morrison@saskpolytech.ca