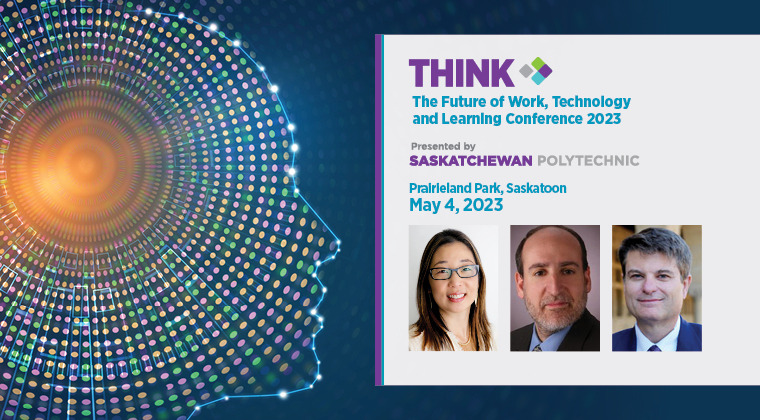 Sask Polytech's THINK Conference explores emerging trends, technologies and innovation
Saskatchewan Polytechnic is set to host it's fourth annual conference THINK: The Future of Work, Technology and Learning on Thursday, May 4. The conference is designed to bring together industry professionals, academics, students and researchers to explore emerging trends, technologies and innovative ideas across a wide range of disciplines.
This not-to-be-missed program includes keynote speakers and a riveting roundtable discussion featuring insights from Sask Polytech students and alumni. The goal of the conference is to promote collaboration and knowledge sharing among participants and to provide a platform for exploring new ideas and opportunities to navigate disruptive change.
This year's featured keynote speakers include:
Dr. Michelle R. Weise, author of Long-Life Learning: Preparing for Jobs that Don't Even Exist Yet. Her book was awarded the 2021 Phillip E. Frandson Award for Literature by the University Professional and Continuing Education Association. Thinkers50 named Weise one of 30 management and leadership thinkers in the world to watch in 2021. Weise leads Rise & Design, an advisory service tailored for organizations seeking to design education and workforce strategies that will prepare working-age adults for the jobs of today and tomorrow. In the past, she has served as vice chancellor of Strategy and Innovation at National University System and senior advisor at Imaginable Futures, a venture of The Omidyar Group. She was also the chief innovation officer of Strada Education Network as well as of Southern New Hampshire University.
Paul Leinwand, adjunct professor of Strategy at Northwestern University's Kellogg School of Management, and global managing director for Capabilities Driven Strategy and Growth for Strategy, PwC's strategy consulting business (previously Booz & Company). Leinwand has co-authored a series of books with Harvard University, including Beyond Digital: How Great Leaders Transform Their Organizations and Shape the Future; Strategy That Works: How Winning Companies Close the Strategy through Execution Gap; The Essential Advantage: How to Win with a Capabilities-Driven Strategy and Cut Costs & Grow Stronger. He has also co-authored many articles on purpose, identity, strategy and leadership with Harvard Business Review.
Martin Ford, a futurist and author focusing on artificial intelligence and robotics, and the impact of these technologies on the job market, economy and society. Ford has written four books on technology. His 2015 book, Rise of the Robots: Technology and the Threat of a Jobless Future, was a New York Times bestseller and won the £30,000 Financial Times and McKinsey Business Book of the Year Award. In Ford's most recent book, Rule of the Robots: How Artificial Intelligence Will Transform Everything (2021), he argues that AI is a systemic, general-purpose technology that will ultimately compare to electricity in terms of its impact on the economy and society.
The THINK Conference has become a must-attend event in the province of Saskatchewan, attracting participants from across Canada and around the world. It offers a unique opportunity for professionals and students to network, learn from experts in their fields, and gain new insights into emerging trends and technologies.
Saskatchewan Polytechnic will present its fourth annual THINK: The Future of Work, Technology and Learning conference in-person event will be held at Prairieland Park in Saskatoon.
To register, visit think.saskpolytech.ca.