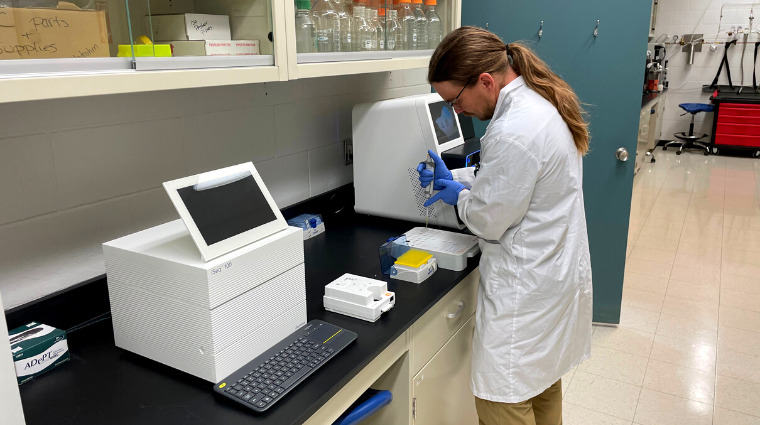 Saskatchewan Polytechnic has been granted cannabis research and analytical licenses by Health Canada, enabling their involvement in applied research initiatives related to cannabis.
Cannabis research licenses allow Sask Polytech to undertake applied research projects aimed at solving industry needs, such as improving plant quality and propagation techniques.
The licenses also allow Sask Polytech to provide analytical services to licensed cannabis growers and to support applied research projects. Analytical work can be completed on a fee-for-service basis in cases where services are not commercially available and where Sask Polytech can offer access to specialized equipment.
"Sask Polytech's analytical equipment that can be used in cannabis applied research projects includes Next Generation Sequencing equipment, Inductively Coupled Plasma Mass Spectrometry (ICP-MS), Gas Chromatography Mass Spectrometry (GC-MS) and Liquid Chromatography-Mass Spectrometry (LC-MS)," says Blaine Chartrand, BioScience Technology program head and instructor.
Chartrand adds, "Examples of applied research cannabis work Sask Polytech can complete include improving plant quality through experimental breeding programs, developing and testing propagation techniques (including micropropagation), performing microbiome analysis and genotyping by sequencing. Sask Polytech can also analyze micronutrients or heavy metals in soils or plant material."
"As the cannabis industry continues to mature, it will be vital to develop excellent breeding programs and energy-efficient methods of propagation. Sask Polytech's applied research will draw on techniques that are well established in the traditional agricultural space and adapt them for use in the cannabis industry to improve plant quality and performance," says Dr. Susan Blum, associate vice-president, Applied Research and Innovation at Sask Polytech.
Intellectual property for all Sask Polytech applied research projects is retained by industry, creating more incentive for future creative engagement and ongoing collaboration.
Sask Polytech faculty, researchers and students collaborate with employers on applied research projects. These projects take many forms including product development, process design, technology adoption and proof of concept. Using state-of-the-art facilities, equipment and faculty expertise, Sask Polytech delivers solutions and helps industry to capture new opportunities.
Learn more at saskpolytech.ca/research.