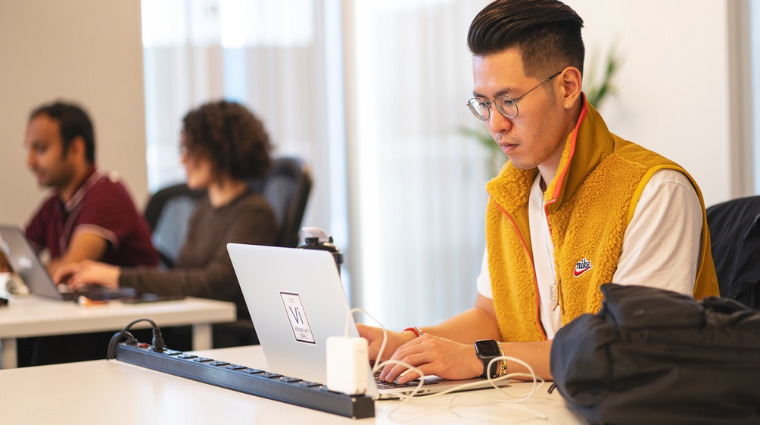 Funded in part by the Government of Canada's Sectoral Workforce Solutions Program (SWSP), training will focus on web development and data science
March 30, 2023 – Saskatchewan Polytechnic is excited to partner with tech education leader Lighthouse Labs to offer web development and data science training to learners at no cost to help grow Saskatchewan's expanding tech sector. The ICT Boost initiative is funded in part by the Government of Canada's Sectoral Workforce Solutions Program (SWSP).
The focus of this partnership is to empower and provide skills training to learners from equity-deserving groups wanting to work in the Information and Communications Technology (ICT) sector. Eligible learners can attend virtual training at no cost to kick-start a rewarding career in web development or data science. Learners will receive extra support through Lighthouse Labs' mentor support system, essential skills and non-technical training, tech stipends and career services.
"The tech sector fuels the Canadian economy, and it's critical that we match the rapid growth in the market with future-thinking training opportunities. It should take no one by surprise that there are barriers to entry into tech, which has created an ecosystem that is not reflective of the population of Canada," says Jeremy Shaki, CEO of Lighthouse Labs. "This is a true partnership between Lighthouse Labs and Saskatchewan Polytechnic, with aligned goals so that everyone is well represented in designing and strengthening solutions for our increasingly changing future. With the support of the Government of Canada, ICT Boost will work alongside our partners to provide skills training to enter the workforce and empower students to take advantage of this booming industry."
This rapid training initiative supports equity-deserving groups, including Indigenous peoples, newcomers, persons with disabilities and women – those often disproportionately marginalised in the ICT sector. Unemployed or under-employed individuals may also qualify for funding. The technology sector in Saskatchewan is developing rapidly. This collaboration will provide diverse learners with an opportunity to develop the digital skills required to meet the province's labour market demands.
"Supporting and providing training for a skilled, inclusive and productive workforce is important," says Dr. Larry Rosia, Sask Polytech president and CEO. "Through partnering with Lighthouse Labs and ICT Boost, we are bringing funded tech training to Saskatchewan to launch careers in the ICT sector and to support the growth of Silicon Prairie. Sask Polytech is excited for this partnership with Lighthouse Labs as their only post-secondary collaborator in Saskatchewan."
Joao Rossi previously took Lighthouse Labs training offered through Sask Polytech. Rossi, who has a master's degree in statistics, was struggling to find statistics-focused employment in Saskatchewan. "I enrolled in a Lighthouse Labs boot camp to shift the direction of my career," says Rossi. "I now work remotely as a data analyst. I would recommend others take Lighthouse Labs training; it's condensed, focused training. You can learn a lot quickly and have access to mentors and experts throughout your training to ask questions and learn from."
To learn more, attend a virtual information session starting on April 6 or visit saskpolytech.ca.
About Lighthouse Labs

Lighthouse Labs was created in 2013 by a team of developers with a passion for code, mentorship, and education. Since then, they have introduced more than 30,000 Canadians to new digital and data skills and helped 1,500+ graduates begin new careers. Their mission is to efficiently prepare the workforce with skills to succeed in roles that leverage data and technology.