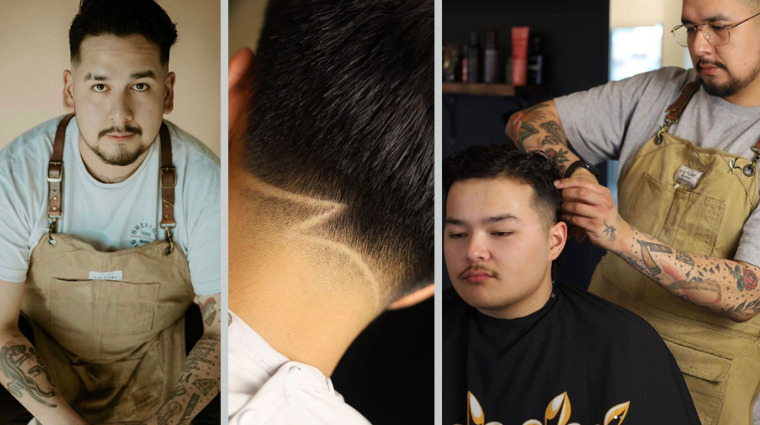 While most of his friends pursued careers in the trades, Keegan Thomas took a non-traditional route to pursue his passion. Entering the female-dominated hairstyling industry presented several challenges for Thomas but also a unique opportunity to connect with his Indigenous roots and support his community. Thomas, a graduate of the Saskatchewan Polytechnic Hairstylist diploma program in Prince Albert, is a barber at King Cut Barbershop in Saskatoon where he loves interacting with his clients and giving them an extra boost of confidence with a fresh cut. "Seeing them feel confident and happy is a good feeling for me, it's very rewarding," says Thomas.
Thomas grew up in several communities across Manitoba and Saskatchewan including Chemawawin Cree Nation, The Pas and Prince Albert. His family and communities have played a pivotal role in getting him where he is today. At age seven, Thomas began experimenting with haircuts after his kokum gifted him a pair of clippers. Little did she know the gift would help her grandson discover his passion and influence his career path.
His Indigenous roots and community are a major part of what drives him. In 2020, Thomas participated in the Walking With Our Angels teepee ceremony in Regina to help raise awareness about suicide prevention. Thomas cut organizer Tristan Durocher's long braided hair as a part of the ceremony. "It was a really big deal. For Indigenous people cutting of the hair is a really big thing, it ties you back to your culture," says Thomas. He continues, "I was proud to be a part of it, especially being Indigenous trying to bring awareness to suicide prevention for Indigenous people and the problems that we deal with. I want to help as best as I can."
He also wanted to help after learning of the devasting incident on James Smith Cree Nation in September 2022. "My heart went out to them. I wanted to help with the costs," he says. Thomas donated $10 from every service provided and all the tips he earned for a day to help the people of James Smith Cree Nation.
Thomas explains that growing up he never felt like he had role models to look up to and wants to be that for others, "I don't want people to feel like they're ignored or being left behind. I try to be someone that people can talk to or look up to." He also hopes to one day give back to the Chemawawin Cree Nation for supporting him when he wanted to further his education at Sask Polytech, "They're the ones that helped me out with taking the hairstyling program. I've always been so grateful," he adds.
Being a male in the hairstyling industry and the only male student in his class at Sask Polytech created challenges for Thomas. The learning environment was different than he was used to and some course content was foreign, like make-up and manicures. He also had clients refuse his services, "You'd be surprised how many people still don't want a guy to cut their hair. I'm always understanding though and will recommend another barber or hairstylist. I don't take it personally and shrug it off," says Thomas. Despite experiencing struggles and facing negative attitudes about his profession of choice, Thomas had strong supports around him, a positive attitude and the drive to achieve his dreams.
"We have a small number of men attending our program, yet it's so important to have the diversity and new perspectives they bring when preparing to join this growing field. Our industry is changing and with a large portion of the workforce retiring, there are many opportunities for newly trained stylists," says Louise Benson, program head for the Hairstylist and Esthetician programs. "It's exciting to see Keegan showcasing his skills and excelling in the field."
The challenges Thomas has faced in life and in pursuit of his career have only made his desire to connect with and help people stronger. As his passion for barbering continues to grow, it feels less like a job and something he hopes to continue with for a long time. "Getting to meet people and make them feel their best, I really love what I do," he says.
Thomas specializes in skin and taper fades, and men's medium length cuts. Follow Keegan Thomas' work on Instagram @thebarberofsask.
Visit the Hairstylist diploma page for more information on the program.