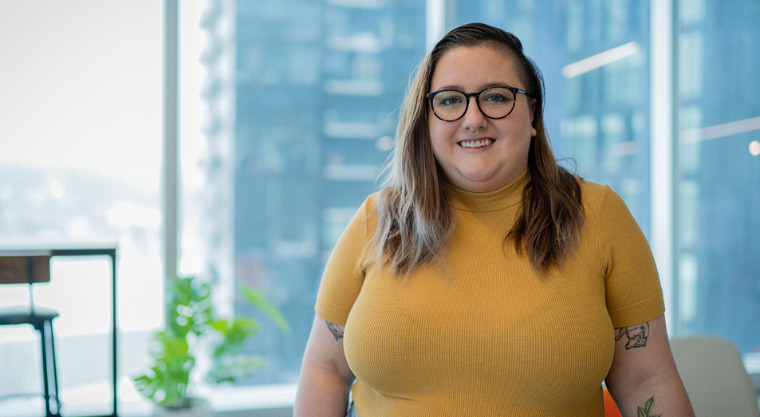 Software developer Carmen Goetz pays it forward soon after graduating from Saskatchewan Polytechnic
The Saskatoon native and alumnus of the Computer Systems Technology program says giving back to Saskatchewan Polytechnic was top-of-mind after graduating. "I realized it's never too soon to start giving back. I'm fortunate enough to be employed by an amazing company and be in a good financial state." Goetz adds, "I know first-hand how helpful an award can be for a student so I figured, why not now."
Goetz began a new career as a software developer at 7shifts in 2019. "I was hired as a junior developer before graduating from my program." 7shifts is a restaurant scheduling and labour management software company located in downtown Saskatoon. Goetz worked in different areas within the programming department and is now a level 2 software developer.
Goetz worked a sales job for years before making a career change, "I knew it wasn't for me, and I needed to do something different. I have always been into tech and was wanting to know how things worked. I would take apart devices, just to see if I can put them back together."
Despite the strong interest in technology, it never occurred to Goetz to go into it as a profession. Goetz applied to the Computer Systems Technology program on a whim. "On my first day, I wasn't even sure if I should be there, but I quickly fell in love with programming. It was not an easy program, but I loved it. I was busy with my studies, without much time for work, or social life, but I persevered. I made some great friends, and the instructors were very supportive and helpful throughout my time there."
Goetz's journey wasn't easy. "Since I was working to get myself through school, I had to cut back on classes and ended up completing the diploma program in three years instead of two." Goetz says, "The financial stress was really weighing me down." Looking for additional financial support, Goetz applied for student awards at Sask Polytech. "I received a few awards that allowed me the freedom to focus on my education. I was able to make studying my number one priority."
After receiving the financial support Goetz planned to pay it forward and looked into setting up a student award with Sask Polytech. Goetz established two awards available to students in the Computer Systems Technology program. "My hope is that these awards can help students focus on their studies and succeed in what they are doing, like they did for me. Knowing that I can help someone just a little bit is enough of a benefit for me."
These awards are also partially supported by 7shifts. Goetz was surprised to learn the company would chip in to towards the awards. "I honestly just asked if they were interested, and they were! 7shifts sees it as a perfect opportunity to give back and are very happy to support future Sask Polytech graduates."
Goetz recently became engaged and is looking forward to getting married in the fall of this year. As things look brighter for the future, Goetz has this advice to give, "To current students, keep doing what you're doing. Do the best that you can, and you will achieve your goals. To graduates, it's never too early to give back if you have the financial capacity. Think about how much it would have helped you and give back if you can!"
To contribute to student awards at Sask Polytech visit saskpolytech.ca/scholarships
Join the Sask Polytech alumni community! Register as an alumni today.
Published March 2023.