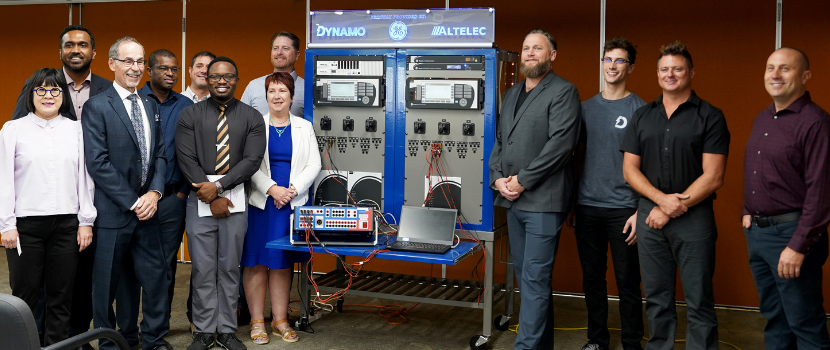 Electrical Engineering Technology students benefit from passionate alumnus, employer and Program Advisory Committee member
September 12, 2023 – Kyle Solie, a passionate Saskatchewan Polytechnic alumnus, has been ardently supporting the Electrical Engineering Technology diploma program at his alma mater for nearly two decades. His commitment extends to regularly recruiting and employing co-op education students for Dynamo, frequently offering permanent positions to these graduates and chairing Sask Polytech's Electrical Engineering Technology Program Advisory Committee. His commitment now also includes coordinating a near $200,000 gift from Dynamo, Altelec and GE Grid Solutions to the program that has given him so much.
"As a graduate of the Electrical Engineering Technology program, a chair on the Program Advisory Committee and a regular employer of co-op students and graduates, I was able to identify a technology gap with student learning equipment," says Solie, key account manager at Dynamo. "This digital protection and control panel will help students keep up with the technology currently used in industrial and utility applications. Dynamo worked closely with Sask Polytech, Altelec and GE Grid Solutions to ensure this panel would meet the needs of students, employers and customers of the electrical grid for years to come. As far as I know, this is a one-of-a-kind, custom piece of equipment. There is nothing else like this out there!"
The custom-built, digital protection panel is designed to act as an electrical substation, creating simulations of real-life power system events for students. The panel allows students to gain experience programming their own substation configurations and learning how different protection configurations and associated breakers react. The panel will respond and operate based on design parameters and functions set by the user. For this partnership Dynamo provided panel materials, design and manufacturing. Altelec and GE Grid Solutions provided universal relays, switches, gateways and technical support.
"Dynamo regularly hires Electrical Engineering Technology graduates from Moose Jaw campus. We will ultimately benefit from this gift as it will enhance students' learning and experience before graduating," says Solie.
"Thank you to Dynamo, Altelec and GE Grid Solutions for coming together to create this custom electrical panel to help Electrical Engineering Technology students prepare for their future careers," says Dr. Larry Rosia, Sask Polytech president and CEO. "This is an exciting opportunity for students to learn using the latest technology. It is a clear example of how our Program Advisory Committee members play a critical role in curriculum development and program delivery. Thank you to Kyle for your leadership and commitment to our Electrical Engineering Technology program and graduates."
Solie adds, "I owe my career to this program. It feels great to give back to Sask Polytech. Dynamo will continue to provide our expertise and technical support to benefit students and assist with lab simulation development and use of the new protection panel."
The Electrical Engineering Technology program is a three-year diploma offered full time at Moose Jaw campus. There are five academic semesters and three co-operative education work terms. Electrical Engineering Technology graduates are in high demand with a 100 per cent employment rate. Throughout the program students learn about the generation, transmission and distribution, utilization, protection and sustainable management of energy.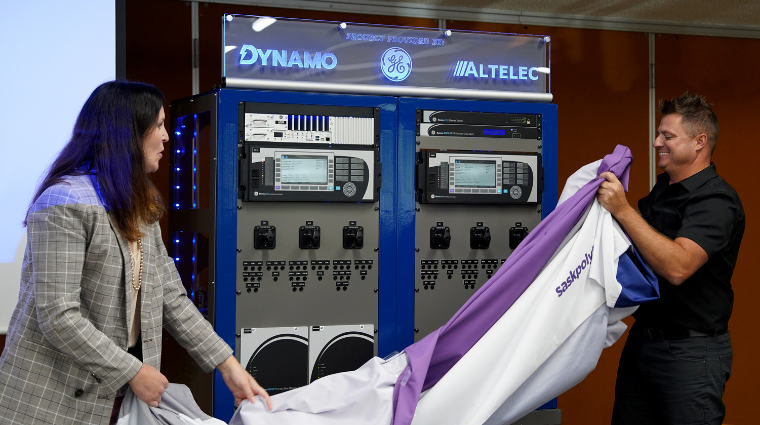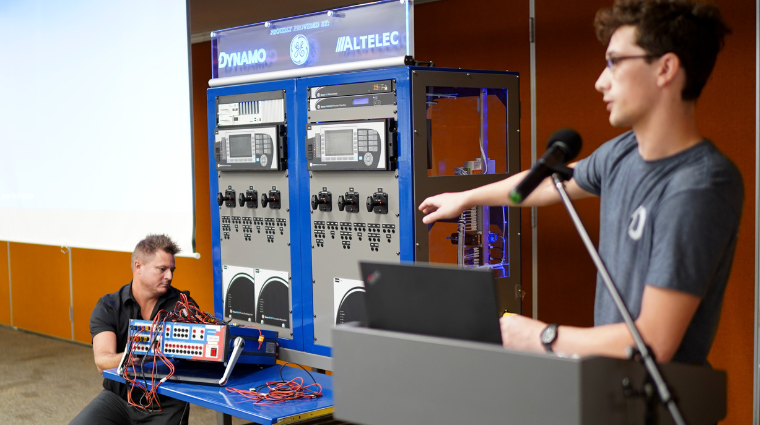 Learn more about Sask Polytech's Electrical Engineering Technology diploma program.