2022 Saskatchewan Polytechnic Employee Awards
Saskatchewan Polytechnic is the driving force that empowers and strengthens our province thanks to the tireless efforts and commitment of our employees. Each year, we celebrate our engaged and passionate employees who play an essential role in our efforts to lead the rise of polytechnic education throughout Canada.
"Our employees' commitment to excellence go to the very core of our mission, which is to inspire success in every learning journey," says Dr. Larry Rosia, president and CEO. "The 2022 Sask Polytech Employee Awards highlight contributions that make Sask Polytech a great place to learn and to work. Thank you to these exceptional employees who are supporting our vision and our values. I am honoured to work with such a talented workforce."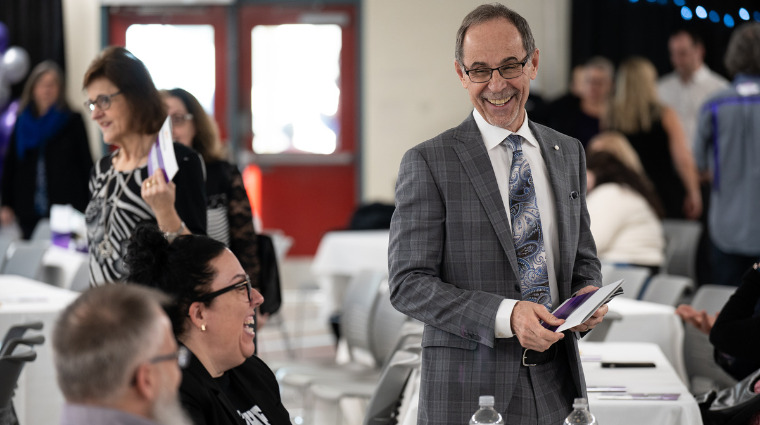 Congratulations to the 2022 award recipients!
PRESIDENT'S AWARD OF EXCELLENCE
Marla Chow – instructor, School of Business
Marla Chow is a deserving recipient of the President's Award of Excellence for her outstanding contributions to Sask Polytech's School of Business. In the last 28 years, she has continuously worked hard to promote Business programs and students with the financial services industry and community, along with helping to start the specialty with SIAST in 1997. She doesn't hesitate to showcase the polytechnic education advantage to all that she meets. Her passion for inclusion and diversity has not gone unnoticed, as she creates a welcoming and safe learning environment for all students, regardless of their background. Her favorite place to be is in the classroom.
Chow's approach to teaching has been highly appreciated by her students, as evidenced by the testimonial of Ryanne Bauman from the class of 2019, "Marla has a unique ability to deliver engaging and purposeful lectures that help students not only understand the course material, but also develop critical thinking skills." Chow incorporates interactive activities, such as Family Feud, roleplaying, and case studies to enhance the student learning experience. Daily the students can be found engaged in pulling up the latest financial news and analyzing its impact. Her expertise as a former financial advisor adds a real-world perspective to her lessons. Chow's mentorship and guidance have left a lasting impact on her students and Sask Polytech.
Jamie Killoran & Jamie Louiseize – instructors, School of Nursing
The Jamies, Jamie Killoran and Jamie Louiseize, have been a major asset to the Psychiatric Nursing program for the past 12 years and have made an immense impact on the lives of students and colleagues alike. Their dedication, hard work and commitment to the program have not gone unnoticed.
It is truly remarkable that these two dedicated individuals started their journey at Sask Polytech at the same time, and they have continued to work together to achieve great things. The Jamies were instrumental in the relaunch of year two of the Psychiatric Nursing diploma program and helped to better understand the needs of rural and remote Saskatchewan. Their impact on the program is reflected in their accomplishments, including the development and co-teaching of the forensic nursing course, supervising clinical students, and their availability to students with a "no question too small" attitude. Their student-focused approach and unwavering dedication have earned them a large fan base, and we are so grateful to have them as a part of Sask Polytech.
INNOVATION AWARD
Ryan Galbraith – instructor, School of Natural Resources and Built Environment
Ryan Galbraith's innovation award is a testament to his tireless efforts in the field of Geographic Information Science. He is not only an expert in the field but also a dedicated instructor who is passionate about inspiring and guiding students in their academic and applied research journeys. His efforts in promoting student involvement in applied research have resulted in numerous successful projects, which have been recognized both provincially and nationally. To date, 23 students have benefitted from applied research awards of $1,000 with Galbraith's direct assistance and mentorship.
Galbraith's commitment to student success and applied learning is commendable. He not only mentors students but also works closely with external partners to find innovative technical solutions to address their needs through capstone and applied research projects. Galbraith is currently working on a GIS-based project to assist the Prince Albert Health Region with geo-referencing its data. This is another example of his commitment to solve problems with innovative, technical solutions. Galbraith is a true embodiment of Sask Polytech's mission to inspire success in every learning journey.
LEADERSHIP AWARD (in-scope)
Kimberly Brown – instructor and advisor, School of Nursing
Kimberly Brown is being recognized for her exceptional skills, dedication and unwavering commitment to excellence. Brown has been an integral part of the School of Nursing and has made a significant impact on the lives of the students she teaches and advises. Nominators say she uses her position with faculty and students as a position of influence, not power.
Brown is a true leader who always puts the needs of her students first. Her ability to effectively communicate and build strong relationships with students, faculty and staff, has made her a valuable asset to the school. Her focus on student success and her willingness to work tirelessly to create new policies to support their success, is truly commendable. The development of the official attendance policy for the School of Nursing is just one example of her unwavering commitment to creating a positive and supportive learning environment. Her contributions have helped to increase both student satisfaction and faculty retention, making her an invaluable member of the Sask Polytech community.
Ann Mackenzie – instructor and program head, Learning Services
Ann Mackenzie is a true leader in every sense of the word. Her unwavering commitment to academic success for all students is a testament to her passion for education and her dedication to her role as a program head and instructor. Her leadership skills have been instrumental in building a strong team of dedicated instructors who work together to provide accessible learning support to all Sask Polytech students.
Mackenzie's ability to encourage new ways of thinking and promote different approaches have been a driving force behind the success of her team. She empowers her staff to be innovative and provides them with the tools and resources they need to succeed. By listening to their needs and concerns, she helps her team create opportunities for students to improve their academic skills. And by involving them in creating solutions to support students on their academic journey, she has ensured that students receive a more equitable learning experience. Mackenzie's leadership is a true inspiration to everyone who works with her.
LEADERSHIP AWARD (out-of-scope)
Chris Barlow – interim associate dean, School of Nursing
As interim associate dean in the School of Nursing and the long-term academic chair of the Saskatchewan Collaborative Bachelor of Science in Nursing program, Chris Barlow has demonstrated exceptional leadership skills and qualities. She has a deep commitment to lifelong learning and has shown this by embracing the changes and challenges that came with each leadership role she took on.
Barlow has been a true leader in the nursing and post-secondary education fields, constantly lending a helping hand to those who needed it and leading her team with confidence and wisdom. Those of you who worked closely with Barlow probably recall her saying, "We always find a way to make it work." She has encouraged her colleagues to be better professionals by supporting various submissions to develop open educational resources. Her leadership impact will continue to be felt for some time, and her contributions to the nursing and education fields will be remembered for years to come.
OUTSTANDING SERVICE AWARD – PRINCE ALBERT CAMPUS
Joy Friesen – program head, School of Health Sciences
As the program head for Mental Health & Addictions Counselling in the School of Health Sciences, Joy Friesen has demonstrated her dedication and commitment to her role, her students and her colleagues. Her hard work and tireless efforts have not gone unnoticed, and this award is a testament to her exceptional work.
Joy has been with Sask Polytech for over 20 years and has made a significant impact on the Prince Albert campus since her arrival in 2004. She has worked her way up through the ranks, and her experience as an addictions counsellor has been invaluable in creating a safe learning environment for students. Her guidance and leadership have been instrumental in the successful transition of the Addictions Counselling diploma program to the Mental Health and Addictions Counselling diploma program, which is now offered as a hybrid model of delivery. Additionally, Friesen's efforts have resulted in an increase in program capacity, which is particularly important given the increased demand for Mental Health & Addictions Counselling graduates during and after the pandemic.
Jolene Kotyk – Quality Assurance - North, Practical Nursing, School of Nursing

Jolene Kotyk has been a shining example of excellence and dedication at Sask Polytech. Her roles as a Nursing instructor, course manager and quality assurance faculty for regional college partners have made a profound impact on Sask Polytech's Practical Nursing program. Her passion for her work and commitment to making connections make her an invaluable team member.
Kotyk goes above and beyond to ensure that the needs of our educational partners are met, regardless of the challenges or distance. She works non-traditional hours and always takes the time to make sure her impact is as intended. She considers every relationship an extension of the Sask Polytech team, which has helped to create a sense of inclusivity with regional college partners. Her willingness to answer crisis calls at all hours and offer solutions to Brightspace challenges has earned her the admiration and respect of those who nominated her. Kotyk is a true asset to Sask Polytech and the School of Nursing.
Nat Strom – instructor, School of Natural Resources and Built Environment
As an instructor of the Resource and Environmental Law program, Nat Strom has been a guiding light for students in the field of conservation law enforcement. Her 20 years of service, dedication and commitment have made a profound impact on the lives of students who have had the privilege to learn from her.
Strom has been an excellent role model for her students, showing them how to be professional in all aspects of their lives. She has shown them how to dress, behave and how to cultivate the life skills that are necessary for success in their careers. Her commitment to providing an excellent and engaging learning experience for students is a testament to her dedication and love for the field of environmental law enforcement. Her ability to keep the curriculum updated and relevant is a tribute to her strong connections with the industry and her passion for her work.
OUTSTANDING SERVICE AWARD – REGINA CAMPUS
Anthony Wood - lab technician, School of Information and Communications Technology
Anthony Wood is committed to his work and dedicated to the success of others. His peers and colleagues describe him the ultimate team player who leads by example, putting the success of programs and students at the forefront of his mind. The hard work and effort he puts into his job, ensuring that Sask Polytech programs have the technology resources they need to succeed, has not gone unnoticed.
Wood's contributions to Sask Polytech programs are numerous. Examples include troubleshooting to remove barriers to expand program offerings to additional sections of the Computer Systems Technology and Business Information Systems programs; providing industry expertise for the multimedia lab for the Interactive Design and Technology program; and streamlining the purchasing process for technical equipment among the ICT programs. From problem solving and overcoming obstacles to imparting industry knowledge and finding efficiencies, it's clear Wood has a passion for helping others succeed.
Cathleen Sylvester – operations coordinator, Student Services
Cathleen Sylvester is dedicated, passionate and committed to her role as an operations coordinator. She has positively impacted the lives of students seeking support and recently transformed the counselling reception area into a warm, serene space for students with little to no budget.
Always a joy to work with, Sylvester sets the standard for excellence in customer service. Her unwavering approach to her job and her colleagues, combined with her genuine and accessible demeanor, makes her the ideal first point of contact for students in need of counselling. Her nominators share, "You never hear her complain about her job or the people she works with. Cathleen strives for a level of service to students seeking counselling that is unparalleled at other post-secondary institutions." Her exceptional efforts in providing an unrivaled level of service to those seeking support, and her dedication to creating a welcoming environment, are truly remarkable. Sylvester is an alumnus, graduating from the Office Administration program in 2018. She accepted an offer from Sask Polytech three days after writing her last exam. She continues to be a valued, compassionate member of the Student Services team.
OUTSTANDING SERVICE AWARD – SASKATOON
Brenda Janzen – coordinator, Simulation (SIM) Centres
Brenda Janzen is an exceptional employee and a true asset to the Simulation (SIM) Centre at Saskatoon campus. Since starting in 2019, Brenda has worked tirelessly to create real-life scenarios for students to practice medical procedures in a safe and supportive environment. Her dedication to providing the best possible learning experience is evident in the positive feedback received from both students and faculty.
Janzen's competency in the healthcare field is unparalleled, and her knowledge and support have helped the SIM Centre expand. Her willingness to share her expertise with colleagues has enabled the Sask Polytech to provide the very best experience for our learners. Her humility and relatable nature make her a quiet leader who is well respected and appreciated by students and staff alike. Janzen's engagement with regional colleges and external contacts has also earned her recognition and favourable feedback for the level of service and support she provides.
OUTSTANDING SERVICE AWARD – MOOSE JAW CAMPUS
Greg Olson – media production specialist, Audio Visual (AV) Services
Greg Olson's unwavering commitment to delivering exceptional AV services and his dedication to his work have earned him recognition from his colleagues and peers across all Sask Polytech campuses.
With his skills as a studio engineer and his innovative spirit, Olson has been instrumental in keeping the AV studio at Moose Jaw campus updated and ready for recording or broadcasting projects for clients. He has introduced new services at Sask Polytech, including podcast production, and has used specialized software to improve the quality of zoom video clips. Olson's willingness to be flexible with his schedule and his consistent support of the team truly embody Sask Polytech's vision and mission, making him a model employee. His hard work ethic and kindness truly go beyond expectations.
Angela Deans – program head, School of Construction
With over 20 years of service at Sask Polytech as a program head with Architectural Technologies, Angela Deans has made a lasting impact on the students, faculty and staff she has worked with in the School of Construction. Her dedication to excellence and her commitment to the success of each and every student in Architectural Technologies is truly admirable.
Deans' passion for teaching and her ability to inspire success in her students is unmatched. She is always willing to go above and beyond to support her students, and her vast institutional knowledge has made her an asset to not only her own program, but also to other departments. Her ability to remember the names of her students and recall their histories with ease speaks volumes about her commitment to her students and her passion for her work. We know Deans will continue to make a positive impact on the lives of those around her.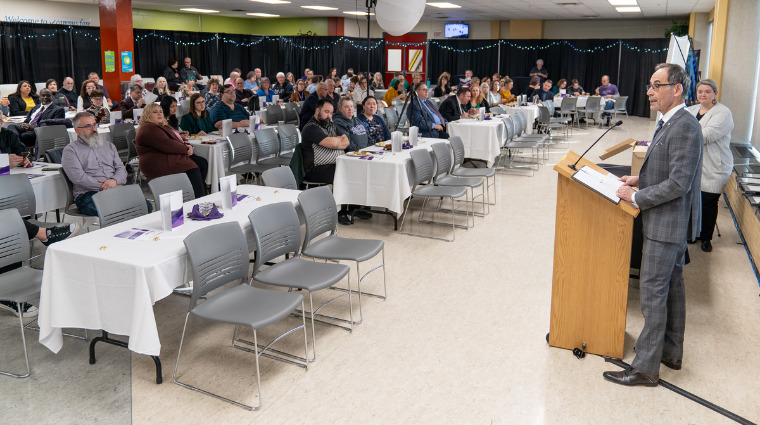 Published February 2023.