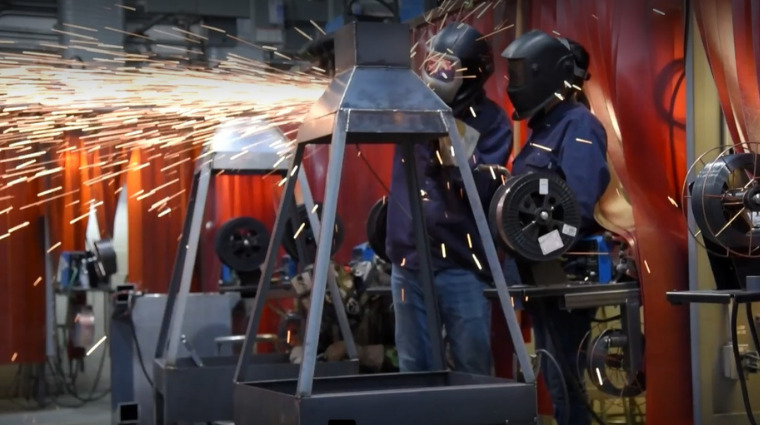 For anyone living in Saskatchewan, there is no question what season it is. It's winter in February, and it has already been a cold and snowy one. Regina is embracing winter by celebrating its first annual FROST festival at four locations as part of its newly adopted winter city strategy. Two of those locations, the Regina Exhibition Association Limited (REAL) site and the Warehouse District hub, will be warmer thanks to a community partnership with Saskatchewan Polytechnic's welding programs.
When Sask Polytech welding and metal fabrication instructor Joe Cossette first saw the announcement about FROST on social media back in late fall he sent an email to the organizers putting out feelers to see if they would be interested in having large metal fire boxes built for the festival sites. "We're always looking for projects that give students a relevant taste of the real world," says Cossette, "and building fire boxes seemed like a great opportunity, particularly if it was in a partnership."
FROST festival organizers were quick to respond. Pretty soon, Sask Polytech's Regina welding programs had orders to fill. Cossette met with program head Doug Boos who agreed that the project was a great idea, and they then worked with instructors in the Welding certificate and Welder-Fabricator certificate programs to get the project off the ground. Over six weeks, 17 students in the two entry-level programs had the opportunity to work on the custom boxes. "It was an ideal project as far as being easy for students to have success," says Cossette. "The dimensions are simple and it's satisfying for students to build something that will be used by the public."
Students in the programs enjoyed working on a real, hands-on welding project that allowed them to put the skills they had learned in their first term into practice. Sarah McLennan, a welding certificate student, says it gave her a boost of confidence. "We had just learned gas metal arc welding, so it was a great chance to try it on a real project." Richenda Zeelie, another welding certificate student agrees, adding, "We used all the techniques and skills we learned from the instructors and they came out fantastic. It was a lot of fun and I learned so much. Everyone that helped with the fire pits did an awesome job. I'm proud to be a Sask Polytech student."
Fast forward to February and students in the two certificate programs have created 15 custom metal fabricated fire boxes for the two sites. The boxes were put to use starting last week as the festival got going, and festival organizers report that they are a real hit. The Warehouse District's Leasa Gibbons, who was onsite when the festival opened on February 4 says, "They are the talk of the town! People are really appreciating them." The REAL site has four large fire boxes complete with custom cutout logo designs. The Warehouse District hub is showcasing six three-foot boxes, four four-foot boxes and one giant tiki head box.
Gibbons was excited when Cossette pitched the idea to FROST back in fall. "Sask Polytech has been fantastic to work with," she says. "I always have crazy ideas, and they listened and really made this happen. We are so excited that the community has stepped forward to partner with us to make this festival a success. Sask Polytech was one of our first partners and we really want to thank them."
When the festival comes to an end on February 13 one box will go to the lucky winner of a FROST Instagram contest. The other boxes will go on to warm future events around Regina, including the Grey Cup and FROST festivals to come. "We expect there will be opportunities to pursue similar projects next year," says Cossette. "This could be a win-win partnership for years to come."
This past weekend, McLennan attended a FROST concert and got to see the fire boxes she worked on in action. "They're so pretty!" she says. Zeelie was also pleased to see the boxes lit up on site. "It made me feel proud. It was a big accomplishment to get all these boxes built on time."
FROST runs from February 4-13. For more information, visit frostyqr.ca. Learn more about Sask Polytech's Welding certificate and Welder-Fabricator certificate.
Published Feburary 2022.