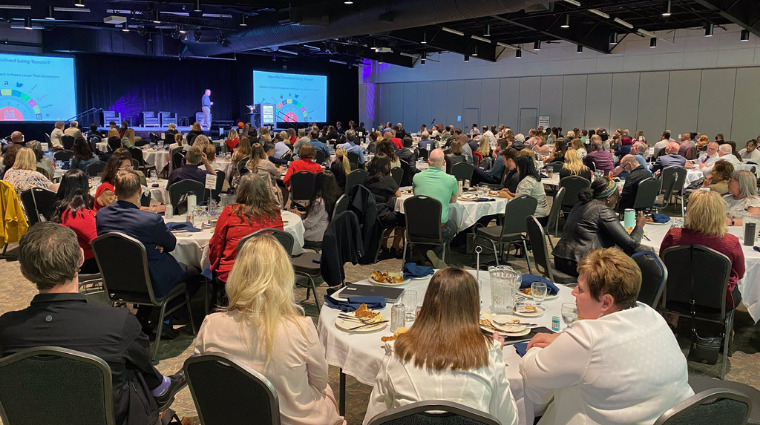 The hybrid conference featured thought leaders Blair Sheppard, Steve Cadigan and Scott Van Pelt
May 5, 2022 – Saskatchewan Polytechnic's third annual THINK conference explored three important and evolving topics: trends in technology, the future of work and the future of learning.
"Predictable unpredictability is our new reality," says Dr. Larry Rosia, Sask Polytech president and CEO. "THINK: The Future of Work, Technology & Learning Conference 2022 is designed to help predict some of the variability organizations face in this post-pandemic world. Thank you to our dynamic event speakers and panelists, and to all the engaged attendees who joined us today. The future looks bright!"
Three thought leaders tackled the topics of how technology is advancing at a rapid rate, the changing nature of work and how learning continues to evolve. These excellent speakers will help today's business leaders address the critical issues facing how we work and learn.
Blair Sheppard, author of Ten Years to Midnight, discussed the crisis of technology, the crisis of prosperity, the crisis of institutional legitimacy and the crisis of leadership. Sheppard leads the team responsible for articulating PwC's global strategy, evolving and driving PwC's culture and developing the current and next generation of PwC leaders.
Steve Cadigan, an expert on the future of work and the author of Workquake, shared winning insights from more than 30 years of HR experience. He focused on how leaders and organizations can build winning talent solutions to compete in an increasingly complex digital economy.
Scott Van Pelt, a renowned education strategist who co-authored The Great Upheaval: Higher Education's Past, Present, and Uncertain Future with Arthur Levin, discussed the future of learning. He touched on topics such as academic advising, admissions, student life, instructional technology and curriculum design.
Gurdeep Pandher, a Yukon based, Bhangra dance artist and social media influencer, taught attendees how to move with joy and happiness in their heart. Pandher is best known for spreading joy, hope and positivity during the pandemic. Millions of viewers throughout the world have watched his wilderness videos.
"Thank you to our keynote speakers for sharing their valuable insights into our new, post-pandemic reality," adds Dr. Rosia. "The pandemic has been a catalyst for tremendous change in everyone's lives at work and on campus. It has disrupted the way we work and how we teach and learn. I hope everyone leaves today's conference feeling inspired."
In addition to these speakers, the conference featured roundtables with leaders from across Saskatchewan, including Murad Al-Katib, president & CEO, AGT Foods; Ricky Forbes, storm chaser and digital marketing consultant at Blue Moose Media; Elysia Vandenhurk, co-founder and chief brand and innovation officer at Three Farmers Foods; 3rd vice chief Aly Bear, FSIN; Thomas Benjoe, president & CEO, FHQ Developments and Chief Cadmus Delorme, Cowessess First Nation.
Learn more at think.saskpolytech.ca.