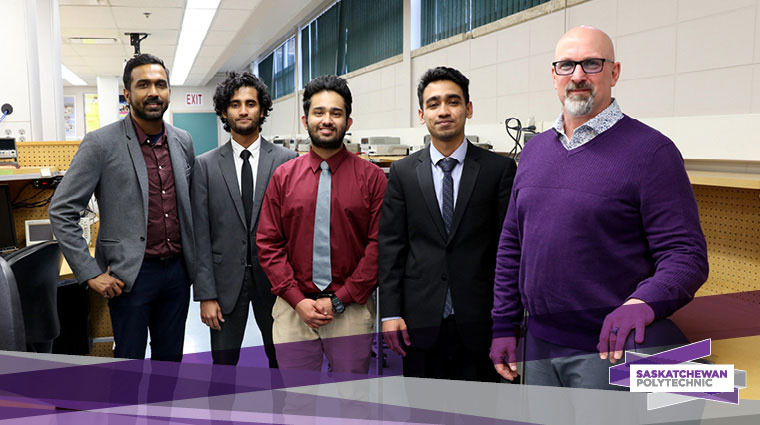 Focused on pursuing an education in Canada, international students at Saskatchewan Polytechnic were surprised to find a connection to home. Jerin Mathai, Clint Roby and Jessal Biju began their studies at Sask Polytech as strangers, but it wasn't long before they discovered they were all from the same home state of Kerala, India. Granted, that state has more than 34 million people, so it's no surprise that they didn't know each other before they began their post-secondary studies at Moose Jaw campus. The common background earned the trio the nickname of the Kerala Crew among their classmates in the Instrumentation Engineering Technology program, but that was just the beginning of their story.
"These three are the first international students to take the program and all three of them excelled," says instructor Babith Varghese.
During the program, the students learned how to operate and maintain automated process control and measurement systems to produce various products. They incorporated this knowledge into the individual applied research capstone projects they presented to complete the program.
Mathai's capstone project was on alternative measurement solutions to radiometric level devices on uranium leaching tanks. Roby's project was a proposal for implementation of reusable water systems. Biju's final project was an analysis on preventive and prescriptive based maintenance.
Before they convocated in June, all three had secured full-time employment in their field. Mathai is working as an Instrumentation Research Technologist at the Saskatchewan Research Council, Roby is a Control Systems Specialist with Mosaic Potash Belle Plaine and Biju is an Instrumentation Apprentice with Kirby Controls.
"This program has a lot of value. There is a high demand for grads in the industry," says Brenda Suru, associate dean, School of Mining, Energy and Manufacturing, School of Natural Resources and Built Environment and Department Co-operative Education. "Through the co-operative education model, our students have the opportunity to work with employers in their direct field of study. They gain experience and connections in the industry which assist in their learning as well as their employment opportunities."
"Sask Polytech has a good reputation across the country, that's why I chose this program," says Biju. "The co-op program offered to students is really beneficial. It provides good experience before graduation. With this training and experience I was able to secure a job in my field even before I graduated."
The students appreciate the knowledge and experience they gained during their time at Sask Polytech.
"My favourite time on campus was spent in the instrumentation labs," he says. "There was never a boring day at the labs. We always engaged in creative, thought-provoking practical experiments and discussions. We always had fun while learning."
The small class sizes and support of the instructors was important to Roby. "I really enjoyed the bond I made with my instructors and classmates. Faculty were always there to give the students a hand, support us and help us. Our instructor guided us whenever we struggled and motivated us to be successful in what we were doing."
The welcoming culture of the program and opportunity to build relationships with people from around the world was important to the students.
"The best thing about attending Sask Polytech is that I gained a lot of friends from my course as well as from other programs," says Biju. "It was really good to meet people from different parts of the world."
"The diversity of students on campus and how they are valued made me feel welcome," says Mathai.
Last year, Sask Polytech welcomed more than 1,600 international students from around the world to campuses across Saskatchewan. The Kerala Crew joins more than 150,000 Sask Polytech alumni.
Visit Instrumentation Engineering Technology - Diploma (saskpolytech.ca) for more information.
Published June 2022.