Saskatchewan Polytech programs score touchdown with firepits for Grey Cup celebrations
The first Grey Cup game to be held at Regina's Mosaic Stadium is sold out. Although you might not be able to score tickets to the game, you can stay toasty warm enjoying the outdoor festivities thanks to a community partnership with Saskatchewan Polytechnic's welding programs, the Regina Downtown Business Improvement District (RDBID) and Grey Cup planning committee.
"This past winter Sask Polytech created 15 custom metal fabricated fire boxes for the FROST festival," says Sask Polytech welding and metal fabrication instructor Joe Cossette. "I was thrilled to receive the request for additional fire boxes in support of the Grey Cup Festival and Regina Downtown outdoor celebrations. Students have built eight new metal boxes to be used at events in Pat Fiacco Plaza, Victoria Park and Confederation Park."
Three programs were involved in the creation of the new fire boxes. Students from the Welding certificate, Welder-Fabricator certificate and Auto Body Technician certificate programs worked together over the course of seven weeks to create the custom boxes.
"We are all looking forward to hosting the Grey Cup in Regina and we're always looking for projects and partnerships that benefit our students," says Cossette. "This project is a touchdown for all involved! The design for metal boxes are simple and it's exciting for students to build something that will be used during Regina's Grey Cup celebrations. It's satisfying for students to see their work being used by the public."
"Sask Polytech is a fantastic partner!" says Sophie Pitman, manager of Member Engagement with RDBID. "Sask Polytech's programs are so easy to work with and the turnaround was quick. This community partnership gives students real life experience working on a custom project for a client. We hope the students will come out to our event and admire the fire pits they created."
Students in the programs enjoyed working on a real, hands-on welding project that allowed them to put the skills they had learned in their first term into practice.
"It was nice to work on something that will be seen by lots of people," says Savannah Vanhove, a student in the Fabricator-Welder program. "This is a big opportunity for us. Working on the firepits I learned how to adapt and problem solve. The metals were finicky, so I had to make adjustments on the fly."
Shelby Wegman, another Fabricator-Welder student adds, "I really enjoyed the team building experience. It was a great opportunity to learn about how the arc length effects the welds and how close you need to be to the weld to get it to stay and look good."
"I attended the FROST festival with my co-chair and was immediately drawn to the firepits," says Michele, Grey Cup Festival events volunteer co-chair. "We looked at each other and said - we have to have these at the Grey Cup Festival. We reached out to Sask Polytech and with a few simple emails and one phone call we had formed a partnership and the commitment was made to build the firepits. We are so excited to have them be the focal point of our warming stations at the street festival and in Confederation Park!"
In total, Sask Polytech has built 23 metal fire boxes for Regina events. These boxes will continue to be used throughout the fall and winter for events around Regina, including the annual holiday tree lighting and upcoming FROST festival in 2023.
"We hope that by having these projects in high visibility areas we will foster partnerships with more community groups and employers to better assist our learners as they transition from post secondary into the welding and metal fabrication industries as well as showcasing the capabilities of our shop and program for future applied research projects," says Cossette.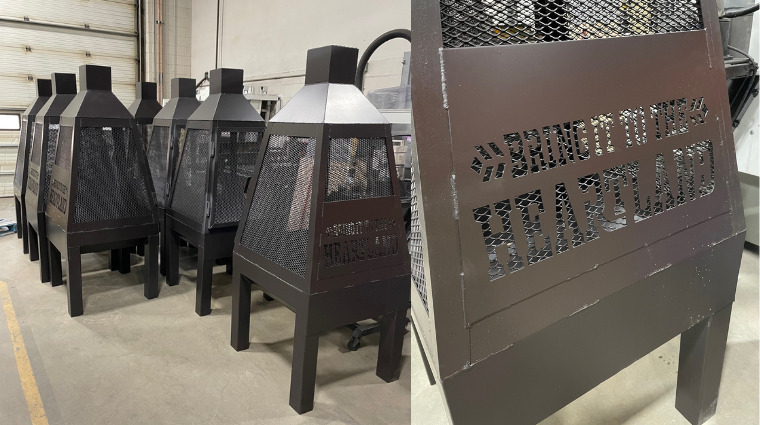 Grey Cup events take place November 17-19. For more information, visit greycupfestival.ca and reginadowntown.ca. Learn more about Sask Polytech's Welding certificate, Welder-Fabricator certificate, and Auto Body Technician programs.