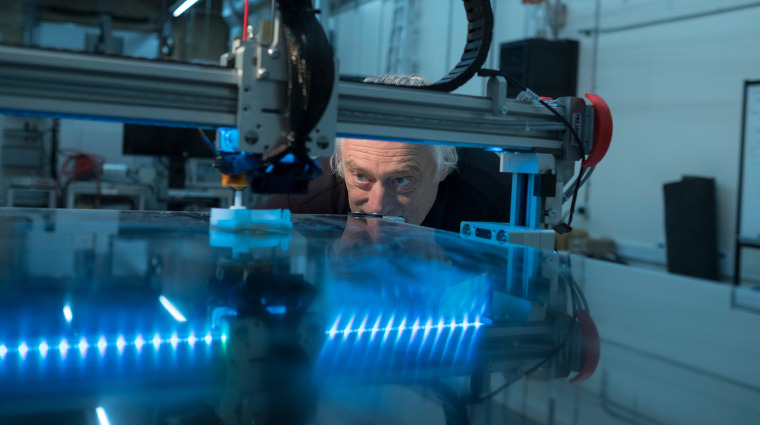 August 17, 2022 – Saskatchewan Polytechnic has received $1 million in funding from PrairiesCan under the Regional Innovation Ecosystem Program. In support of the application, Sask Polytech and Innovation Saskatchewan matched the contribution with $800,000 and $200,000, respectively. The one-time funding supports the polytechnic's Research in Additive Manufacturing and Prototyping (RAMP) facility in Saskatoon.
This new, targeted funding will be used to purchase equipment that will add leading-edge printing, prototyping and production infrastructure, as well as scalable, ultra-low-cost, intelligent automation solutions to the RAMP facility, which has been steadily growing and increasing its capacity.
"We are grateful for the investment PrairiesCan and Innovation Saskatchewan are making in our RAMP facility," said Dr. Larry Rosia, Sask Polytech president and CEO. "The equipment this funding will enable us to purchase, and the projects RAMP can undertake with it, will make our applied research partners in the manufacturing sector more productive and globally competitive."
The RAMP facility is part of Sask Polytech's multi-campus Innovative Manufacturing Centre (IMC), providing manufacturers with the latest tools, equipment and expertise to improve production methods and test new ideas. The IMC's RAMP facility offers industry expertise in additive manufacturing, manufacturing design, (rapid) prototyping and commercialization. Working with regional manufacturer applied research partners, RAMP has assisted with research, development and commercialization in green energy, agriculture and food security, and low carbon-transportation solutions.
Expanding and upgrading RAMP's equipment will better drive innovation, address industry needs and fill industry-identified gaps including rapid proof-of-concept/prototyping and production, low-cost automation, digital manufacturing (3D printing) and collaborative robotics. Sask Polytech has started these equipment upgrades and expansions, purchasing a five-axis CNC mill and collaborative robots within the last year.
"We are particularly excited about the purchase of an HP Jet Fusion Next-Gen Plastic Printer," said Tim Muench, RAMP research chair. "It will be the first of its kind in Western Canada and the first Canadian installation of this equipment in an educational setting. It's a big, brand-new technology that RAMP's industry partners can access only here and will allow us to affordably produce small-to-medium volume 3D printed plastic production parts to help new product developers get their products to market before they get their own higher volume production established."
This new infrastructure will allow RAMP to have an almost immediate impact among Saskatchewan's 1,070 manufacturers, of which 90 per cent are small enterprises. The RAMP facility has successfully grown research activities of regional companies including three current industry partners whose projects will realize an immediate benefit from the new equipment. Another 12 companies have established research relationships with Sask Polytech and anticipate larger applied research projects that will benefit from the new equipment investment in the future.
"Our government is proud to assist Saskatchewan Polytechnic adding cutting edge equipment to continue to drive its innovation efforts," said Daniel Vandal, Minister for PrairiesCan. "It is exciting to see that this investment in the RAMP facility will lead to a more productive and globally competitive manufacturing industry in Saskatchewan."
"Saskatchewan Polytechnic plays a key role in growing the province's manufacturing sector," Minister Responsible for Innovation Saskatchewan Jeremy Harrison said. "Through this investment, Innovation Saskatchewan is pleased to support our regional manufacturers and create opportunities for additional research and industry partnerships."​
This PrairiesCan funding and Innovation Saskatchewan's contribution shows commitment from the government to enhance Saskatchewan's manufacturing sector. The province identifies manufacturing as a key economic driver in its growth plan and cites Sask Polytech as key in supporting the manufacturing industry. Ensuring RAMP's capacity as an innovation-hub for Saskatchewan's manufacturers aligns with Sask Polytech's Strategic Plan 2020-2025: Leading the Rise and Sask Polytech's purpose to empower a better Saskatchewan. Innovative manufacturing is a core focus in Sask Polytech's School of Mining, Energy and Manufacturing as reflected in RAMP's facilities and training programs. Sask Polytech's recently-launched Sustainability-Led Centres of Excellence (SLICE) model includes manufacturing as one of its key focus areas.
Learn more at saskpolytech.ca/research.