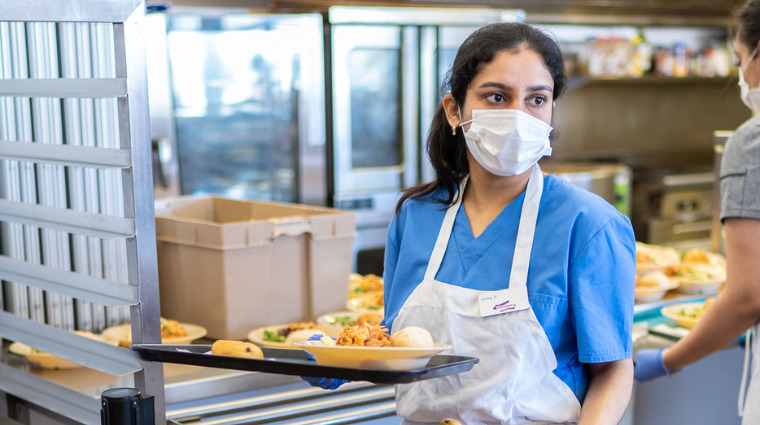 October 25, 2022 – Saskatchewan Polytechnic's innovative Health Care Cook program was developed in partnership with the Saskatchewan Health Authority (SHA) to train students on general cooking skills, menu planning, nutrition, kitchen operations and more. This program is designed to prepare cooks for work in health care settings, such as hospitals, long-term care homes, personal care homes and private care facilities.
"The SHA came to Sask Polytech with a training challenge and we collaborated with them to find a unique solution," says Leanne McFarland, program head for Sask Polytech's Food & Nutrition Management and Health Care Cook programs. "That solution was the creation of the Health Care Cook certificate program, which trains students on how to modify diets to meet specific texture and nutritional requirements related to medical conditions, and work as part of an interdisciplinary health care team. This is a great career option for anyone interested in cooking and helping others. Cooks in health care are in high demand!"
As part of the curriculum development process for the Health Care Cook certificate program, the SHA provided subject matter experts to review course materials and provide guidance. This collaboration ensures graduates of the Health Care Cook program are ready to work in a health care setting. The SHA continues to support the program with regular guest speakers and provides 75 hours of work experience for all students enrolled in the full-time certificate program.
The SHA also recently undertook an initiative to learn about local Indigenous foodways and how the organization can better address the health and healing needs of Métis and First Nations patients, clients and residents through food. This initiative was made possible through support from a team of SHA partners, including First Nations and Métis Health and patient family partners. Through Sask Polytech's partnership with the SHA, students learn about the importance of Indigenous foodways in their training.
"Teaching cooking students about proper nutrition in meal planning and preparation is important. With students now being taught ways to incorporate traditional and local foodways into that planning is really exciting," said Stephanie Cook, executive director of Nutrition and Food Services, Saskatchewan Health Authority. "Developing this type of program would not have been possible without Saskatchewan Polytechnic's help so we're looking forward to seeing graduates go through the program and straight into the health care work force."
Cooking in a health care setting focuses on the needs of patients and the nourishment required for health and healing. The Health Care Cook program is an intensive 39-week, full-time certificate program offered through Sask Polytech's Moose Jaw or Prince Albert campuses. In addition to the full-time program, SHA employees can apply to receive credit towards the Health Care Cook program for their practical experience through Prior Learning and Recognition (PLAR). Through PLAR there are options for SHA employees to learn virtually, which allows them to continue working in their home community. PLAR students would take theory courses online, which provide additional knowledge on menu development, nutrition, operations and cultural diversity.
"This is a winning relationship for Sask Polytech and the SHA. This program trains cooks specific to SHA's needs. This career is for anyone who is interested in improving patients' health through cooking and brightening patients' days through food and nutrition," says McFarland.
Learn more about the Health Care Cook program.