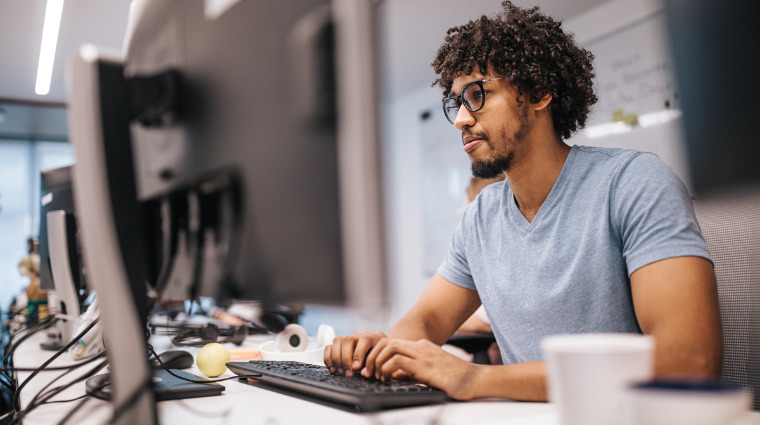 Sask Polytech's Surge Micro-credentials, Microsoft Fundamental offerings will include a work-integrated learning component
August 25, 2022 – Saskatchewan Polytechnic previously joined forces with Microsoft Canada to help learners jump-start their career while earning globally recognized and industry-endorsed Microsoft certifications. This fall Riipen is extending this collaboration to offer work-integrated learning opportunities to learners enrolled in Microsoft Fundamental offerings through Surge Micro-credentials.
Learners participating in Microsoft Fundamental offerings will have the opportunity to apply the knowledge they gained in their studies to a real-world problem through a 20-hour work-integrated learning opportunity coordinated through the Riipen online platform. This is part of a one-year pilot project with Riipen and Sask Polytech that builds on the solid partnership Sask Polytech has with Microsoft Canada. This pilot project will enable Sask Polytech to easily match learners with companies in need of Microsoft expertise through Riipen's online employer marketplace.
"This important pilot project will prepare learners for the digital economy with in-demand Microsoft certification and relevant work-integrated learning opportunities," says Dr. Larry Rosia, Sask Polytech president and CEO. "Using the Riipen platform, we will be able to match learners with companies that will enable them to use their new Microsoft skills to complete real-world projects."
Learners will complete a Riipen work-integrated learning project as part of the Microsoft Fundamental Micro-credential to gain hands-on experience, demonstrate employable skills and network with employers from around the world. These virtual internships are incorporated into select Surge Micro-credential offerings and help learners better prepare for their future careers.
"Riipen is excited to join Saskatchewan Polytechnic in this innovative partnership that builds a bridge between education and industry," shares Dana Stephenson, co-founder and CEO at Riipen. "Through Riipen-powered industry projects, learners at Sask Polytech can experience first-hand the practical applications of skills gained through their Surge micro-credential, make career-relevant professional connections, and validate the existing employer demand for Microsoft-certified talent upon graduation."
Work-integrated learning projects give learners the opportunity to integrate their technical skills from their studies into a business project, and that enhances their learning and provides valuable work experience. Work integrated learning projects set learners up for success.
Since 2019 Riipen and Sask Polytech have been partnering to deliver quality work-integrated learning opportunities to School of Information and Communications Technology and School of Business learners.
Since 2020 Microsoft Canada and Sask Polytech have been working to empower learners across Canada with foundational digital skills. Sask Polytech has been a global leader in training other post-secondary educators within Canada, winning the 2021 Microsoft Global Training Partner of the Year Award for Skilling in the Americas. As one of the first Microsoft Global Training Partners for higher education in Canada, Sask Polytech is uniquely positioned to accelerate digital skilling and transformation among post-secondary peers and Canadian industry leaders.
Surge Micro-credentials, powered by Sask Polytech, provide flexible and innovative learning in a growing number of high-demand industries such as business, technology and more. Surge Micro-credentials are short, focused courses that accelerate learners' skills in specific areas. Sask Polytech works with leading industry partners to develop micro-credentials to give learners the skills they need to fast-track their careers, and employers the skilled workforce to power their industries and Saskatchewan's economy.
The following offerings are a part of this exciting pilot project: Azure Administrator AZ-104, Azure Developer AZ-204, Azure Data Scientist DP-100 and Power BI Data Analyst PL-300. Offerings start on September 6, 2022. Visit surgemicrocredentials.com/microsoft to sign up today.