Sask Polytech students learn about the power of networking and relationships at the second annual KNOW essential skills conference
Knowledge and Networking Opportunities for the Workplace (KNOW) conference connects students with community leaders, industry experts, and Sask Polytech alumni.
On March 8, 2022 nearly 600 Saskatchewan Polytechnic students attended the second annual KNOW conference presented by Graham Group. This full day professional development conference gives students the opportunity to learn a variety of essential skills to help them along their career journey.
"We're excited to provide the KNOW conference to our incredible students for a second year," shares Dr. Larry Rosia, Sask Polytech president and CEO. "The wide range of information delivered complements their Sask Polytech training and work integrated learning opportunities. Sask Polytech provides students with a unique blend of knowledge, skills and experience that helps to shape creative thinkers, problem solvers and leaders. Thank you to our event sponsors, Graham and RBC, and to the organizers and volunteers who have made this second virtual conference a great success."  
The virtual conference included a keynote address, an exhibit hall and a 21st Century Skills Workshop Series powered by RBC Future Launch. Workshop topics included online networking, intercultural communication and working with difficult people.
"Sask Polytech students came together with community leaders, industry experts and Sask Polytech alumni to learn about the core skills essential to workplace and career success," says Alice Miller, Sask Polytech associate vice-president of Student Services. The value of these transferable skills—things such as communications, problem solving and team building—have great impact on students as they prepare to take the technical skills they learn in their programs into the workforce."
Beth Hanishewski, an international speaker, coach and writer gave the keynote presentation. Hanishewski presented on, The Power of Being YOU: Bringing Your Authentic Self to Workplace Relationships. Hanishewski empowers students to bring their best self to everything they do, gaining confidence through acts of personal bravery. She argues that, by choosing how we show up, we take control and ownership of ourselves and can help to influence our relationships in the workplace for the better.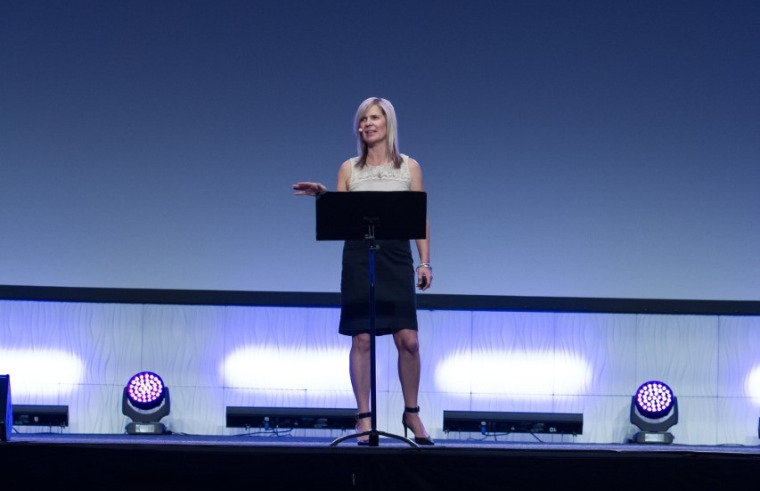 Below Hanishewski shares some advice for Sask Polytech students.
In a time of global turbulence, how can we deal with the unpredictability of life?
Unpredictability now, more than ever, is something we all face in almost every sphere of our lives. Most people feel uncomfortable when things are unpredictable and look for control. It's important to recognize that there's really not much we can control—whether that's a pandemic, the economy or how other people act. What we can control is ourselves and how we show up. Learning how to nurture and bring your best self to everything you do is a skill that can be learned and practiced.
If you could go back in time, what advice would you give to your younger self?
I am a passionate person and have always approached life with great energy and excitement. Over time I've learned the gift of the "pause." If I could talk to my younger self, I'd advise that reacting quickly isn't always the best option. Taking time to think, let information settle and act thoughtfully will almost always give a better result. Wait before sending that text or email or responding to that call. And double the wait time if you're upset.
You have a lot to say about the power of relationships. What's the first step towards meaningful engagement with other humans?
Be curious! If you approach others and situations with an open mind, you will build the compassion and empathy necessary to nurture good relations wherever life takes you. Curiosity trumps judgement and it will help you to see the world through the eyes of others, even if they don't think like you, act like you or view the world the way you do.
How can we be more confident when we're just starting out in the workplace?
You will leave Sask Polytech with lots of new skills and with experiences that will help to shape your future career. Confidence, though, comes from being brave. You know yourself best, so first be confident in who you are and don't be afraid to be honest and set boundaries. Approaching life with bravery will gain you new experiences that lead to increased confidence.
Hanishewski's keynote presentation will be available to the Sask Polytech community for 30 days post-event. Most of the 21st Century Skills Workshops are also available to view online. All workshops will be uploaded by the end of the week.
Following the daylong virtual conference, Sask Polytech will host in-person networking sessions taking place on March 15 (Prince Albert), March 16 (Saskatoon), March 23 (Moose Jaw) and March 24 (Regina). Students will come together with alumni and industry to learn how building connections and enhancing their professional network can lead to employment and enhance career success. Attendees have a chance to win great prizes, including bookstore and VISA gift cards. For more information and to register, visit alumni.saskpolytech.ca/KNOW