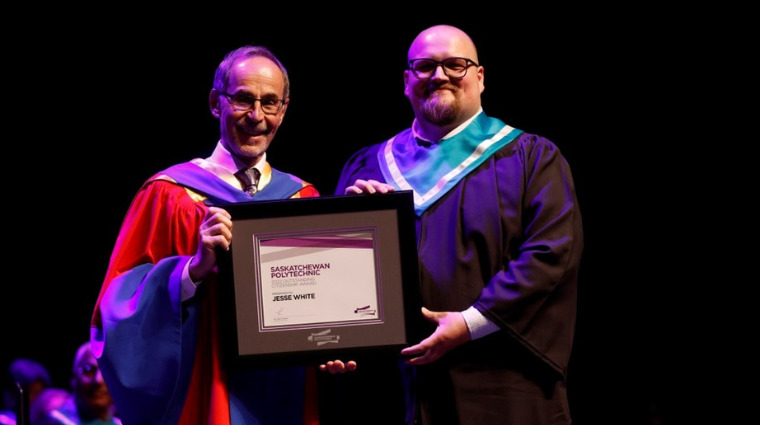 Jesse White, graduate of the Bachelor of Applied Management program was recognized at Regina convocation for his inspirational work and commitment to bettering his campus community.
Jesse White has been a voice for the student body, contributed to social causes and built relationships with faculty and fellow students throughout his journey at Saskatchewan Polytechnic. At the Sask Polytech, Regina Campus convocation on June 23, White received the Student Outstanding Citizenship award which recognizes a student who has inspired and encouraged others to make positive changes and whose work benefits the campus community and others.
Throughout his social and academic endeavors, White has displayed a commitment to the betterment of himself, his community and the institution. He has worked as a peer tutor, co-founded the Interactive Design and Technology social club and developed a Stop Asian Hate fundraiser with a classmate that raised over one thousand dollars for the Asian Mental Health Collective. He has also served on the Saskatchewan Polytechnic Students' Association (SPSA) for the past three years, most recently as president. In addition, White served as the student representative on the Sask Polytech Board of Directors for two years where he has helped shape the Sask Polytech student experience.
Faculty members who nominated White for the award spoke very highly of his contributions in the classroom. "Jesse has shown exemplary leadership skills. His feedback and contributions have helped improve the degree offering," says Tanis Wilder, Bachelor of Applied Management program head. "He has been instrumental in providing feedback on course content and assignments." She also noted that he was supportive and encouraging with his classmates and organized social media groups for students to support each other during their studies.
White crossed the convocation stage in Regina as a member of the first graduating class of the Bachelor of Applied Management, something he considers an immense honour. "As this chapter closes, I can't help but feel a great sense of gratitude for the institution, the SPSA and all the people in the Sask Polytech family that helped me along the way," he says.
This isn't the first time White has crossed the convocation stage. Since 2016, White has earned several credentials through Sask Polytech including a certificate and diploma in Media Arts Production at Prince Albert campus, a certificate of completion from Shenzhen Polytechnic as part of the 2018 Sask Polytech international culture study in Shenzhen, China and a Website Design and Development applied certificate at Regina campus.
"The most prominent reason I have stuck with Sask Polytech throughout these past six years is the support and flexibility the instructors, program heads and employees provided me while navigating my educational journey. I started as a 25-year-old with a dream of making something of himself but not knowing exactly how to do that," he says.
As White wraps up his time at Sask Polytech, he reflects on where his journey has taken him, "Through my time at Sask Polytech I discovered that my true passion was not making movies, travelling the world, building websites or even managing businesses. My true passion is helping people tell their stories and every one of my Sask Polytech credentials is a chapter in the story of how I found my true purpose."
With his academic journey at Sask Polytech now complete, White is excited to start his career and continue advocating for and assisting students in his new role in British Columbia with the Selkirk College Students' Union.
He encourages current and future students to look beyond the classroom to make the most of their educational experience, "Don't get caught with your nose in your books the whole time you are here. Grades are important but if your goal is to better yourself, it doesn't start and end in the classroom. Look around and get involved. You can't imagine the doors that will open for you if you just dare to knock."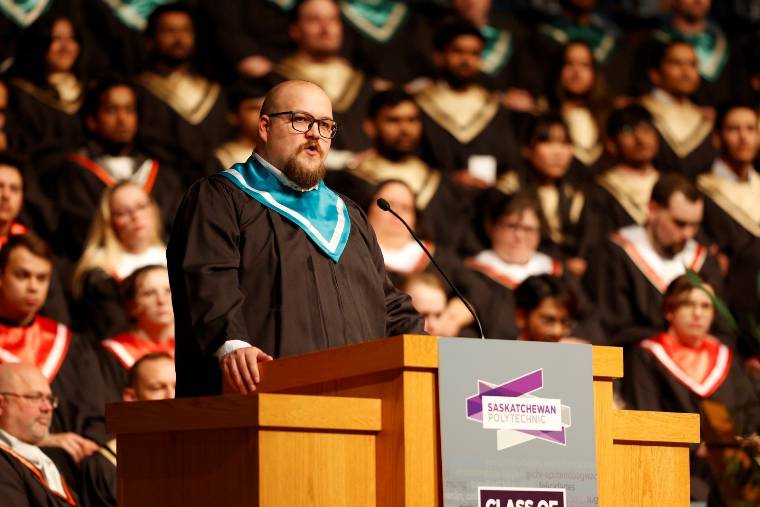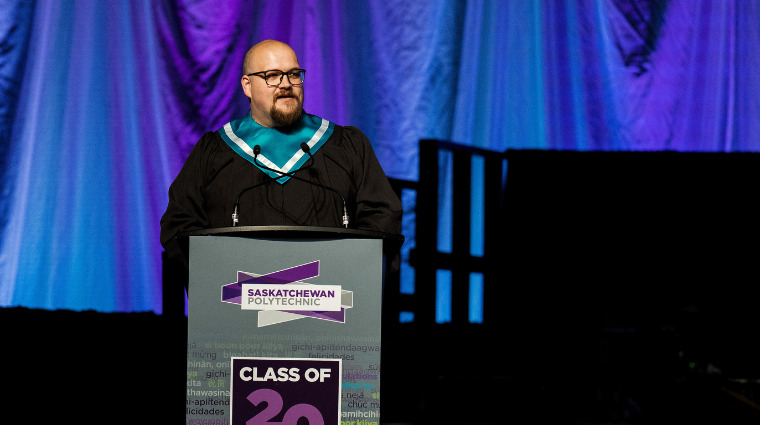 Learn more about the Bachelor of Applied Management program.

Published June 2022.