Instrumentation Engineering Technology students in demand in an increasingly automated world
As mature students, Tyren Habicht and Kyle Mcginnis both had work experience in jobs they didn't want to pursue long term. For the two recent graduates of Saskatchewan Polytechnic's Instrumentation Engineering Technology program, instrumentation wasn't a career they pictured, or even knew about, when deciding what to do next. Choosing higher education that would lead them to a better fit wasn't easy, and for Habicht, at least, it took a couple of tries to get it right.
Habicht, who hails from Manitoba, worked in construction and electrical for a short stretch straight out of high school and quickly realized it wasn't for him. He got a job as a general labourer at EnerPure, his family's waste oil recycling business in Winnipeg, and was lucky to have a forward-thinking supervisor who asked him what his career goals were. He liked computers and technology and was encouraged to look into instrumentation technology—a suggestion it turned out would be good for both Habicht and the company.
Mcginnis had a few more years of experience behind him, having followed his dream as a Hilltops and then Huskies football player while half-heartedly taking university business classes. He went on to play professionally for a year, and when his football career ended he worked as a roofer and drove truck for a construction company. Like Habicht, he knew it wasn't what he wanted to do for the rest of his life. A family friend who had attended Sask Polytech's instrumentation program suggested that he give it a try. "I came in green with literally no experience in industry," says Mcginnis.
Unlike Habicht and Mcginnis, classmate Leim Bolton-Zerebeski's path to instrumentation was a little more direct. The new graduate applied straight from high school on the advice of his dad. "He thought instrumentation matched up with my personality," Bolton-Zerebeski explains. "I like math and problem solving, logical stuff. I also like a challenge and work that doesn't get boring. Instrumentation fits that." The program itself turned out to be a challenge, but one he notes is manageable if you work hard and put in the required effort. "I'd recommend this program to anyone interested in identifying problems and finding solutions to make things work. And there are lots of job opportunities. Instrumentation is all about automation, and automation isn't going anywhere."
Only a few weeks after their program ended, all three alumni have satisfying work in their new chosen field. Habicht, who did the program's three co-operative work terms back in Manitoba with EnerPure, is now working permanently with the company, with a skillset and credential that allow him to do much more than general labour. "I gained specific expertise through my training that I can now apply to the business," he explains. "But there are many industries that need instrumentation technologists—everything from marine, pharmaceutical, car manufacturing, oil and gas, you name it. I think ninety-five per cent of our classmates started jobs immediately or are set to begin right away."
Mcginnis has been picking up short-term contracts at industrial plant shutdowns—work he says is a great chance to apply his new learning and pays well. The program, which has strong connections with local industry, changed exam dates to accommodate the time-sensitive job opportunities that Mcginnis and a few others were offered. Although he hasn't settled on a permanent position yet, he says jobs have been plentiful for instrumentation technologists. "I learned so much in this program," he says. "We had a ton of lab hours with equipment that helped simulate our logic and allowed us to put all our theoretical learning into practice. Thanks to fantastic program instructors we're all able to walk into jobs and start contributing."
Bolton-Zerebeski did his co-operative work terms at the Mosaic plant in Belle Plaine—an experience he says was key to helping him connect the dots from first-term theory to the real-world application of instrumentation technology. Mosaic hired him as soon as he completed the program. "I really hit the jackpot right out of school at one of the best places to work. Salt eats everything," he says, "and requires precision work on the control valves and transmitters that keep everything running. I'll be doing field work in Mosaic's instrumentation shops, repairing and replacing parts and devices."
Looking back, Habicht is enthusiastic about his time at Sask Polytech. "I loved that the instructors were all young and motivated. They have a passion for instrumentation and were genuinely excited to see students succeed." Although math wasn't his strongest suit, he had a desire to learn. "The instructors were so supportive, and their enthusiasm for what they were teaching us made me want to keep going. It was an addictive environment to learn in!"
Mcginnis has equally fond memories of program faculty—especially instructor Babith Varghese, who he says always went the extra mile whenever a student needed help. "If I were to give one piece of advice to someone starting the program," he says, "I would say don't get discouraged in the first semester or two. It all comes together, the instructors make sure of that, and if you put in the work you will succeed."
"That's true," agrees Bolton-Zerebeski. "You do lots of work with partners and groups, and it all makes sense by the end. The program taught me everything I need to know."
"And don't be afraid to apply in the first place," Mcginnis adds. "I had no background in any of this and even had to upgrade a bit to get myself into the program. It was sure worth it."
Habicht is glad he and his classmates found instrumentation engineering technology and speaks of friendships made. "I've got this network of classmates now that I feel strongly connected to. We're part of a profession and proud to have gotten here together. I'm excited to see where we all go."
Students who complete their diploma in Instrumentation Engineering Technology at Sask Polytech have options to continue their learning and take their career in different directions. Possibilities include laddering to a degree program in technology, mining engineering technology or applied management, or applying credit towards apprenticeship training. For more information, visit Instrumentation Engineering Technology - Diploma (saskpolytech.ca)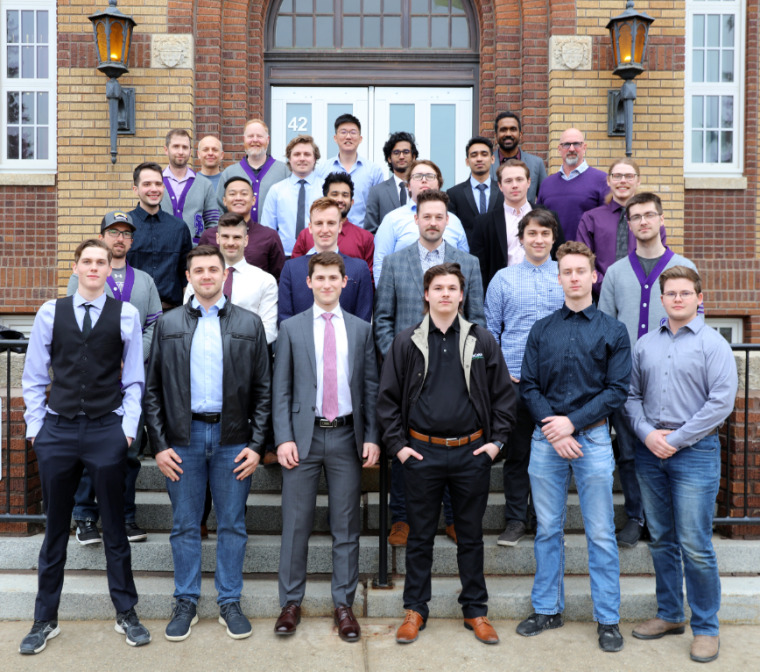 Published May 2022.