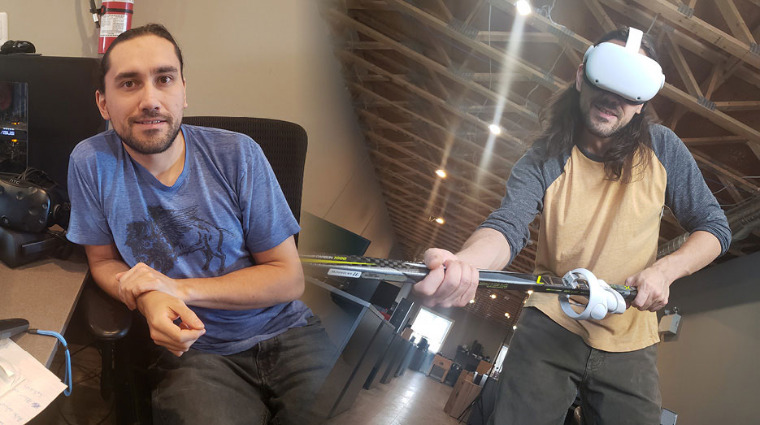 Sask Polytech alum is part of Regina-based team behind Hockey VR, a game that takes virtual reality to a new level.
Rene Dufour-Contreras has had one career aspiration since high school—to become a game developer. In 2021, he achieved this goal as part of the team behind Hockey VR, a new virtual reality game developed by Melcher Studios in Regina.
Melcher is an interactive production studio that specializes in virtual reality, virtual Unreal Engine production, augmented reality (AR + XR), game development, e-learning, mobile apps and touchless solutions. Developing the Hockey VR game inhouse was a chance to showcase the studio's broad range of skills.
What sets this game apart is that it lets players use real hockey sticks with the game controller, and that's the feature Rene was involved in developing.
"We designed the game for the Oculus Quest VR platform. The vision from day one was to have a physical tie-in," Rene says. "We wanted something that would integrate with existing Oculus handsets, so I designed and 3D printed an attachment that lets you attach the hand controller to a regular hockey stick. Being able to hold an actual hockey stick really adds to the immersive game experience."
It took the Melcher team the better part of a year to develop the game, including Rene's part in designing the Realstick attachment. He had to design and 3D print an adaptor that would (1) slip easily onto a hockey stick, (2) securely hold the Oculus Quest hand controller and (3) ensure the controller worked properly when attached to a stick.
Rene is proud of the team effort that went into developing the Hockey VR game and Realstick tool. "It was a fluid team because we would use people with different skills at different stages of game design, from 3D animators and modelers to UI and graphic designers to programmers."
For Rene, the road to realizing his career aspiration has been long one. His interest in games goes back to his teens when he taught himself Flash as a hobby. In the early 2000s, Flash was the program of choice for anyone wanting to create games and videos for the web. By the time he finished grade 12, Rene had a ton of Flash skills and some big dreams.
"The problem was that I didn't think being a game developer was a realistic career choice in Saskatchewan," Rene says. "Instead, I got a job as a baker and kept making games as a hobby."
Discovering Sask Polytech's New Media Communications program changed Rene's career path. "It also caught my interest because I thought it would let me apply my skills in more viable career areas. It was offered online, so I could continue working, and it offered specialized training in dynamic web apps and Flash apps," Rene says. "The program solidified that this was the direction I wanted to go with my career."
For his final Flash project, Rene used his skills to create a 3D pool game—that project earned him a job as a programmer/technical artist at Talking Dog Studios while still at school. "Sask Polytech played a huge role in connecting me to the job opportunity at Talking Dog," Rene says.
The final project of his Sask Polytech program was a web portfolio in which he showed his Flash game development projects as well as Augmented Reality Flash work he was doing at Talking Dog. This achievement earned Rene the 2010 Student Innovation Award.
"AR is cutting edge tech right now, and that was 10 years ago, so at the time it was unheard of," Rene says. "I think the fact that I was developing AR applications in Flash while still in school won me the student innovation award."
Rene was with Talking Dog until it closed in 2018. After a year of freelancing (and an unplanned hiatus thanks to the COVID pandemic), Rene got a job as a fabricator and programmer at Melcher Studios in the fall of 2020 and was quickly recruited to the Hockey VR team.
"Hockey VR is a huge milestone for me—it's the first published game I've been a part of," Rene says. "I'm finally realizing my dream of having a game that I helped create come out on major platform."
Learn more at alumni.saskpolytech.ca.
Published January 2022