Dr. Has Malik receives 2022 Outstanding Leadership Award from Education 2.0
Dr. Has Malik, provost and vice-president, Academic, has been recognized with an Outstanding Leadership Award by Education 2.0 for his exemplary leadership, innovation and vision in post-secondary education.
Award recipients have a demonstrated history of exhibiting exceptional creativity when confronted with challenges, and driving innovations that have the potential to become standard industry practices. Consideration is given to reputation, educational background, professional experience, creative thinking and decisive leadership.
Among recent accomplishments at Saskatchewan Polytechnic, Dr. Malik led the very successful launch of the School of Continuing Education and the Academic Plan: Innovation in Action (2021-26) which charts the course for the future of polytechnic education at our institution. He also conceptualized and spearheaded the development of Surge Micro-credentials, whose philosophic and practical underpinnings are articulated in his series of articles published in The EvoLLLution. Dr. Malik's guidance and leadership with faculty and staff were most evident through the pandemic as learning shifted from on-campus to online and distance delivery, with numerous COVID-19 protocols and requirements as students and employees began returning to campus in fall 2021. A champion of lifelong learning and student success, Dr. Malik was acknowledged for his crucial management and governance expertise, and his ability to make time-sensitive, well-informed decisions while guiding employees through complex challenges.
Education 2.0 organizes international bi-annual conferences with diverse groups of leaders to discover best practices, disruptive EdTech tools, and solutions for everyday learning and teaching challenges.
Congratulations on this much deserved recognition.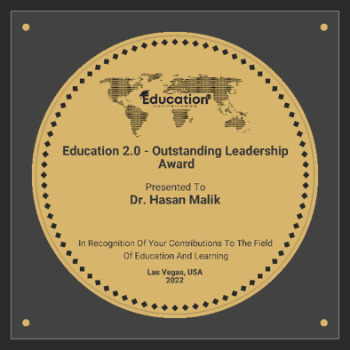 Published July 2022.