Culinary Arts student places first in national culinary challenge
For seven intense weeks, Saskatchewan Polytechnic Culinary Arts student, Dielle Gaucher devoted hundreds of extra hours after class training in the kitchen. She worked with her instructors to formulate ideas, test dishes and perfect each part of the plate. Gaucher's efforts paid off as she was awarded first place in the Canadian Culinary Federation's Young Chef Culinary Challenge.
On June 14, 2022, Gaucher competed against three other chefs and culinary students from across Canada. Competitors were required to compose two dishes complete with a protein, vegetables, starch and sauce, and present eight plates in under one hour.
"It was a thrill to see Dielle showcase her skills against accomplished young chefs from across Canada. She represented our program with such passion and determination," says Paul Wheeler, program head for Sask Polytech's Culinary Arts program. "We offer an amazing culinary arts program with knowledgeable, experienced instructors that help our students grow and shine. It's exciting when our students succeed."
In the days leading up to the competition Gaucher was nervous. Her practice sessions weren't going as planned and she was struggling to plate her dishes in the allotted time. The nerves carried over to competition day. Gaucher took a moment to collect herself and focus, armed with words of encouragement from her instructors and friends, and began composing her dishes. Things started to flow naturally and her confidence grew.
Gaucher prepared pan seared duck with haskap berry and duck stock reduction, zucchini, spiced carrots, charred pearl onions and cumin beluga lentils garnished with puffed wild rice. Her second dish consisted of sous vide northern pike seasoned and with butter, a very tangy Mediterranean style chimichurri sauce, confit cherry tomatoes, a mixed micro green salad with honey lemon dressing, and lightly dressed sliced radish and cucumber.
As she presented her dishes, Gaucher emerged from her deep focus feeling relieved, "As I looked up, I heard everyone clap. It was so uplifting and reassuring to see my supporters," she says. When Gaucher was declared the winner, she was shocked and excited. Her experience was a whirlwind, but she encourages others to take on new challenges. "If you have the opportunity to do something you don't normally do, do it. It's a great experience no matter the outcome," says Gaucher.
Despite her success, Gaucher is relatively new to culinary arts. "Before attending Sask Polytech I was a pipeliner and construction worker but knew that wasn't what I wanted to do the rest of my life. I wanted to do something that I enjoyed, that I could build from and make my own," says Gaucher. Her passion for cooking and desire to pursue culinary arts stems from baking with her family. Gaucher hopes to open a business where she can be creative and give people a memorable experience through good food.
From pipeliner to culinary challenge champion, Gaucher is excited about her future but disappointed her time at Sask Polytech is nearly complete. "Sask Polytech has given me an understanding of foods and spices, techniques, tips, tricks and more," she says. "The instructors were very supportive and gave every bit of information they could to push us past our limits to broaden our horizons and skills. I have met so many great people and know there is so much more to learn."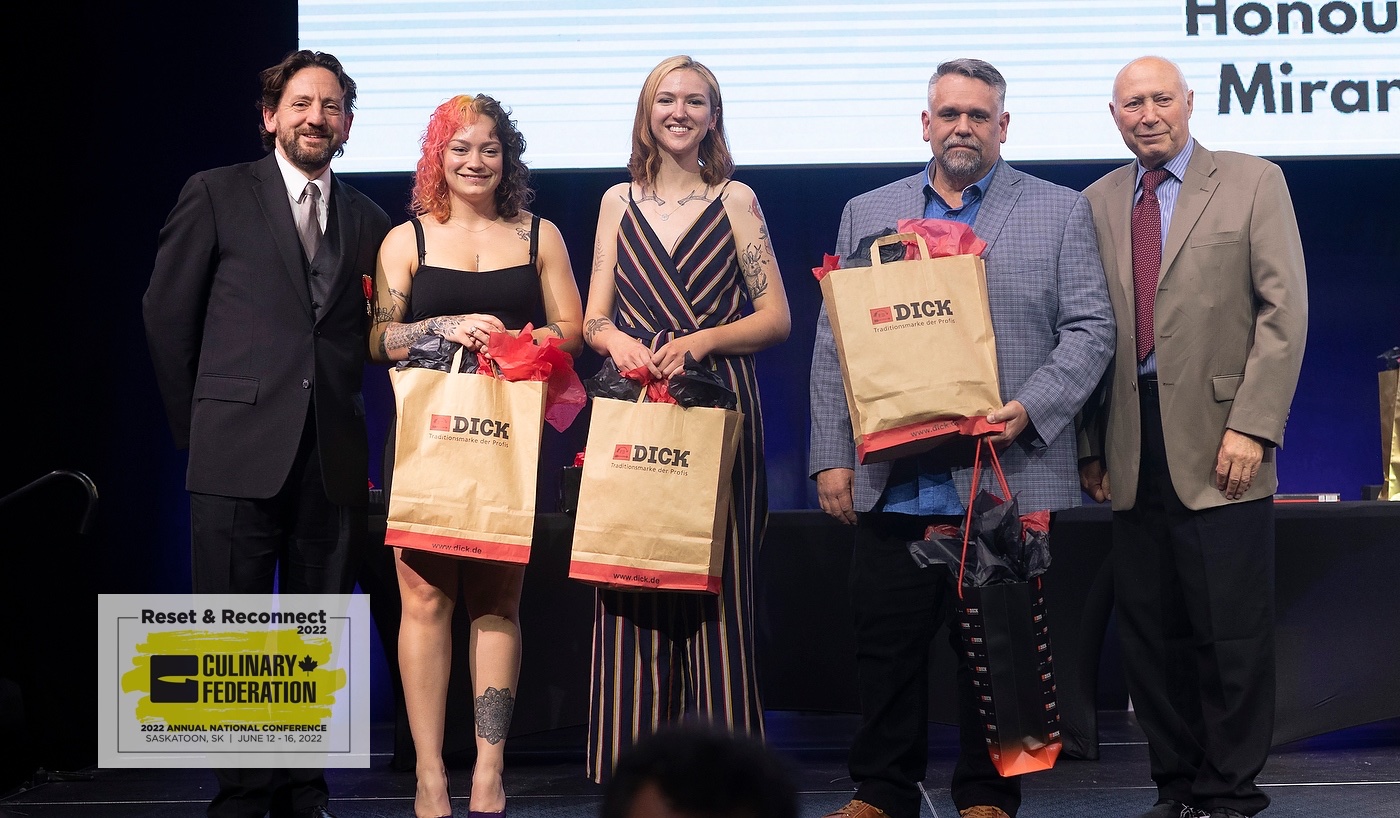 Photo from the Culinary Federation.
Dielle Gaucher is the first female on the left.
Learn more about the Culinary Arts diploma program.
Published Aug 2022.