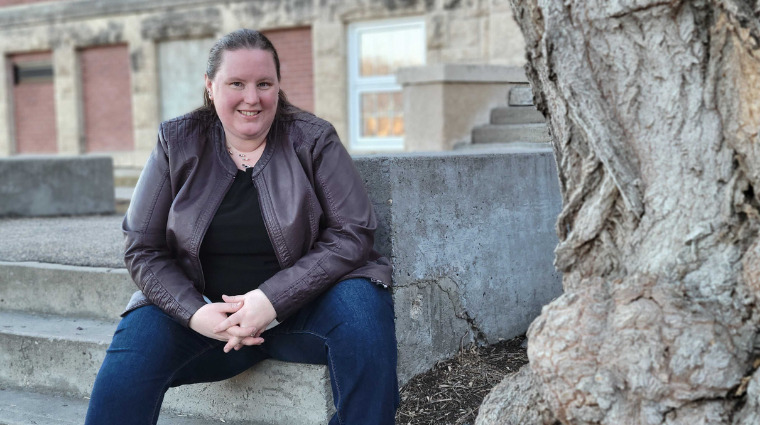 Laura Jensen began her program at Saskatchewan Polytechnic during the pandemic when Business Information Systems (BIS) classes had moved online. As a result, the former teacher, who was starting a new career path in information technology (IT) after eight years teaching mostly high school math and science classes, wasn't fazed when the co-op portion of her program was offered remotely.
Business Information Systems is a two-year diploma program with a six-month co-operative work term. In normal times, this means students apply for a co-op placement with a business or industry partner who employs them for a paid, in-person work experience. Some students in the 2020-2021 school year faced a different prospect when the world of work seemingly turned upside down, and this, it turns out, wasn't a bad thing for Jensen or her co-op employer, Nutrien.
Jensen, who has just been awarded Sask Polytech Co-op Student of the Year, was excited at the opportunity to apply for a placement with the trans-national, Saskatoon-based fertilizer producer. "Being in Moose Jaw, I felt lucky that Nutrien wanted me to interview and that I wouldn't necessarily have to re-locate," she remembers. "It was a unique position, and one that normally would have scared me a little because the skills required were a bit beyond what most first-year BIS students have acquired."
Jensen's co-op supervisor Garry Mayer, manager of Converged Technology at Nutrien IDS, looked at her background and maturity, and saw the opportunity to pair her with a data scientist to work on a machine-learning project that would eventually have her using artificial intelligence to create models using video camera data. "The Nutrien employee she was working with gave her small tasks at first, but these quickly grew and soon she was coming up with her own ideas to solve problems," says Mayer. "Laura took to it like a sponge."
"Nutrien sent me equipment and I got started working remotely from home," says Jensen. "I enjoy working on problems that are mostly logical but have a degree of creativity involved, so I dived right in. The whole experience gave me a good sense of what working remotely could look like, and also what skills are needed to work on a team at a distance." Mayer has hired remote working IT contractors in the past, and notes that it has become more common during the pandemic. "IT work can certainly be done off-site," he says. "Having the skills to do that successfully as a new employee, moreover a student, shows real maturity. Laura demonstrated a level of responsibility that set her apart."
Jensen notes that there was a lot of learning on the job. "I couldn't have asked the BIS program to prepare me any better, but I had to teach myself a lot as I started my role at Nutrien." This aspect, she explains, is what co-op really adds to the educational experience. "BIS makes a really strong foundation. The work placement then allows you to build job-specific skills on top of it. What I had to learn on the job was outside of the scope of the academic portion of our program. I now have real-world reference points going back into my last term of classroom learning, and that's really useful."
Gavin Osborne, program head for Business Information Systems, says of Jensen, "I was not surprised to hear that Laura was the recipient of the Co-op Student of the Year award. She is a fantastic and committed student. When she had the opportunity to secure an IT position at Nutrien working in machine learning she studied above and beyond what was required by her program to ensure she would be successful."
Being named Sask Polytech Co-op Student of the Year is an honour that recognizes more than just a being a good student. In Jensen, Mayer found a solid student with a hunger for learning and good communication skills. "She was able to take direction but was good at learning on her own as well, which worked great in a remote working situation. Laura was always positive even when given big challenges, and she's humble about her accomplishments." Mayer didn't meet Jensen in person once during her entire co-op term, but says without hesitation, "She was a joy to work with."
Jensen is now completing her last academic term in-person on the Moose Jaw campus, and she enjoys sharing her experience with fellow students and learning from them about their own co-op placements. Mayer, who has participated in supervising at Nutrien in the past, notes, "As co-op partners, we have the chance to see what is being done in today's classrooms and provide industry feedback to educators on what we see that's good and where we see gaps." This makes for two-way learning between academia and the real world. Jensen reflects, "I find myself thinking, 'This is how Nutrien would probably handle this problem.' Now that we're back in class, we're connecting new knowledge to our work terms, and we've had such a wide variety of experiences to draw from."
This ability to integrate the co-op experience back to the classroom is confirmed by Osbore. "Since her return to studies Laura has been a leader in the Business Information Systems program. She spearheaded our project with our partner Shore Buddies, a company combatting ocean pollution, and is currently leading our project with the Canadian National Institute for the Blind (CNIB) where she is working with a team to build video games for the visually impaired using virtual reality. Laura will no doubt go on to be a shining example of the quality students Sask Polytech graduates."
"I'm honoured to have received this award," Jensen says. "I applied because my grades were good, but I wasn't sure I had all the other things that the application asked for, like extra-curricular involvement. Life is busy as a mature student."
Perhaps it's her background as a teacher that keeps Jensen eager to keep learning, and that's exactly what she says she'll be looking for when she finishes up her program at the end of June. "I know I'll seek a position that allows for continuous learning. I like being a student!" she says. "I look forward to applying my new knowledge and skills to solving problems in a way that will positively impact others, and with the prevalence of technology in our lives a career in IT will help that to happen." In the meantime, Jensen can be proud knowing she has been recognized as the Sask Polytech Co-op Student of the Year.
Learn more about co-operative education at Sask Polytech.
Published March 2022.