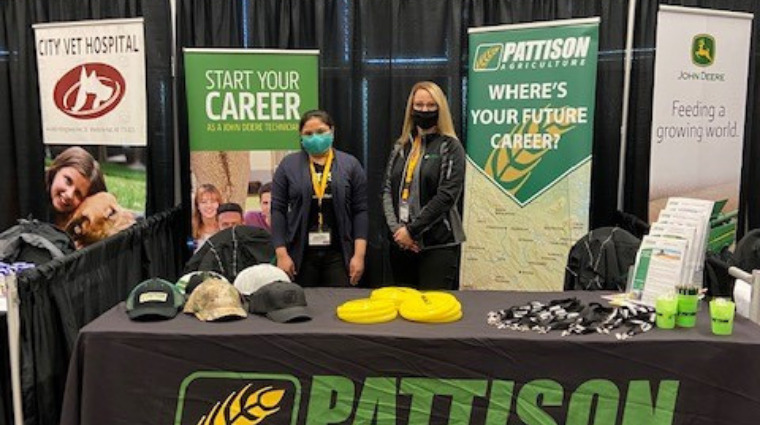 When human resources manager Bryan Braun at Pattison Agriculture received an email from Saskatchewan Polytechnic's co-operative education team about new placement opportunities with its Business Diploma program, the timing couldn't have been better. Braun's team was currently down one human capital coordinator due to a maternity leave so the prospect of gaining a co-op student seemed like a stroke of luck.
On the other end of that email, Sask Polytech co-op education coordinator Bernadette McCulloch was hard at work helping students to secure the work terms that make a co-operative education what it is—paid, practical and relevant work experience that takes place between academic terms. "Co-op education is a great way for students to gain work experience and network with future employers," says McCulloch. "It's also a win for businesses and organizations, because we provide a great service, helping to simplify the process of interviewing and hiring candidates for short-term work opportunities."
Co-op education placements are competitive, much the same as the regular hiring process. "Employers are never under any obligation to hire," says McCulloch. Braun, who heads up the Human Capital department at Pattison Agriculture's head office in Swift Current, contacted Sask Polytech to express interest in a co-op placement. His team received resumes to review and following interviews they narrowed their selection to the candidate they felt was the strongest.
Enter international student Heer Mehta, second-year Business diploma student undertaking a human resources specialty. Mehta came to Canada from India in 2019 with her grade 12 high school certificate. She chose Sask Polytech specifically because of the co-op education option. "I knew that I wanted to graduate with some experience and workplace knowledge. It's important to gain an understanding of the practical aspect of what you're studying."
Braun recalls interviewing three or four co-op candidates. "Heer's enthusiasm and sense of fun really won us over," he remembers. "We felt she'd be a good fit and she certainly didn't disappoint. Heer was a champion co-op student, embracing every opportunity and working hard. She was such an asset."
Braun's team onboarded Mehta like they do any new employee, and she was very quickly up and running on specific tasks that allowed her to put into practice many of the skills she had learned in her first three terms at Sask Polytech. "It was an amazing experience," says Mehta. "During my year with Pattison Agriculture I got to do all things HR-related—posting jobs, screening candidates, interviewing and doing reference checks."
Braun speaks of his obligation as a co-op employer to provide as many experiences as possible for Mehta to take back to her final academic term. Those experiences started in her first week when she was asked to join Braun and a co-worker to do an internal employee investigation at one of Pattison's sites in another city. "She was kind of thrown into the deep end and she did phenomenal," says Braun.
Mentorship is an important aspect of any good co-op placement. Mehta worked closely with a few HR team members who stressed that there is never a bad question when you're learning on the job. "We tried to model for her what we expect from any of our team members," says Braun. "Good communication was key."
The agricultural equipment dealer, which has locations across Saskatchewan and Manitoba, also put Mehta's skills to use on two bigger projects assigned to her during her co-op term. One project saw her revamping the department's internal SharePoint site, which allowed her to practice her marketing and graphic design skills. She was also tasked with overseeing the long-service awards for employees.
In a co-op setting, Braun stresses, attitude and effort are the two things a student can control. "We got both things from Heer. I was truly impressed. I have a daughter roughly the same age as Heer, and if she were to go to India to study and excel in a co-op placement, I would sure be proud."
Mehta's year-long co-op experience ended in January, 2022 and she is now completing her fourth and final term back at Sask Polytech Moose Jaw campus. "It all makes sense now!" she says. "I have so much to share in class, and it's exciting to hear from my classmates what they learned in their co-op terms. We have a whole different perspective now."
When asked if she will apply for a job at Pattison Agriculture after graduating in April, Mehta doesn't hesitate. "If Pattison is hiring, I'll apply for sure," she says. "If not, I know I will find another good job with the experience I got working with them." Braun gives her his vote of confidence. "We had a long period to get to know her and her work," he says, likening the co-op experience to a year-long job interview. "We certainly benefited from the investment we made in taking her on as a co-op student. I wouldn't hesitate to hire Heer in the future."
For more information about co-operative education at Sask Polytech, visit our website.
Published Feburary 2022.