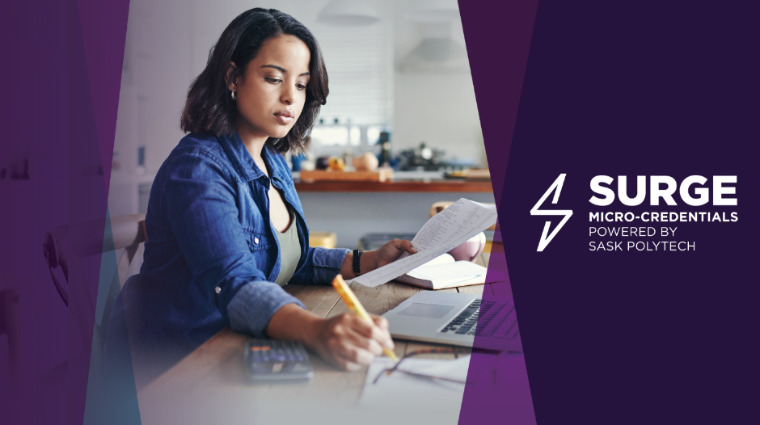 Saskatchewan Polytechnic's micro-credentials are redefining what is possible with education
October 18, 2021 – Surge micro-credentials, powered by Saskatchewan Polytechnic, provide flexible and innovative learning in a growing number of high-demand industries such as business, technology and more. Sask Polytech is working with leading industry partners to develop Surge micro-credentials to give learners the skills they need to fast-track their careers, and employers the skilled workforce to power their industries and Saskatchewan's economy.
"The need to upskill and reskill was already evident before the rise of COVID-19. The pandemic has only made this necessity more urgent," says Dr. Larry Rosia, Sask Polytech president and CEO. "There have been a tremendous number of layoffs in some sectors while others are in desperate need of more qualified people. As well, many workers have come to realize that they need to upgrade skills to maintain their careers or transition to new ones. Surge micro-credentials are the fastest way to upskill and reskill. Learners can obtain new skills in weeks, not years."
Surge micro-credentials are short, focused courses that accelerate learners' skills in specific areas. Micro-credentials document skills and are articulated with verifiable digital badges in a wide range of industries and professions.
"Whether it's digital transformation, automation or remote-working, advances in technology are driving the rapidly changing needs of industry," says Dr. Has Malik, Sask Polytech provost and vice-president, Academic. "As labour markets adjust, workers are looking to shift career paths and need quick, flexible ways to expand their employability. Surge micro-credentials can help build resilience to the changes happening around us. Micro-credentials enable learners to keep building on the skills they've acquired for continuous learning and career opportunities."
Surge micro-credentials are designed in collaboration with input from top-tier industry partners including the International Minerals Innovation Institute (IMII) and Microsoft, and supported by the Government of Saskatchewan. As a result of these close partnerships, Surge programs offer skills that are timely, relevant and in high demand.
"We know employers are also adjusting to the economic pressures of the pandemic," says Rosia. "Sask Polytech is ready to work with industry leaders to design and develop micro-credentials for their employees. These partnerships ensure our micro-credentials reflect and connect students with real industry skills and demands from today's top employers."
Sask Polytech has been working with IMII to develop a digital upskilling micro-credential that provides digital skills training to address the technology shift the mining sector is currently experiencing. To develop this custom micro-credential Sask Polytech has been consulting with subject matter experts from the mining industry to identify gaps in knowledge and build a digital training program to meet the training needs of IMII members.
"Micro-credentials can be an excellent upskilling option for the minerals sector," says Al Shpyth, IMII's executive director. "Micro-credentials offer both students and working professionals the opportunity to expand their skill set, illustrate competency in an area valued by industry, and indicate that they'll be an asset to their employer. IMII's minerals company members will find the Surge micro-credentials beneficial as they are scalable for both current and potential employees and will help resolve new and emerging skills gaps in the workforce in a quick and cost-effective manner."
Unleash your potential with Surge micro-credentials from Sask Polytech. To learn more about Surge micro-credentials please visit: surgemicrocredentials.com.
Surge Micro-credential event launch