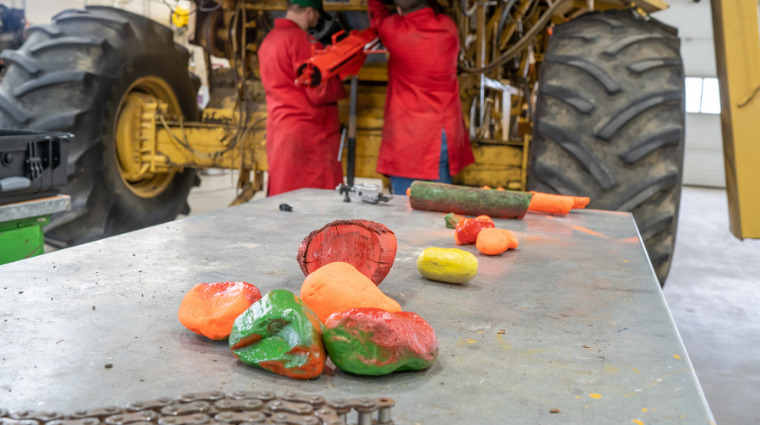 Project will help students, apprentices and insurance adjusters learn about the effect that foreign objects have on combine harvesters.
April 9, 2021 - SGI CANADA recently donated a salvage combine to Saskatchewan Polytechnic's Agricultural Equipment Technician (AET) program to be used by students learning about combine ingestion. Rocks, branches and other foreign objects, such as components from seeding or other equipment, can cause internal damage to combines on farms. Assessing this damage after the fact can be challenging for agricultural insurance adjusters.
This applied research project, overseen by AET program head Chris Thomson, will give students an inside view of what happens when an unintended object enters a combine. To prepare for the project, AET program faculty documented existing damage to SGI CANADA's donated machine and strategically placed five GoPro cameras inside. AET faculty Maron Friesen and Willie Baumann and their students then built shielding to keep the rotors in the combine separate. "We wanted to isolate which items we sent through which rotor to determine the damage caused," explained Thomson. Another important preparatory step was building a spring-loaded mechanism to safely inject the items they selected.
This winter, Thomson met with SGI CANADA, following COVID-19 protocols, to demonstrate the combine in action. Using soft and hard items ranging from assorted chunks of tree branches and rocks of various sizes to medium and then larger steel items, they documented exactly what happens when combines pick up objects that aren't grain. The team videoed the demonstration from within the combine in slow motion, using paint to differentiate items. "The day went well and we expect to see some good damage once it's disassembled," says Thomson. Over the next few months, students will have the opportunity to take apart the combine's rotors to view the damage.
The video footage and in-person disassembly will assist program participants with damage analysis, but it will also benefit more than just the students. Ultimately, the research will return to the agency as a useful tool for insurance adjusters. SGI CANADA's Blair McClinton looks forward to putting the findings resulting from this research into action. "We plan to use the footage and documentation that Sask Polytech produces for training purposes, and to assist our agricultural equipment adjusters in assessing damage claims," says McClinton. "The results of this research will have a practical application."
It's exciting when applied research furthers our student understanding and benefits industry partners, notes Susan Blum, Sask Polytech's associate vice-president of applied research and innovation. "Applied research delivers practical solutions to everyday problems—like rock damage to combines."
Chris Thomson agrees, thanking SGI CANADA for the donation, and for the opportunity to partner with them in research.