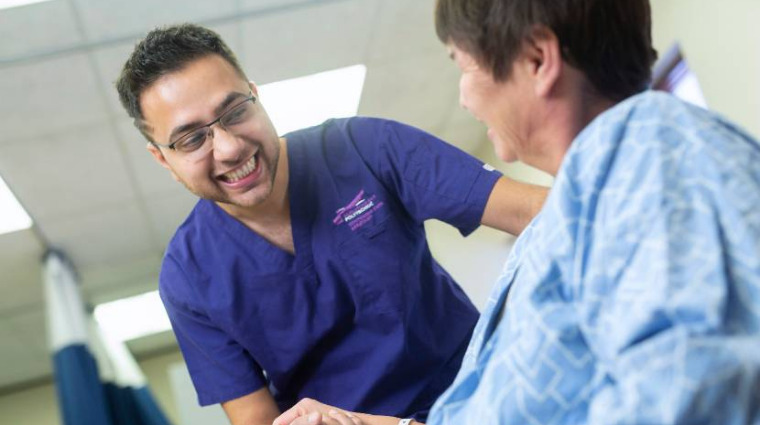 Fully-subsidized program allows employers to offer paid workplace training to participating students
June 9, 2021 – Saskatchewan Polytechnic is pleased to offer a new program designed to train supportive care assistants. As a partner institution working with Colleges and Institutes Canada (CICan), Sask Polytech helped to develop the training as part of an important initiative designed to address the acute labour shortages in the long-term care sector exacerbated by the COVID-19 pandemic.
The program, funded by Employment and Social Development Canada, includes six weeks of online training, followed by a four-month paid work placement and is fully-subsidized for students. Participating students will gain knowledge and skills enabling them to provide much-needed support to long-term and homecare staff, assisting with non-clinical client care. Those who choose to continue with further studies can use the program to ladder to becoming a fully certified continuing care assistant.
"We are proud to be one of a select group of colleges and institutes partnering with CICan on its Building Capacity in Long-term Care project," says Dr. Larry Rosia, Saskatchewan Polytechnic president and CEO. "This unique approach gives students the opportunity to gain new skills and jump-start a new career path, while giving employers new workers and the financial assistance to hire them."
The partnership program is an example of how polytechnic education helps benefit both individuals entering the workforce and employers looking for skilled trainees. "The Supportive Care Assistant program is just one example of how colleges and institutes are helping displaced workers develop skills for in-demand careers through programs that meet the needs of students, employers, and their communities," says Denise Amyot, president and CEO of CICan.
Participating partner employers receive a wage subsidy of $5,000 per student and will make important connections with a pool of candidates for filling future staffing needs. Long-term and homecare employers interested in partnering with the program are encouraged to participate in a Sask Polytech information session.
Sask Polytech is currently offering program start dates in June, July, August, September and October of 2021. Students can apply through Sask Polytech's website. Program seats are subject to availability and student eligibility. Email sca-apss@saskpolytech.ca for more information.
For more information about the CICan partnership project, visit Building Capacity in Long-term Care.