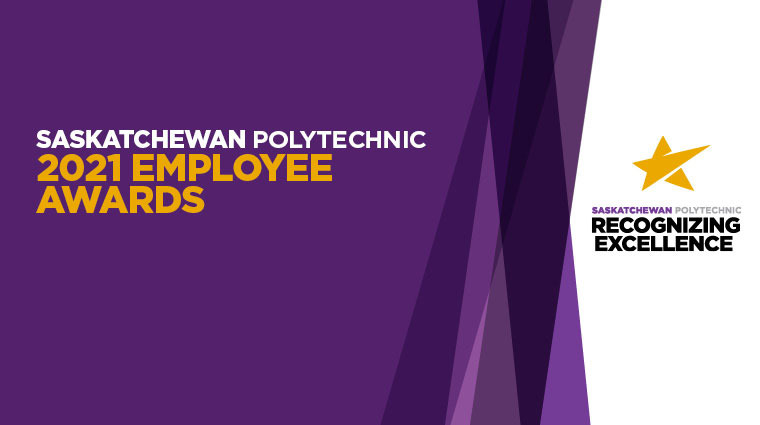 December 10, 2021 – Saskatchewan Polytechnic is the driving force that empowers and strengthens our province thanks to the tireless efforts and commitment of our employees. Each year, we celebrate our employees who go the extra mile to ensure that our institution, partners and learners succeed.
"Our employee awards program recognizes extraordinary contributions that support our mission of inspiring success in every learning journey. These efforts enable us to achieve our vision of leading the rise of polytechnic education," says Dr. Larry Rosia, president and CEO. "The 2021 Sask Polytech Employee Awards highlight contributions that make Sask Polytech a great place to learn and to work. Thank you to these employees who are building a better Saskatchewan and a better world! I am honoured to work with such a talented workforce."
Congratulations to the 2021 award recipients!
PRESIDENT'S AWARD OF EXCELLENCE
Indigenous Students' Centres Coordinators
Marlene Dormuth, Anita Cameron, Brandi Kohl and Derek Yee
The Indigenous Students' Centres Coordinators incorporate Indigenous ways of being, knowing, teaching, and learning in everything they do. Their tireless efforts and outstanding leadership provide resources, and cultural awareness opportunities for staff, faculty, students and external community. Working in good relations, miyo wahkohtowin, is the foundation of their work.
Throughout the pandemic the Indigenous Student Centre coordinators have adapted their approach to helping students by incorporating interactive ways to connect online by using digital tools, like Zoom, YouTube and Facebook Live. This fall term they have been hosting in-person and digital events monthly as Sask Polytech transitions back to more in-person learning on campus.
The Indigenous Students' Centre coordinators work beyond the scope of Indigenous student support to share knowledge widely and inspire all students, recognizing that we are all treaty people and reconciliation is for everyone.
INNOVATION AWARD
Dan Lee
Faculty, Psychiatric Nursing Advanced Diploma program – Regina campus
Dan is a leader in the classroom and has a reputation with faculty and students alike for his innovative teaching methods and the creative ways he uses technology to enhance student learning. He is knowledgeable about psychiatric nursing practice, particularly pharmacology, and an advocate for the importance of helping and supporting those in our communities who live with mental health and addictions.
Dan spends hours creating narrated lectures for his students that incorporate humor and storytelling. One lecture was titled "Nurse Snow and the Seven Clients of Pharmacology." Dan also created a trivia game to review psychotropic pharmacology with his students. Dan is always prepared to help students in any way. A student nominator shared that "without a doubt, Dan Lee is the most respected, appreciated and admired faculty member in the psychiatric nursing program."
LEADERSHIP AWARD
Jamie Hilts
Dean, School of Mining, Energy & Manufacturing, School of Natural Resources & Built Environment, and Co-operative Education
Quality education and the learner experience are at the centre of all that Jamie does. An accountable leader, his nominators wrote that Jamie is inclusive, open, honest, humble and builds culture through leading by example. He understands the value of his team and is genuinely grateful for all the contributions his programs have successfully made throughout the pandemic.
Jamie builds leadership by taking great care and attention to succession planning for his schools. He empowers others through coaching and mentorship. He works hard to ensure his employees are aware of the opportunities for career path growth and the responsibilities that are involved in pursuing leadership roles. Jamie is a champion for his schools, his employees and of applied research projects and researchers across the institution. One nominator shares, "From leading the way on new programs, to applied research, to making tough decisions, Jamie is an accomplished manager. To me though, the focus he places on the people around him is what makes him a great leader."
LEADERSHIP AWARD
Diana Ng
Program Head, Instructional Design, Learning Technologies – Saskatoon campus
In addition to being genuine, warm, humble and empathetic, Diana is one who earns people's trust and respect. She listens to concerns and does whatever she can to address them or help improve the situation. She always takes time to get to know the members of her team on a personal level, often sending messages to say "hi," or "thank you" and let team members know they are appreciated. She treats her team as colleagues and equals.
Diana's leadership epitomizes the concept of miyo wahkohtowin; good relationships are at the core of everything Diana does and is a key part of the team's success. One way this is accomplished is by pairing up team members to share knowledge and experience and support each other's wellbeing. This buddy system is especially appreciated by new team members.
OUTSTANDING SERVICE AWARD – PRINCE ALBERT CAMPUS
Teal Fisher
Instructor, Geographic Information Science, School of Natural Resources & Built Environment
Teal actively develops, maintains and delivers the curriculum for the rapidly changing industry of Geographic Information Science (GIS). In recent years GIS has expanded beyond natural resource management to have applications in health sciences, emergency response, urban planning and agriculture. Teal not only pursues and connects with industry stakeholders in these diverse sectors, but he also monitors the software they use and the products of their workflows.
Teal's nominator wrote that Teal embodies the Sask Polytech mission to inspire success in every learning journey. An example of this is how his students participate in GIS projects with a network of industry partners. Not surprisingly, these projects have resulted in employment for graduates and satisfied industry partners. Teal works hard to ensure his students are prepared for success in whatever field of GIS they enter.
OUTSTANDING SERVICE AWARD – REGINA CAMPUS
Robin McKay Ganshorn
Clinical Coordinator – Dental Programs, School of Health Sciences
Robin's passion and dedication towards students' success truly exemplifies Sask Polytech's mission to inspire success in every learning journey. Not only has Robin been innovative in her lectures, but she also always looks for ways to make programs better or different ways to adapt to challenges. An example of this is creating a new COVID-19 screening tool to use at the Regina Campus dental clinic. This included creating a system to minimize the amount of time patients were in the waiting room, scheduling students in the temporary enclosed rooms for aerosol generating procedures and ensure all other pandemic measures were in place to keep everyone safe.
Robin is passionate about community outreach and has managed partnerships with the Saskatchewan Health Authority, Regina Open Door Society, Regina Food Bank, Regina Immigrant Women Centre and the Phoenix Residential Group. She also has played a key role in coordinating the Northern Health and Wellness Days in the communities of La Loche and Clearwater River Dene Nation to host dental and health clinics in both communities.
OUTSTANDING SERVICE AWARD – SASK POLYTECH ADMIN OFFICE
Payroll team
Judy Lozinski, Cheryl Morgan, Lana Lamb, Deanna Henschel, and Janet Claypool
Ensuring that employee pay has been processed on time, every time, is an ongoing source of pride for Sask Polytech's payroll team. This record of consistency was put to the test in the 2020-21 fiscal year with the combination of the pandemic and the cyber-security incident. The creativity, innovation and resilience of the team led to their success in processing payroll during these challenging times. At the same time, they demonstrated that insurmountable problems can be solved through teamwork, knowledge and determination.
The nominators share that the payroll team demonstrated respect and care for all Sask Polytech employees by ensuring pay continued in challenging times. The team went above and beyond to provide excellent customer service to Sask Polytech employees, responding to hundreds of inquiries about process changes.
OUTSTANDING SERVICE AWARD – MOOSE JAW CAMPUS & SASKATOON CAMPUS
Cory Mohr & Ryan Hooyenga
Program Heads, Carpentry, Joseph A. Remai School of Construction
Cory and Ryan are responsible for managing Sask Polytech's carpentry programs with Cory overseeing Regina and Moose Jaw and Ryan overseeing Prince Albert and Saskatoon. What is exceptional about both recipients is that they have always viewed the carpentry program delivery within the four different geographical locations as a seamless provincial-wide program, striving to ensure that all students receive an equitable education no matter where it is received. This collaborative effort is of tremendous benefit to our learners as it ensures all students are prepared to embark on their vocational journeys.
Their nominator shares that Cory and Ryan's respect for each other has a spillover effect within their program. They are great role models and leaders within the Joseph A. Remai School of Construction and to all Sask Polytech students. They are dedicated to ensuring all carpentry students receive top-notch training and that this training cannot be distinguished from campus to campus.
Published December 2021