Treaty 4 artist adding to Indigenous visual identity at Saskatchewan Polytechnic
Success and hope for future generations depicted in artwork
The educational story of Saskatchewan Polytechnic is being told through detailed and colourful imagery created by Dakota artist Chantel Yuzicappi.
From Standing Buffalo First Nation, Yuzicappi is a renowned artist from Treaty 4 territory who is adding to the Indigenous visual identity of the institution. "Incorporating Indigenous artwork throughout Sask Polytech is one more way we are practicing miyo wahkohtowin - working in good relations with one another," said Deanna Speidel, director of Indigenous Strategy.
Yuzicappi created three intricate designs with bold colours for Sask Polytech, each with deep significance directly related to the post-secondary institution.
"The concept for each piece is developed with the idea of learning and fulfilling a dream of one's chosen career path," explained Yuzicappi. "They represent success and hope for future generations."
The brown buffalo design represents success. It depicts the beauty and educational services of Sask Polytech. The geometric star design signifies the path of hope and depicts the teaching and learning that occurs between students and instructors. The Dakota floral design signifies the growth and evolution of Sask Polytech students.
Sask Polytech is committed to a welcoming, safe environment for all students. Yuzicappi's artwork will be used to celebrate and share Indigenous culture at Sask Polytech in the years to come.
"By including Indigenous language and imagery in our daily work we have embedded the culture into our business best practices," said Speidel. "We are excited to welcome Yuzicappi to our campus community and highlight her artwork."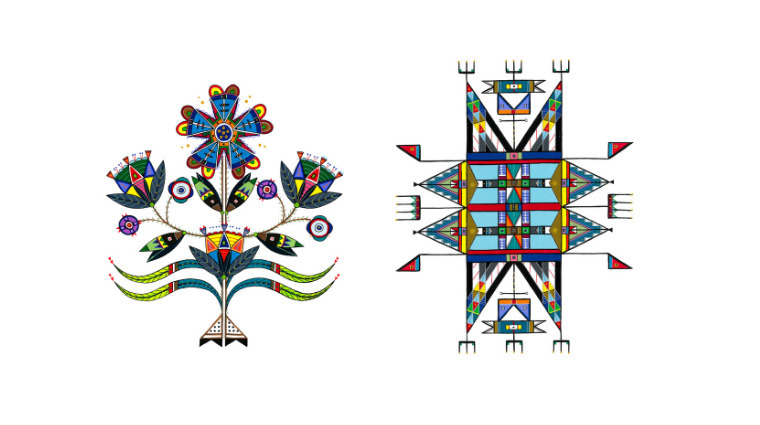 About the artist
Chantel Yuzicappi is a Dakota artist from Standing Buffalo First Nation in Treaty 4 Territory.
Yuzicappi's has been influenced by her grandmother's Velma Goodfeather and Sybil Bear who shared their wisdom, traditional values and teachings.
She began her art career in 2008, learning in a self-taught manner and completed the Business and Entrepreneurship Skills Training program from the Canadian Centre for Aboriginal Entrepreneurship in 2018.
Yuzicappi's artwork has developed into detailed, precise and contemporary one-dimensional work done in acrylics. Her pieces consist of abstract designs of horses, Dakota florals, geometric stars and her signature buffalo design.
"I paint because I believe what I'm doing is paving a way; a positive path or direction in inspiration and wonder to future creative Individuals in contemporary design," explains Yuzicappi. "I want to create art that stops you in your tracks. That make you take in all the small, precise details in the intricate designs."
Published Sept 2021