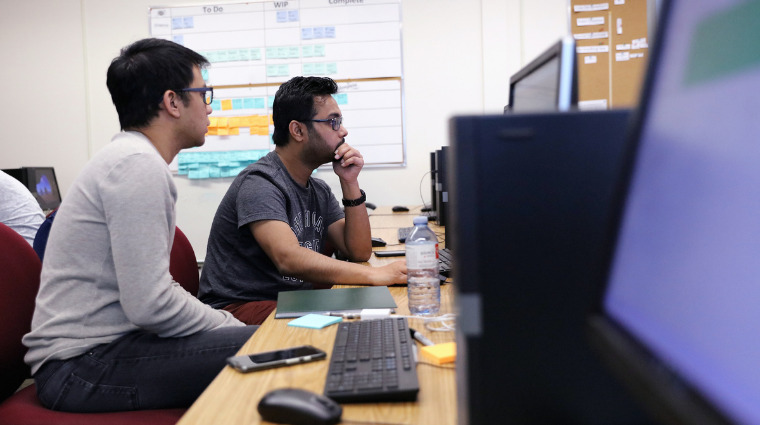 Microsoft Canada Skills Program empowers students to develop skills in in-demand areas including data analytics, AI and cloud certifications by collaborating with post-secondary institutions to deliver the most up-to-date curriculum so students can thrive in the digital economy.
March 17, 2021 – Recently Saskatchewan Polytechnic joined forces with Microsoft to provide learners throughout Saskatchewan with the digital skills they need to help the province recover economically in the post-pandemic reality. To celebrate this collaboration, Sask Polytech is offering 900 seats in the eight hour Microsoft Azure Fundamentals Accelerated course this month.
Sask Polytech students with institutional email addresses who enroll in the Azure Fundamentals Accelerated course will receive a $50 Azure sponsorship credit to practice what they learn. The sponsorship credit is valid until March 31, 2021.
"Saskatchewan Polytechnic is proud to be a part of the Microsoft Canada Skills Program and offer free training for learners," says Dr. Larry Rosia, Sask Polytech president and CEO. "The free Azure Fundamentals Accelerated course is a great opportunity for learners to reskill or upskill during the pandemic and support Saskatchewan's growing technology sector. Sask Polytech is offering training to help meet the Saskatchewan Government's target of tripling jobs in the tech sector within 10 years."
Azure Fundamentals Accelerated courses will be recorded and made available after the session for 30 days. Each course has a maximum enrollment of 75 students.
"The recovery will be driven by innovation and to realize meaningful job opportunities in the digital economy, Canadians need access skills in data, AI and the cloud," said Marc Seaman, Vice President Education, Microsoft Canada. "Microsoft launched the Canada Skills Program to help build the tech talent pipeline and the work Sask Polytech is doing now will go a long way to secure Saskatchewan's digital future."
The Azure Fundamentals Accelerated course provides foundational level knowledge on cloud concepts; core Azure services; security, privacy, compliance, and trust; and Azure pricing and support. This course covers the curriculum required to write the Microsoft Azure AZ-900 Fundamentals certification exam. The eight hour AZ-900 training is offered in two four hour blocks. Courses are offered March 16 & 18; March 23 & 25; and March 29 & 31.
Visit saskpolytech.ca/microsoftskills to sign up today.
The Canada Skills Program is an initiative from Microsoft aimed at giving Canadians the skills they need for the digital economy. In 2020 Microsoft also announced a global training program to help 25 million workers who lost their jobs as a result of COVID-19, providing free training and access to learning tools across Microsoft, LinkedIn and GitHub.
The Canada Skills Program provides opportunities for students to acquire in-demand digital skills and certifications enabling them to graduate with both a Microsoft certification, as well as a Sask Polytech credential.