Saskatchewan Polytechnic engineering technology programs receive international recognition
February 9, 2021 – Saskatchewan Polytechnic has received international recognition for 11 engineering technology programs from the School of Mining, Energy and Manufacturing.
Effective January 1, 2021, the International Engineering Alliance (IEA) recognizes Sask Polytech engineering technology programs under the Sydney Accord—an international agreement between bodies responsible for accrediting academic programs in this field. As a result, the academic credentials of graduates from the programs will be recognized in 11 signatory countries.
Sask Polytech engineering technology programs have national accreditation status through Technology Accreditation Canada (TAC), whose focus is partnering with educational institutions to ensure students receive a quality education that meets the standards or Canada's engineering technology profession. TAC has been working with the International Engineering Alliance to achieve international recognition for accredited Canadian programs under partnership accords.
"We are very pleased to provide international recognition through the Sydney and Dublin Accords to graduates of TAC accredited programs" says Richard Stamper, executive director of Technology Accreditation Canada. "This important development enhances the value of TAC national program accreditation and creates an expedited path for graduates to seek their professional designation in the signatory countries".
"This international recognition is an important achievement for our Engineering Technology programs," says Dr. Larry Rosia, Saskatchewan Polytechnic president and CEO. "International accreditation boosts the transferability and, therefore, value of a Sask Polytech education. It serves as yet another reminder of our high quality programming and the significance of the new opportunities we create for our learners. Thank you to Technology Accreditation Canada for helping to facilitate this step forward."
The following Saskatchewan Polytechnic School of Mining, Energy and Manufacturing programs are internationally recognized under the Sydney accord: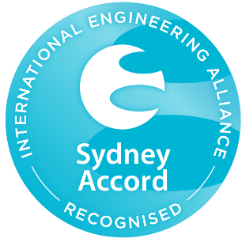 Civil Engineering Technologies diploma
Computer Engineering Technology diploma
Design and Manufacturing Engineering Technology diploma
Electrical Engineering Technology diploma
Electronic Systems Engineering Technology diploma
Engineering Design and Drafting Technology diploma
Environmental Engineering Technology diploma
Geomatics and Surveying Engineering Technology diploma
Instrumentation Engineering Technology diploma
Mechanical Engineering Technology diploma
Mining Engineering Technology diploma
For more information on technology accreditation, visit www.technologyaccreditation.ca/students.