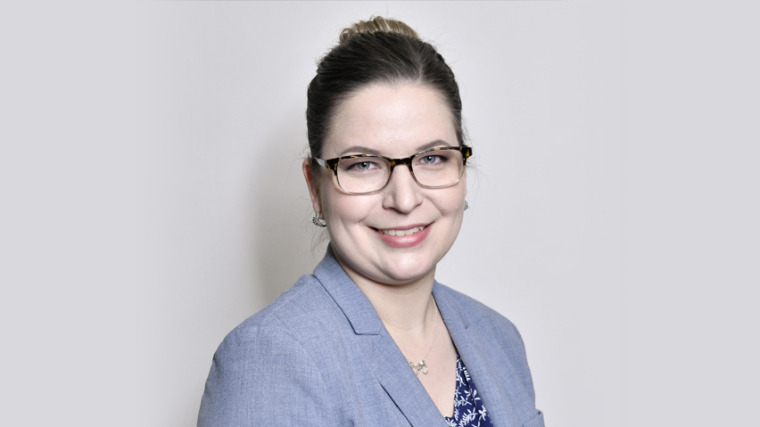 Each year, Saskatchewan Polytechnic gives an award to one co-operative education student, who is named Student of the Year. This award recognizes a Sask Polytech co-operative education student who has demonstrated excellence over the course of the academic year, including time spent on work terms.
The recipient of the 2020-2021 academic year award, which ended June 30, was second year Business Information Systems student Starlene Hermanson. Selection was based partly on academic achievement, and Hermanson's average was "in the high 90s," according to Ian Morrison, program head for Co-operative Education, who noted that he had to rub his eyes to ensure he was reading correctly when reviewing her grades. Says Morrison, "We are very proud to have Starlene associated with our program."
Other criteria included contribution to the employer and to co-operative education, as well as school and community involvement. Testimonies from the Saskatchewan Health Authority (SHA), where Hermanson completed a work term, make it clear that her marks were not the only reason she was chosen for this award. Explains Wendy Weinrauch, staff scheduling assistant manager for Saskatoon Health Region, "Starlene came in and reviewed our processes and procedures and developed significant routines that have greatly improved the quality of work and expedited the processes for my team. During my acquaintance with Starlene, she has been efficient, professional, organized and a fantastic team leader. She has my highest recommendation."
Sask Polytech's Co-operative Education program accepts requests from employers on a year-round basis. Kweku Johnson, SHA director for Human Resources systems and analytics, speaks to the benefit the SHA, and other employers, derive from engaging a co-op student. "Sask Polytech's Co-operative Education program allowed us to fill a need in our organization," says Johnson. "We were able to recruit a student with current, industry-standard training, and benefited from her ideas and leadership skills at a key time as we integrated multiple former health regions with multiple Human Resources Information Systems, into one organization."
Co-operative Education is an important component in a variety of Sask Polytech programs. Allowing students to earn while they learn, co-op placements give students on-the-job training and the opportunity to develop important soft skills best learned in real workplaces, where interpersonal communication and developing a professional network are more than just assets—they're essential.
Work-integrated learning also gives students the opportunity to apply practical skills they learn at Sask Polytech in a work environment and bring work-place skills back to the classroom. Gavin Osborne, Sask Polytech program head for Business Information Systems, knows this well, and expresses his thanks to Co-operative Education for its efforts in organizing the opportunities and the award. He and his program recognize the unique value that co-op work placements afford his students. "Part of the reason this award means so much to us is because we get to see the profound impact Co-operative Educations' efforts have on the students when they come back into the second year of their program," he says.
Hermanson is at that very stage, and Osborne notes that she is excelling in her post-co-op studies. "She's leading one of our Riipen projects, which has been extended. We're really happy with how it's going, and it's happening under her leadership." Riipen is an online platform that matches companies looking for skills with post-secondary students seeking practical experience.
Perhaps the best advocate for Co-operative Education is Hermanson herself. Beginning her studies at Sask Polytech in Moose Jaw in 2020 as a mature student, she enrolled in the Business Information Systems program to enhance her business digitization skills. Her work placement with the SHA allowed her to put into practice skills she learned in the program and demonstrate her value to the organization. She speaks glowingly of the program's outcome and of being recognized for her efforts with the award. "The job I'm in now is absolutely my dream job," says Hermanson. "I don't think I would have had that opportunity had it not been for the co-op work term—being able to show who I am and what I can do."
Learn more about co-operative education at Sask Polytech.
Published July 2021.