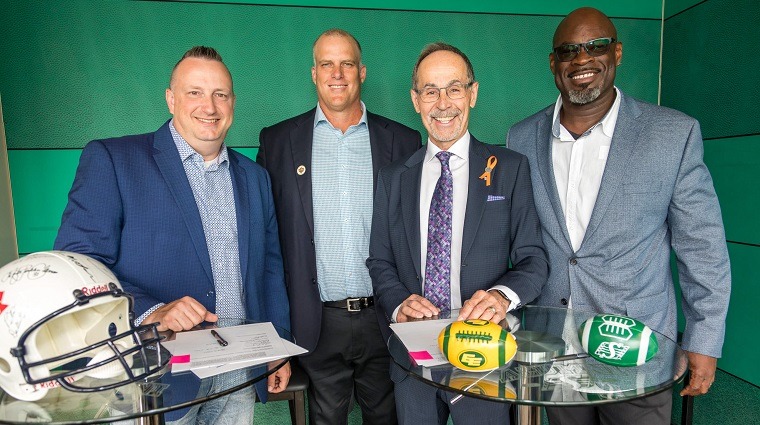 Canadian Football League Alumni Association and Saskatchewan Polytechnic announce game changing partnership
July 28, 2021 – The Canadian Football League Alumni Association (CFLAA) and Saskatchewan Polytechnic announce an exciting new collaboration that provides CFLAA members and spouses access to the polytechnic's School of Continuing Education courses and programs through a tuition benefit program.
The agreement gives hundreds of CFL alumni and their spouses the opportunity to advance their education through Sask Polytech's School of Continuing Education, which offers diplomas, certificates, degrees and micro-credentials. CFLAA members and their spouses will also have access to career counseling and preparedness in an effort to prepare them as they transition to a post-football career or when they may be interested in a career change.
Due to the unpredictable nature of professional football, the average CFL career is less than three years. Since its inception in 2008, the CFLAA has sought to enhance the well-being of its members. This now includes career development opportunities aimed at helping the league's alumni find a career outside of professional football.
CFLAA supports Canadian football, former CFL players, and other communities of interest while fostering collaborative relationships with CFL stakeholders and others that enhance the well-being of our members and friends. Additionally, the CFLAA strives to unite all local CFL Alumni Associations and its membership of former players.
"We look forward to working with Saskatchewan Polytechnic in assisting former players through their post career transitions and challenges onto the road of success. It is a very important part of the CFLAA mission. I have a long personal and professional relationship with Sask Poly which will certainly be helpful," says Brett MacNeil CFLAA president.
"We are ready to assist CFLAA members in moving the chains towards careers beyond the football field," says Dr. Larry Rosia, Sask Polytech president and CEO. "Saskatchewan is home to the CFL's proudest and most passionate fans. We are Rider Nation! Our exceptional faculty support and look forward to working with the CFLAA members and their spouses to reach their educational and career goals at Sask Polytech."
The School of Continuing Education will assist CFLAA members to transition to a career off the field by gaining skills and education to succeed in a new career. The School of Continuing Education brings together Sask Polytech's internal expertise to advance professional development programs, corporate training and micro-credential offerings. Details on this training can be found at www.saskpolytech.ca/cflaa