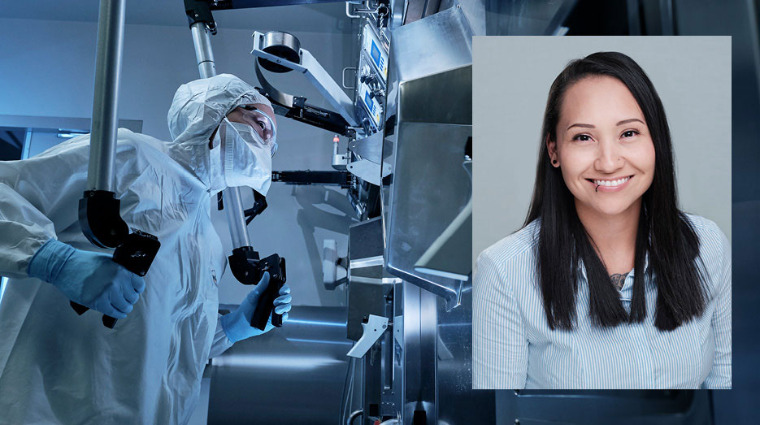 Ten years ago, Amber Thomas was getting her Adult 12 at Saskatchewan Polytechnic. Today, she's an operations technologist at the Sylvia Fedoruk Canadian Centre for Nuclear Innovation.
Soon after graduating from the Bioscience Technology program in 2016 at Sask Polytech, Amber was hired as a production technologist at the Sylvia Fedoruk Canadian Centre for Nuclear Innovation. The Fedoruk Centre is a not-for-profit organization established with the purpose of placing Saskatchewan among the local leaders in nuclear research, development and training through investment in partnership with academia and industry for maximum societal and economic benefit.
The Fedoruk Centre operates and manages the Saskatchewan Centre for Cyclotron Sciences (SCCS), a state-of-the-art facility owned by the University of Saskatchewan that supports innovation in nuclear imaging and therapy in living specimens: plants, animals and humans. The radioactive imaging agents produced at the SCCS are used daily by the nuclear medicine department to perform Positron Emitting Tomography (PET) scans at Royal University Hospital (RUH). SCCS facilitates research for the development of new imaging probes for use in the detection, diagnosis and treatment of cancer and other diseases
Amber, just five years post-diploma, is thriving as the lead cyclotron trainer and operator. It's not a career she could ever have imagined for herself when she arrived at Sask Polytech in 2010. At that time, she was a single mom looking to get her Adult 12. As she talked with counsellors about various post-secondary options, she rediscovered an interest in science, which in turn led her to invest another two years in upgrading. She was accepted into the BioScience Technology diploma program in 2014.
"I always liked science, and BioScience Technology offered a wide range—biology, chemistry, physiology, immunology, microbiology," Amber says. "It was really interesting, but it was also a heavy workload so it could be challenging."
Amber balanced a full load of classes and labs while also working part-time and looking after her young daughter. She managed with the support of her parents, friends and the closely knit bioscience community. "You survive by making friends with other students and supporting each other," Amber says. "My instructors and program head were very supportive, and I remember the counsellor from the Indigenous Student Centre checking in to make sure I was okay."
Amber recommends the program. "All the hard work is worth it," she says. "You're not stuck in one position—you can get into a wide range of opportunities in agriculture, soil science, immunology, virology, testing and more. It also opens the door to getting a full bachelor's degree in just two more years."
On graduation, Amber immediately landed a contract position in the bacterial vaccination lab at VIDO-InterVac, the University of Saskatchewan organization working to strengthen Canada's role in responding to infectious diseases such as COVID-19. But she continued looking for full-time permanent work, a place she could build her career.
"It turns out the SCCS was looking for a production tech. They wanted someone with a degree, but I applied anyway and got an interview. That interview went really well, and I was hired two weeks later," Amber says.
The practical training received at Sask Polytech quickly proved its worth. "Those first days on the job, I wouldn't have gotten through except for the bioscience technology program. I applied what they taught me right away. Within a week, my supervisors felt confident enough to let me work alone and within three weeks I was training someone else on quality control."
Amber's career has evolved since then. "When I started, I thought I'd be in testing and quality control for my whole career, but the Fedoruk Centre encourages education and training. They sent me to Vancouver, Sweden and Belgium for training, which gave me a chance to move into operations and instrumentation," she says.
Amber is now paying that investment forward by training others and helping build a deeper pool of skilled bioscience techs here in Saskatchewan. A self-identified Treaty Status individual, she also hopes to see more Indigenous young people pursue careers in the bioscience. "Labs and research institutes always seem to be looking for qualified people, and I've recommended several Sask Polytech grads to positions," Amber says. "It's a great career."
It's also a career that makes a difference. Having the cyclotron here benefits patients requiring PET scans. Amber says. "Now, we produce radioactive isotopes here and patients can get their scans in Saskatchewan. I'm helping in the detection, diagnosis and treatment of cancer, Alzheimer's, Parkinson's, multiple sclerosis and other diseases. I'm proud of what I do."
Join the Sask Polytech alumni community! Register as an alumni today.
Published June 2021.