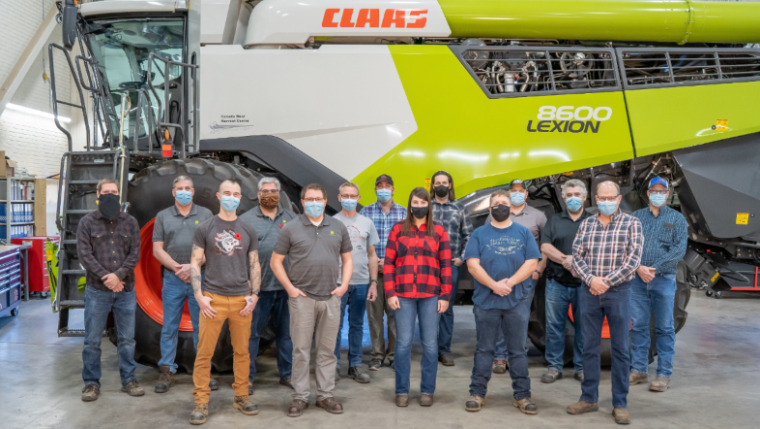 Each year, the Saskatchewan Apprenticeship and Trade Certification Commission (SATCC)'s Apprenticeship Awards celebrate outstanding achievement within Saskatchewan's apprenticeship system. Apprentices, new journeypersons, employers, instructors and other apprenticeship stakeholders are recognized for their exceptional achievements in apprenticeship and the skilled trades. Staff and faculty in the Agricultural Equipment Technician (AET) program at Saskatchewan Polytechnic were lauded for their hard work and achievement at this year's 21st annual event, being named Outstanding Technical Training Team.
Nominated by the SATCC's Program Development staff, with the support of the Agricultural Equipment Technician Trade Board, the AET program reached a level of success significant enough to award the title, which isn't given every year. "We noted the innovation that has happened over the past year at Sask Polytech and felt that the team responsible was worthy of the honour" says SATCC program development specialist Quinn La Valley. "This kind of work and the level of success they have achieved deserves special recognition."
When COVID-19 sent students and employees home in Spring, 2020, AET staff and faculty were utilizing Sask Polytech's Brightspace online course management system for only a small fraction of what it was capable of. "The online component of our program wasn't a focus," says program head Chris Thomson. "We were very much hands on, and paper based. As it became clear that we wouldn't fully return to the classroom anytime soon, we needed a quick evolution of our training model."
Faculty and staff worked tirelessly over the summer to build new training aids, developing copyright-free, interactive content to improve Brightspace for AET students. Priority was given to higher level apprenticeship training. Practical tasks were turned into online quiz-style formats that included comprehensive marking rubrics that parallel the students' online submissions. The new online model gives students more points of assessment, and instructors more criteria to mark on. Student learning is reinforced as they work through online modules.
The results have been remarkable, with student grades going up—arguably a success story at any time but even more extraordinary during a pandemic. "We are incredibly proud of the important work for which our AET team is being recognized," says Dr. Larry Rosia, president and CEO of Sask Polytech. "Pandemic pressures have demanded new ways of delivering teaching and learning. AET's approach to online learning in apprenticeship is an exemplary result of teamwork and innovation when faced with new challenges. Congratulations to our AET faculty and staff!"
Once improvements to online training were in place and Sask Polytech was able to open its doors to hybrid learning in the fall, AET staff turned their attention to projects in the shop that they hadn't been able to work on while campuses were closed. Industry support for the program is high. From August 2019 to present, it has received over $840,000 in dealer support. Staff worked hard to build training components from these donations to move the shop forward and to give the staff developing online content new physical material to work with. Thomson remembers, "Staff were eager to have the time to do that. Lots of general maintenance can't be done from home, and they were happy to get back to hands-on work."
The Apprenticeship Awards, usually presented at an in-person event, moved online for the announcement on November 5, 2021. "We were excited to learn that one of the new Level 4 apprentices, Dylan James, has been awarded the SATCC achievement award for the highest AET journeyperson mark in the province, as well as the George Pellerin award for the highest mark for all of the trades in the province." To mark the event at Sask Polytech, AET program staff held their own celebration in the shop with locally made donuts and a staff photo with the award. "We are thrilled that our hard work paid off," says Thomson. "For us, student successes are key. These awards celebrate the direct contribution our staff have made to measurable student success over the past year."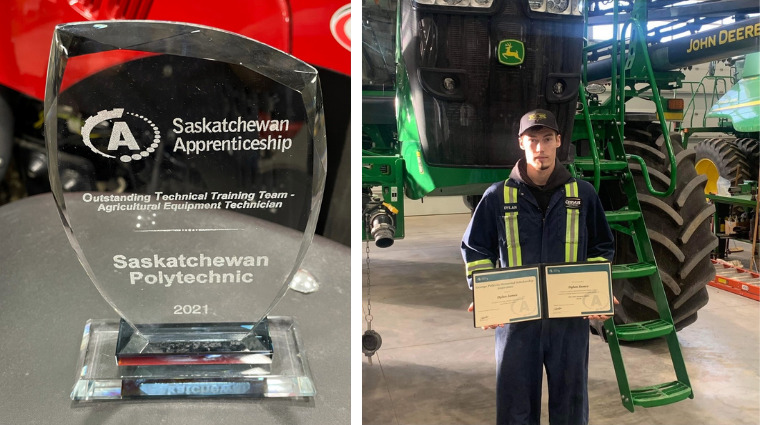 Published November 2021