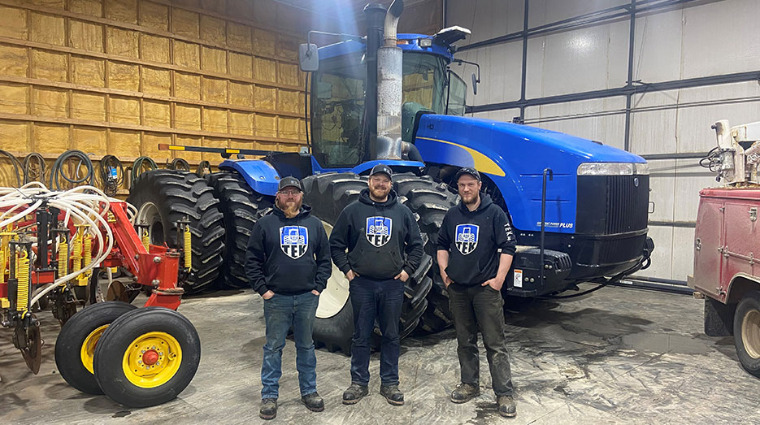 Sask Polytech Agricultural Equipment Technician program students benefit from donated parts
Tyson Friend, Erik Olson and Kyle Wilson are all Agricultural Equipment Technicians (AETs) who together have more than 25 years' combined experience working on agricultural equipment. In January 2020, they joined together to start their own agricultural equipment service business.
All three completed the school portion of their apprenticeship training at Saskatchewan Polytechnic and are now giving back to help other AET apprentices and students.
Tyson grew up on a farm at Hawarden and started his apprenticeship journey in 2006, then went on to earn his Red Seal journeyperson certificate while working at a dealership in Davidson. Erik grew up on a farm east of Hanley and started his apprenticeship at a Saskatoon dealership in 2013, eventually earning his Red Seal while working at a rural dealership. Kyle grew up in B.C. but moved to Saskatchewan after high school. He earned his Red Seal last January, about the same time TEK Ag Services opened.
After just over a year in business, TEK Ag Services has put two mobile service trucks on the road, expanded its service radius, hired its first apprentice and opened a small shop.
"Response has been very positive," Tyson says. "Our customers really appreciate having options, and they're always happy to support local guys trying to run a business and provide jobs in the community."
TEK Ag Services provides on-farm agricultural equipment inspection, service and repair. It's a mobile service with two (soon to be three) fully equipped service trucks that, as Erik says, "chase seeders across farm fields in the spring and combines in the fall, with everything else in between." Home base is a small shop in Hawarden, where the team handles more extensive repairs and off-season maintenance.
Despite being a young company, TEK Ag Services has already donated its first part to Sask Polytech's Agricultural Equipment Technician program. Anyone who works with heavy equipment will tell you why that's a big deal.
"During the technical training portion of apprenticeship, you spend 10% of your time in class and 90% in the shop, and most of the parts you're working on are donated," Kyle says. "During my time, I remember there was always a need for more donated parts."
Erik agrees. "You can't really learn how something works from a book. You can learn the theory behind it, but you need to hold the part in your hands to really understand how it works—that's the benefit of donated parts."
Even wrecked parts provide valuable teaching opportunities. That's why TEK Ag Services donated a wrecked cylinder head off a 12.9 litre engine. It came from a tractor engine that had been chipped, meaning the original computer chip was modified to give the tractor more horsepower. For students, the wrecked part was a tangible lesson in the risks of modifying original equipment.
TEK Ag Services plans to donate more parts to Sask Polytech in the future. They've also been in touch with Chris Thomson, AET program head, to discuss the possibility of providing workplace experience for high school students. And they're hoping to take on more apprentices themselves in the years ahead.
"I'm a firm believer in the apprenticeship model," Tyson says. "The school portion at Sask Polytech offered a ton of insights, you're on campus 8-12 weeks per level and get to be part of group decisions on real world problems."
TEK Ag Services also believes in providing training and employment opportunities to local people, especially local youth. "Work experience and distance learning can show students there's more to agriculture than just tractors and combines—there's many jobs that continually need to be filled in agriculture," Tyson says.
Join the Sask Polytech alumni community! Register as an alumni today.