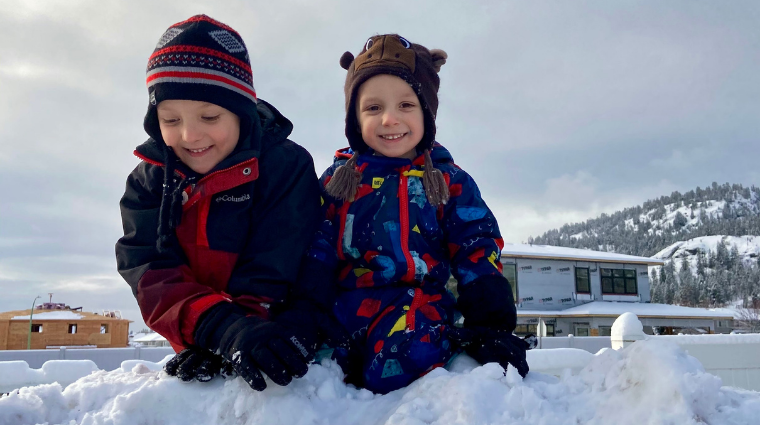 January 19, 2020 - A major investment by the Lawson Foundation will support researchers from Saskatchewan Polytechnic and three partnering institutions in their innovative approach to advancing outdoor early learning and teaching across Canada.
A collaborative project by Bow Valley College, New Brunswick Community College, Okanagan College and Saskatchewan Polytechnic called Outdoor Pedagogy in Early Childhood Education: From Colleges to Communities has been awarded a grant of a grant of $750,000 from the Lawson Foundation.
This goal of the three-year project is to demonstrate a model of outdoor pedagogy practices, teaching, learning and mentoring that will create a shift in curriculum in post-secondary ECE programs and in community early learning and child care programs.
Through the collaboration, the group aims to support college instructors, their students, and early childhood educators, in implementing high quality outdoor experiences and play opportunities to and with children.
"We're very proud and appreciative to be one of the projects funded," said project lead Dr. Beverlie Dietze, director of Learning and Applied Research at Okanagan College.
"Our aim is to advance outdoor pedagogy curriculum in college ECE programs across the country. This support from the Lawson Foundation will allow us to train instructors at the other colleges in outdoor early learning pedagogy, so that they can share their learning with students in their programs and then put that training to work in their communities."
Adds Dr. Dietze: "the depth of collaboration means we can bring together a tremendous amount of knowledge and diversity of experience in this discipline, which we hope will translate to great benefit for college students, graduates, children, and early childhood educators alike."
"Sask Polytech is very excited for this collaborative opportunity to work on this important applied research project with selected post-secondary institutions across Canada," says Nancy Holden, Sask Polytech School of Human Services, academic chair. "Outdoor play is an important part of a quality early childhood education program. Outdoor play allows children to explore and discover their environments in a natural way, sparking curiosity and an adventurous spirit."
The funding comes as part of the launch of the Lawson Foundation's second phase of its Outdoor Play Strategy and an overall investment of $4.95 million in eight demonstration projects that will benefit Early Learning and Child Care across Canada.
According to the Lawson Foundation, while the benefits and importance of outdoor play for children are supported by research, two studies funded by the foundation suggest that there is a significant gap in training and resources for adults to support high quality outdoor play programs and experiences.
In 2018, only five out of 100 college ECE programs had explicit outdoor pedagogy courses and no practicum experiences for students had outdoor play requirements. In addition, a Canadian survey of 896 ELCC educators who enrolled in an online outdoor play training course found that 89 per cent of respondents had never received any training in outdoor pedagogy, and 72 pre cent indicated that they lacked the training and experience to implement outdoor pedagogy in their work. Lack of awareness and knowledge of outdoor play results in gaps and barriers in both policy and practice which the outdoor play strategy will address.
More information, and a complete list of the funded projects can be found here.