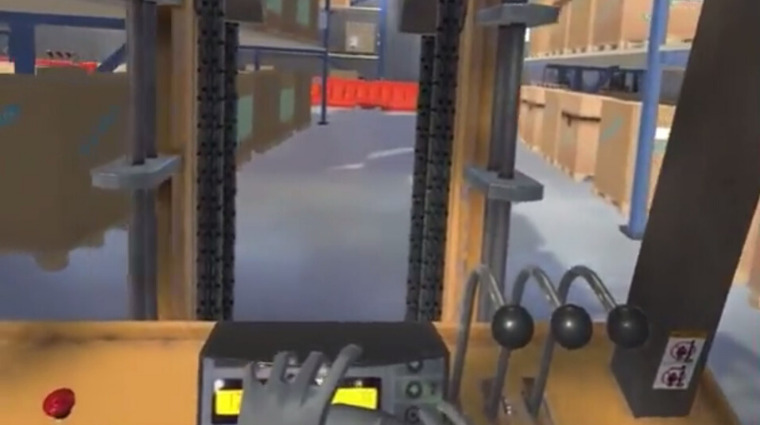 White Rabbit VR, a division of Twisted Pair Productions, recently partnered with Saskatchewan Polytechnic to develop a virtual reality forklift training simulator. The portable VR training system will allow Sask Polytech to quickly fill the province's need for forklift operators. The mobile forklift VR system will be used by Sask Polytech's School of Transportation for Warehouse Worker and Parts Management Technician programs, as well as the forklift certification though continuing education.
The growth of the e-commerce economy has led to huge demand for warehouse forklift operators. However, older models of training simulators are often large, expensive, and hard to travel with. The need for portable training simulators has increased because of health and safety restrictions during the COVID-19 pandemic.
With an investment in the project from Creative Saskatchewan's Digital Game and Gamified eLearning Equity Fund, White Rabbit VR will fill this gap in the market with a model that features the environment forklift operators typically work in. This includes creating a physical simulator with realistic controls and hand tracking technology to coordinate the trainees' real hands with their "hands" within the VR component.
"Using virtual reality is a great way to create an immersive learning experience for students," says Paul Carter, dean for the Joseph A. Remai School of Construction and the School of Transportation at Sask Polytech. "The portable VR training system will be used by students this coming fall. This has been a great partnership with White Rabbit VR. We are excited to incorporate virtual reality into more of our programming and create engaging educational experiences for our students."
Working with Saskatchewan Polytechnic instructors, White Rabbit VR will ensure that simulator content adheres to Sask Polytech's forklift curriculum and that the smallest details of the VR simulation mimic real work sites.
"Virtual reality training is becoming increasingly common in companies and organizations all over the world," says Mike MacNaughton, president of Twisted Pair Productions. "But what we are working on with Sask Polytech is something really quite different. We are looking to push the boundaries of VR training to take advantage, not just of the VR technology of today but the VR of tomorrow."
Once complete, White Rabbit VR in consultation with Sask Polytech will be able to export the product and its certified curriculum content to other educational institutions out of province.
Published July 2020.
This article was originally published by Creative Saskatchewan. Creative Saskatchewan's mission is, through partnership with industry associations, to ensure continued growth in Saskatchewan's creative industries.